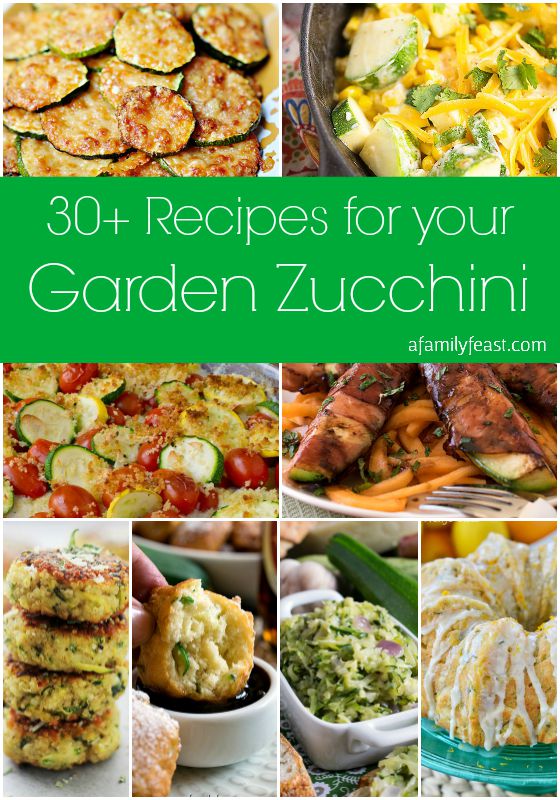 It's the most wonderful time of the year. Contrary to what the popular song may lead you to believe, it's not Christmas in July, it's garden zucchini season!
We've got more than 30 delicious zucchini recipes to help you make the most of the bounty from your garden, so browse, pin, and print to your heart's content.  You can use the collage up above to save the entire collection, or click through the images and links below to save your favorites from each individual blog.
MAIN DISHES
Creamy Corn and Zucchini from Buns in My Oven
Zucchini and Eggs (Cocozelle) from A Family Feast
Zucchini, Ham, and Rice Skillet from A Family Feast
Crustless Zucchini Quiche from Roxana's Home Baking
Turkey Stuffed Zucchini Boats from It's Yummi
Thai Chicken Zucchini Noodles with Spicy Peanut Sauce
Gluten Free Polenta Zucchini Lasagna from I Love My Disorganized Life
Vegetarian Stuffed Zucchini from A Family Feast
Garlic Lime Chicken with Zucchini Noodles from Mrs. Happy Homemaker
Scarpaccia from A Family Feast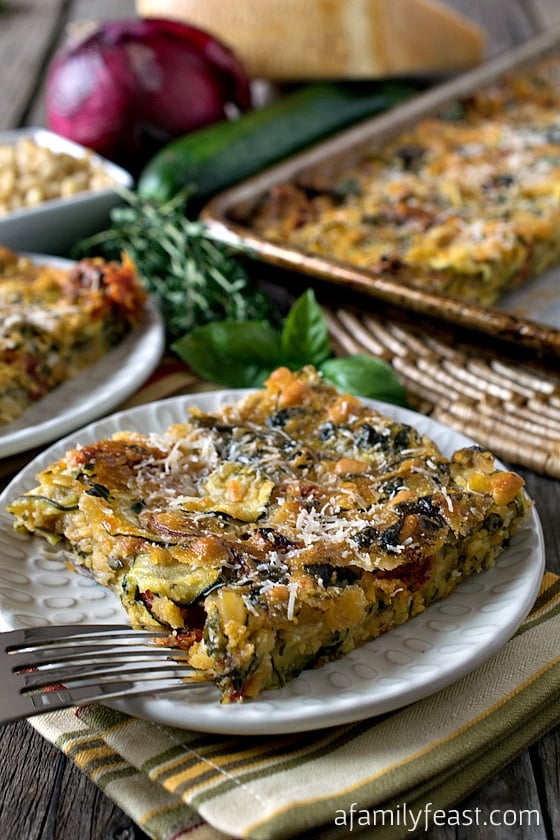 Zucchini Stuffed with Goat Cheese and Marinara from The Wicked Noodle
Zucchini Parmesan from A Family Feast
SIDES, APPETIZERS, and CONDIMENTS
Prosciutto Wrapped Zucchini Over Melon Pasta
Zucchini and Squash Gratin from Poet in the Pantry
Grilled Zucchini Salad from A Family Feast
Tuscan Zucchini with Tomatoes, Garlic and Mint from A Family Feast
Zucchini Butter from A Family Feast
Baked Parmesan Zucchini Rounds from Five Heart Home
Zucchini Cheese Soup from Noshing with the Nolands
Sweet and Spicy Zucchini Relish from Craving Something Healthy
Zucchini Apple Jam from Tina's Cookings
Zucchini Fritters from A Family Feast
Garlicky & Cheese Quinoa Zucchini Fritters from Diethood
Grilled Zucchini with Goat Cheese and Balsamic Honey Syrup from Full Belly Sisters
 Zucchini Fritters with Tzatziki from Healthy Delicious
 Zucchini and Eggplant Fries from Chocolate Moosey
SNACKS and DESSERTS
Orange Zucchini Cookies from A Family Feast
Triple Chocolate Zucchini Muffins from Carrie's Experimental Kitchen
 Zucchini Brownies from A Family Feast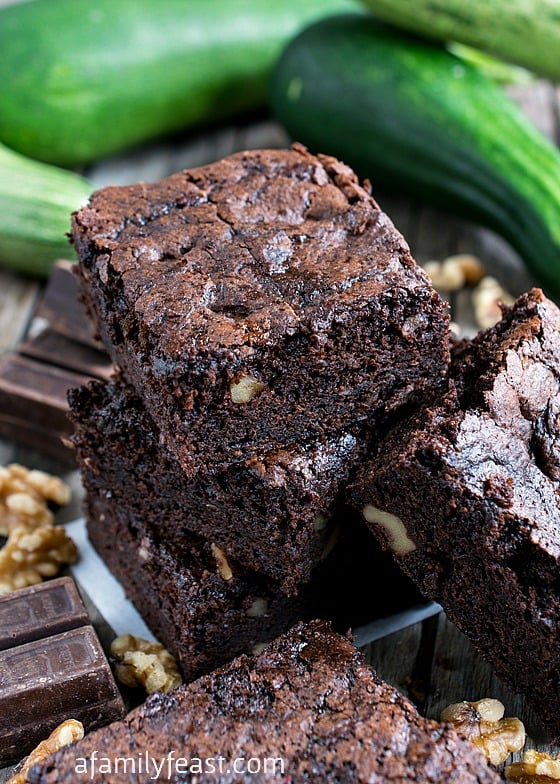 Zucchini Bundt Cake from Mom on Timeout
 Double Chocolate Zucchini Cupcakes from I Am Baker
Chocolate Zucchini Coffee Cake from Serena Bakes Simply From Scratch
Gluten Free Applesauce Banana Zucchini Muffins from My Gluten Free Kitchen
 Apple Zucchini Crumb Bars from A Family Feast
 GARDEN ZUCCHINI BREAD
 Italian Zucchini Bread from A Family Feast
Low Carb Zucchini Banana Bread from It's Yummi
Cinnamon Zucchini Bread from Chocolate Chocolate and More
Whole Wheat Zucchini Bread from A Family Feast
For even more zucchini recipe inspiration, follow us on Pinterest!
Follow A Family Feast ®'s board Zucchini Roundup on Pinterest.