How to make an authentic New England Lobster Roll!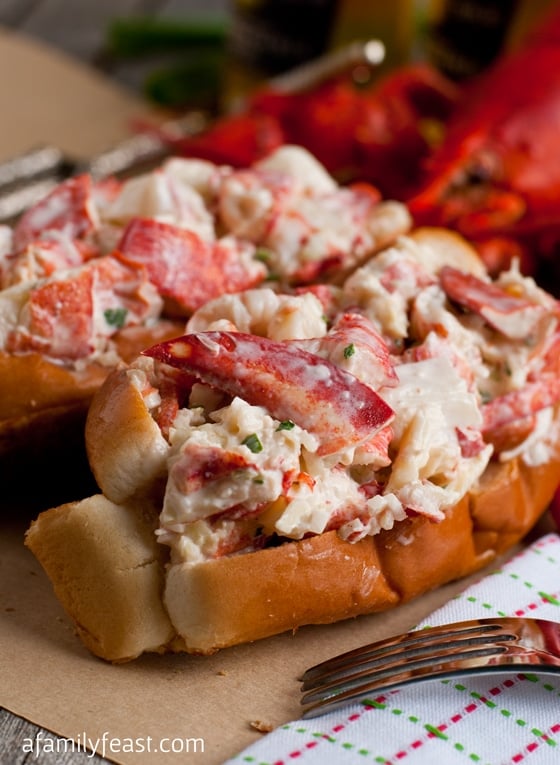 Eating lobster is usually a luxury for us – reserved for special occasions or a special and delicious treat!  But thanks to a glut of Maine lobsters this summer – prices at the market for lobster here in New England are at record lows. So we've been eating (and thoroughly enjoying) this delicious seafood quite a bit!
A classic meal here in New England is the Lobster Roll!  Although the original Maine lobster roll is simply cooked lobster meat and melted butter on a buttered and grilled hot dog roll, most restaurants make a New England lobster roll with a lobster salad made with a mayonnaise base.  Today's recipe is our version of the classic New England lobster roll similar to those served in local area restaurants.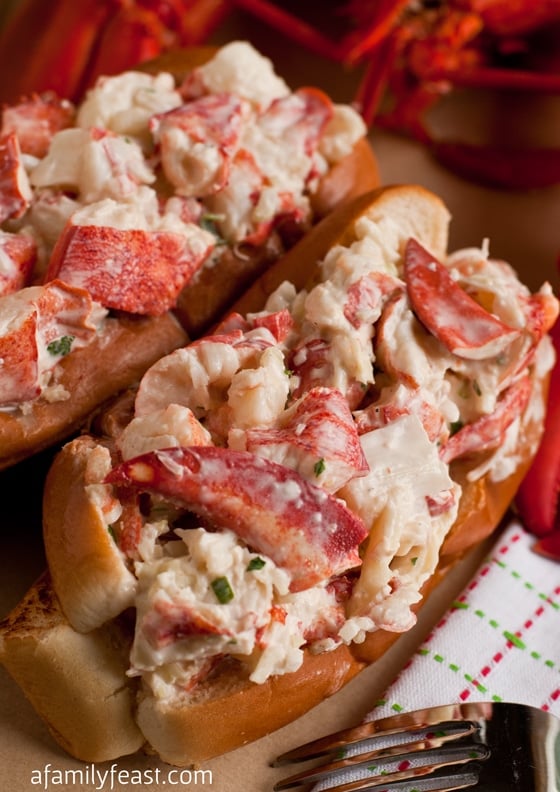 How do you make a New England Lobster Roll?
The trick to making the perfect New England lobster roll is to keep it simple.  The flavor of lobster is so delicious and so unique, that you don't want to over-complicate the recipe too much with flavors that will overwhelm your lobster salad.
Just a touch of mayonnaise and lemon juice along with some finely chopped celery, parsley and scallion are the perfect complement to the fresh lobster meat.  My husband Jack also adds a touch of hot sauce (we used sriracha) which brightens up the flavors of our New England lobster roll, but adding it is optional.
To make a truly classic New England lobster roll, split-top hot dog rolls are the time-honored choice for the bread.  The split-top hot dog rolls are baked together so that when they are pulled apart, there is no outer crust on the sides of the roll. 
Around New England, split-top rolls are easy to find, but if you can't find them in your area, any side-cut hot dog roll will work just as well.
Served with sliced fruit or coleslaw – these New England lobster rolls are a classic taste of New England!
You might like these other Lobster recipes:
Print
New England Lobster Roll
Prep Time:

10 mins

Total Time:

10 minutes

Yield:

2-4 servings
---
Description
If you are using live lobsters that you will cook yourself, the yield is about 25%. So for four pounds of live lobsters, you will end up with one pound of cooked meat (give or take a few ounces depending on the size of the lobsters. The smaller the lobster, the lower the yield). Prep time below does not include cooking time for lobster. Cooking times for live lobsters can be found here.
---
1

pound cooked lobster meat cut into bite sized chunks

1/3 cup

mayonnaise

2 teaspoons

fresh lemon juice

¼ cup

finely chopped celery (use tender inner stalks)

1 teaspoon

chopped fresh parsley

2 teaspoons

green tops from a scallion, minced fine

1

dash hot sauce (we like Cholula)
Pinch is salt
Few grinds freshly ground black pepper
Split-top hot dog rolls

2 tablespoons

melted butter
Optional – lettuce for serving.
---
Instructions
Place the cooked lobster meat in large bowl.
In a separate, smaller bowl combine the mayonnaise, lemon juice, celery, parsley, scallion, hot sauce, and salt and pepper. Mix and taste for seasoning. Once you have the seasoning to your liking, add to the cooked lobster meat and mix.
Brush both sides of rolls with butter and toast both sides in a medium fry pan over medium heat until nicely browned.
Divide the lobster salad between each roll per your preference. Some serve lettuce under the lobster salad but we like it without, your choice.
---