This Lobster Mac and Cheese recipe was sponsored by the dairy farm families of New England. All opinions are 100% mine.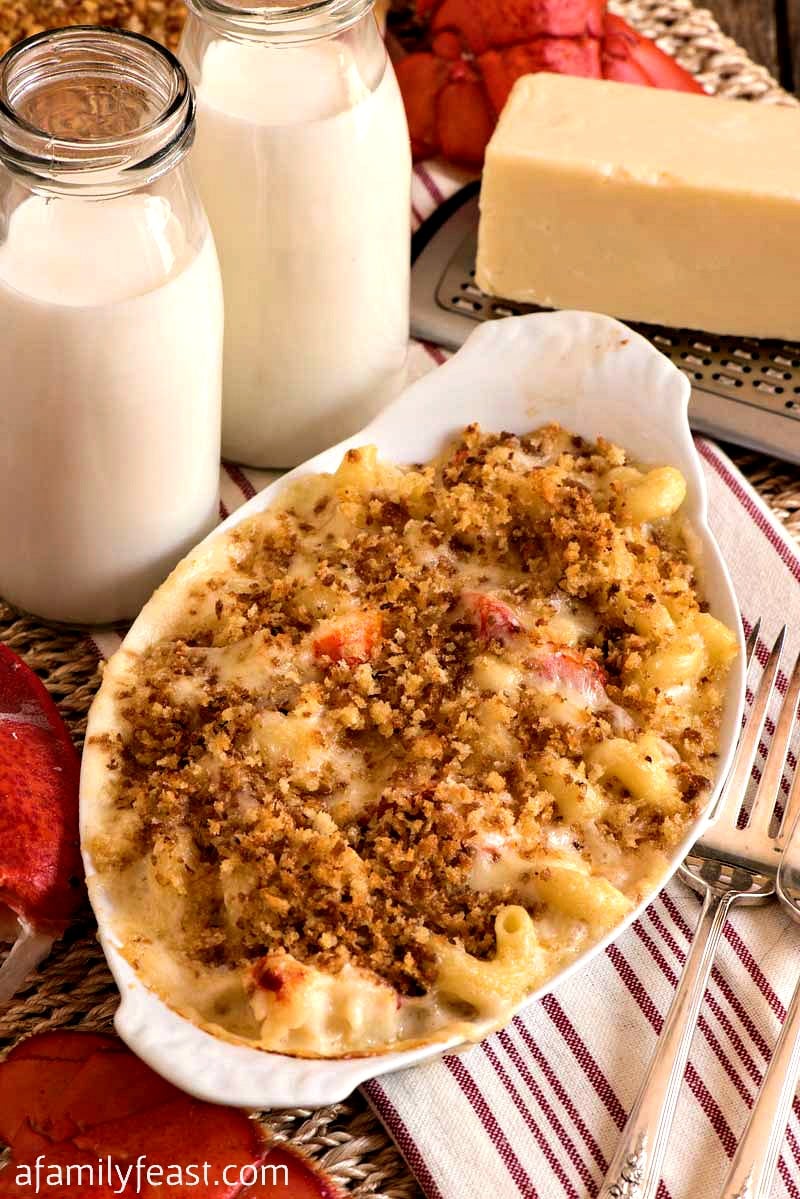 Once in a while, everyone deserves a little decadence in their life – and this amazing Lobster Mac and Cheese is just the thing when you are craving cheesy, rich comfort food!
But don't be mistaken – this isn't just ANY macaroni and cheese recipe with some lobster added to the mix. Oh no – we made this recipe with amazing layers of flavor in mind!
You'll start out by cooking fresh lobsters in a big pot of water that has been seasoned with salt, peppercorns and fresh parsley. After the lobster is cooked – don't throw out that flavorful water! You will use it to cook the pasta for this Lobster Mac and Cheese.
Once the pasta is partially cooked – you'll stir it into a creamy, rich and delicious sauce made with cheddar cheese, mascarpone cheese (for even more creaminess), whole milk and heavy cream.  The rich cheese sauce is wonderfully seasoned with nutmeg, dry mustard, a small pinch of cayenne, plus salt and pepper.
Finally, chunks of the cooked lobster meat get stirred into the mac and cheese and the mixture gets spooned into individual-sized baking dishes.  A final topping of buttery panko breadcrumbs seasoned with paprika and garlic powder is sprinkled on top of each portion – then the Lobster Mac and Cheese is baked in the oven until crispy and golden on top and hot and bubbly inside.
No doubt – this Lobster Mac and Cheese recipe is cheesy and decadent! But all of that delicious dairy we included in the recipe is full of essential nutrients including calcium, protein and vitamin D that work together to help protect our bones – so go ahead and enjoy!
For more information about the dairy farm families of New England, school nutrition, and health and wellness topics, please visit New England Dairy & Food Council and Must Be the Milk.
Print
Lobster Mac and Cheese
Prep Time:

30 minutes

Cook Time:

45 minutes

Total Time:

1 hour 15 minutes

Yield:

4-6 servings
---
Description
Note: For every pound of lobster, the yield is about 4 ounces. So, four lobsters weighing about a pound each will yield about one pound of meat from the tail and claws, give or take a few ounces.
---
3–4 live lobsters totaling 4 ½ pounds
8 quarts water (in a 12-quart pan)
1 tablespoon kosher salt
8 parsley stems
8 black peppercorns whole
8 ounces uncooked cork screw pasta (Cellentani)
4 tablespoons unsalted butter
1/3 cup sweet onion, diced (such as Vidalia)
¼ cup all-purpose flour
1 cup whole milk
1 cup heavy cream
3 cups sharp New York cheddar cheese, shredded and divided
1 8-ounce container mascarpone cheese
Few grinds nutmeg
½ teaspoon dry mustard
Pinch cayenne pepper
½ teaspoon kosher salt
½ teaspoon white pepper
Topping
2 tablespoons unsalted butter
1 cup panko bread crumbs
½ teaspoon paprika
¼ teaspoon garlic powder
---
Instructions
Heat a 12-quart pot with 8 quarts of water along with the salt, parsley stems and peppercorns. Bring to a boil and add lobsters. Cover and once boiling, set timer for 13 minutes. (larger lobsters will take up to 15 minutes). Partially cover during cooking and watch for the water if it foams up and spills over. If it does, remove cover and place back on more askew.
Remove the lobsters with long handled tongs to a sheet tray to cool and boil the water to reduce down to 4 quarts (one gallon). You will use this to cook the pasta. Remove the parsley stems and peppercorns and discard.
Break off the tails and claws with knuckles and remove the meat. Save the liquid that pours out and add to the pasta water. To remove tail meat, place the rounded part of the tail in your palm and squeeze. The underside of the tail will split open and just pull out the tail meat. Pull off the flat strip on the outside of the tail and remove the intestinal track and discard. What remains will be the tail piece and the long flap you pulled off. Cut these into bite sized pieces and set aside. For the claws, gently break off the small part of the claw and work it off leaving the meat connected. If the meat comes off with that piece, you will need to fish it out. With the back of a knife, crack the big part of the shell and open up to remove the claw meat. Cut into bite sized pieces and add to the tail meat and set aside.
Preheat the oven to 375 degrees F and place the oven rack on the top third of the oven with a sheet of foil on the rack below to catch drips.
Heat the pasta water to a boil (we transferred it from the 12-quart pot to a four-quart pot).
While the pasta water is heating, in a four-quart pot, melt butter over medium heat and add onion. Cook for five minutes or until the onions are soft and just starting to turn brown.
Add flour and lower the heat slightly. Stir and cook this mixture for three minutes or until the raw flour smell is gone. Bring the heat back to medium.
Once pasta water boils, add the pasta and cook about two minutes short of the box directions. If the pasta cooks before the sauce, just shut off the burner until you are ready for it.
Combine the milk and cream in a measuring cup and add this to the butter/flour mixture one third at a time. As you add each third, stir with a whisk. The first addition will be thick and then each subsequent third will thin down.
Keep the heat on medium and stir in two cups of the cheddar, the mascarpone, nutmeg, mustard, cayenne, salt and pepper and stir until the cheese has melted into the sauce.
Using a spider or strainer, scoop out the pasta and add to the sauce, then the lobster meat. Stir to combine and remove from the heat.
In individual baking dishes, divide the lobster macaroni and cheese into the dishes. We used 8-ounce dishes and filled five, however your size may vary from ours, so fill each almost to the top.
Divide the last cup of shredded cheddar over the tops of each.
In a medium sauté pan, place all topping ingredients and cook over medium heat until browned, about five minutes. (You can do this step ahead of time if you wish.)
Divide the topping over each dish and place in the oven right on the oven rack. As they cook, they will drip over a bit so don't forget that foil.
Bake for 15 minutes until hot and bubbly then serve.
---
You may also like:
Milk-Braised Pulled Pork with Mushrooms