Make this restaurant-quality Pan Seared Halibut with Lemon Caper Sauce at home for any special occasion.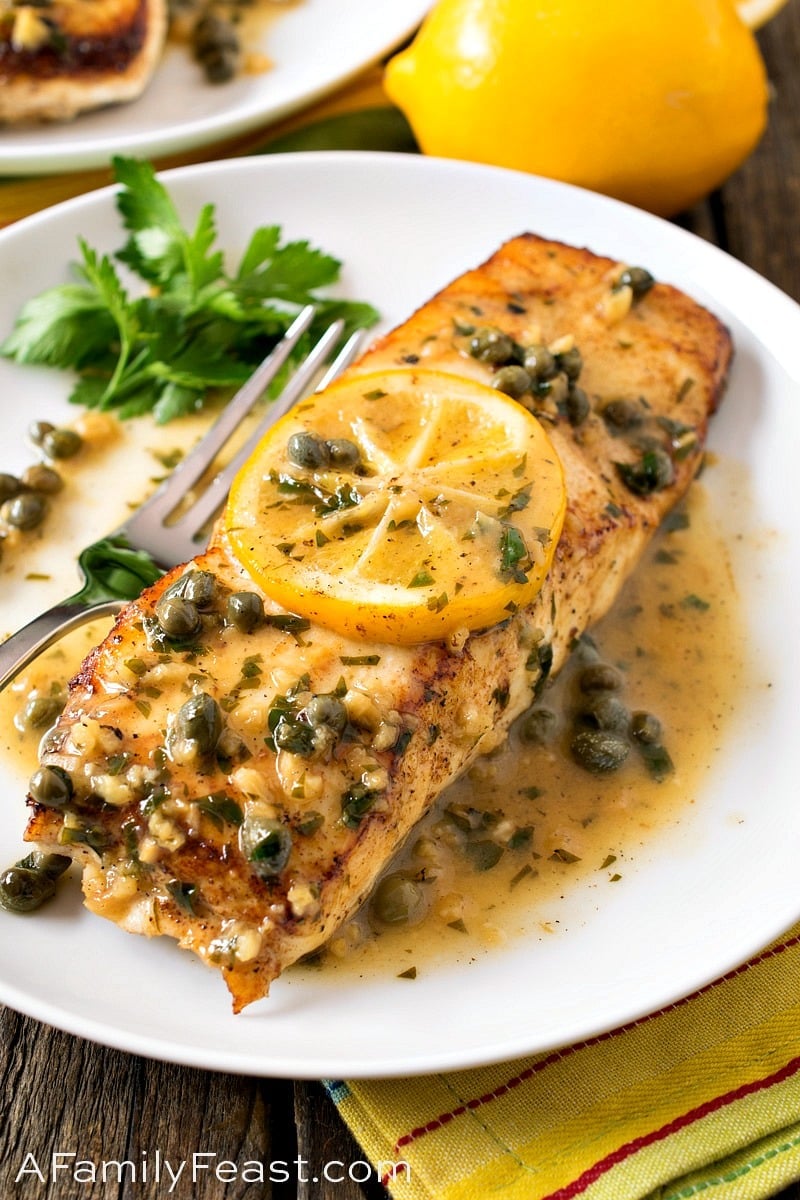 All week long, we're going to share several recipes that we recently prepared for a dinner party with our good friends Sandi and David. This Pan Seared Halibut with Lemon Caper Sauce was the delicious star of the show!
Anytime we invite friends over for dinner, we always try to prepare something special.  For us, it's a pleasure to cook for the enjoyment of cooking and to feed a wonderful meal to our family and friends. But after dinner – more often than not – we get asked, "Is this recipe on your website?" Sometimes the answer is yes, but in the case of our dinner with Sandi and David, many of the recipes were brand new to us.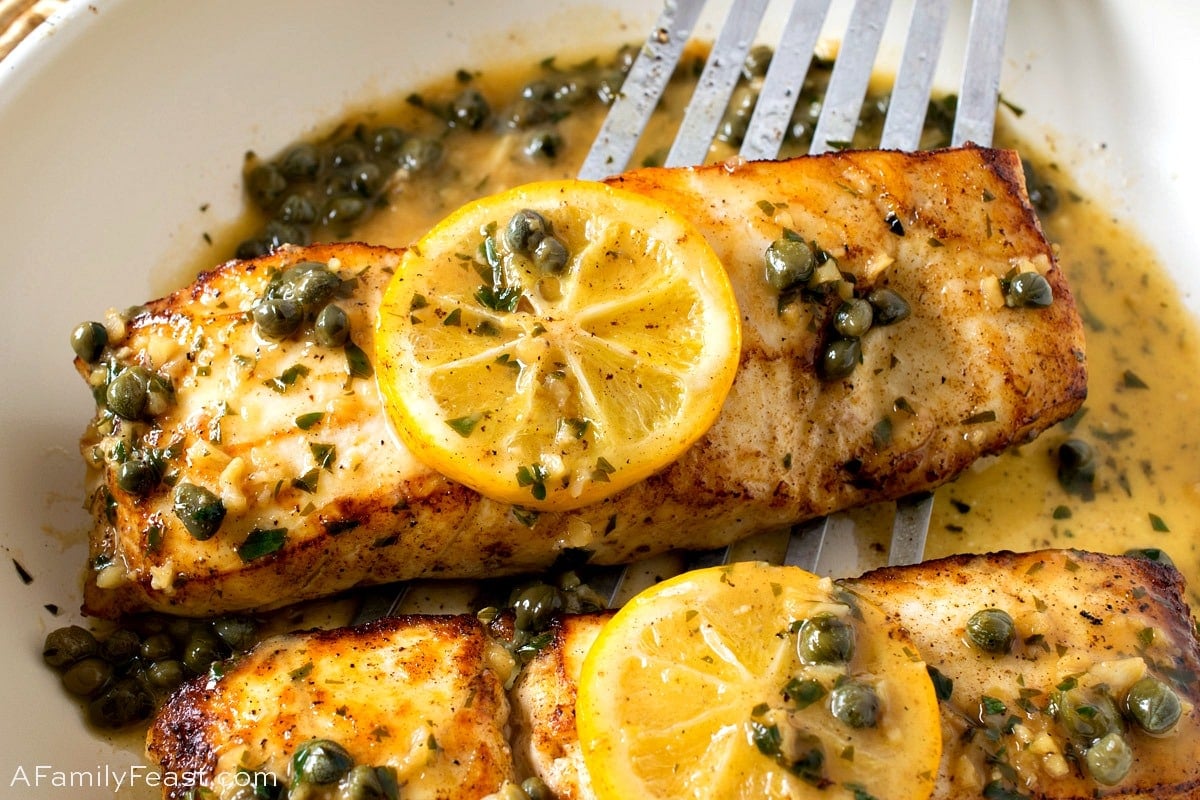 So Jack and I decided to prepare our dinner menu again – starting with this amazing Pan Seared Halibut with Lemon Caper Sauce – so we could share the recipes here on A Family Feast.
What do I look for when buying Halibut?
Halibut is a firm, white fish with a mild flavor – but it is a bit of a splurge, so this Pan Seared Halibut with Lemon Caper Sauce recipe is really one to save for a special meal.
If possible, always buy your halibut at a fish market that sells fresh-off-the-boat seafood. Whole Foods is also another reputable option. (Unfortunately, in our experience, the average supermarket will not be selling super fresh halibut. )
Typically, one pound of fresh halibut will yield two very generous portions. Call ahead to the market, and ask the fish monger to tell you when they receive their fresh catch in the morning – that's the time to shop! Ask for the thick end of the halibut filet, and to make it easier for yourself, also ask them to skin it for you.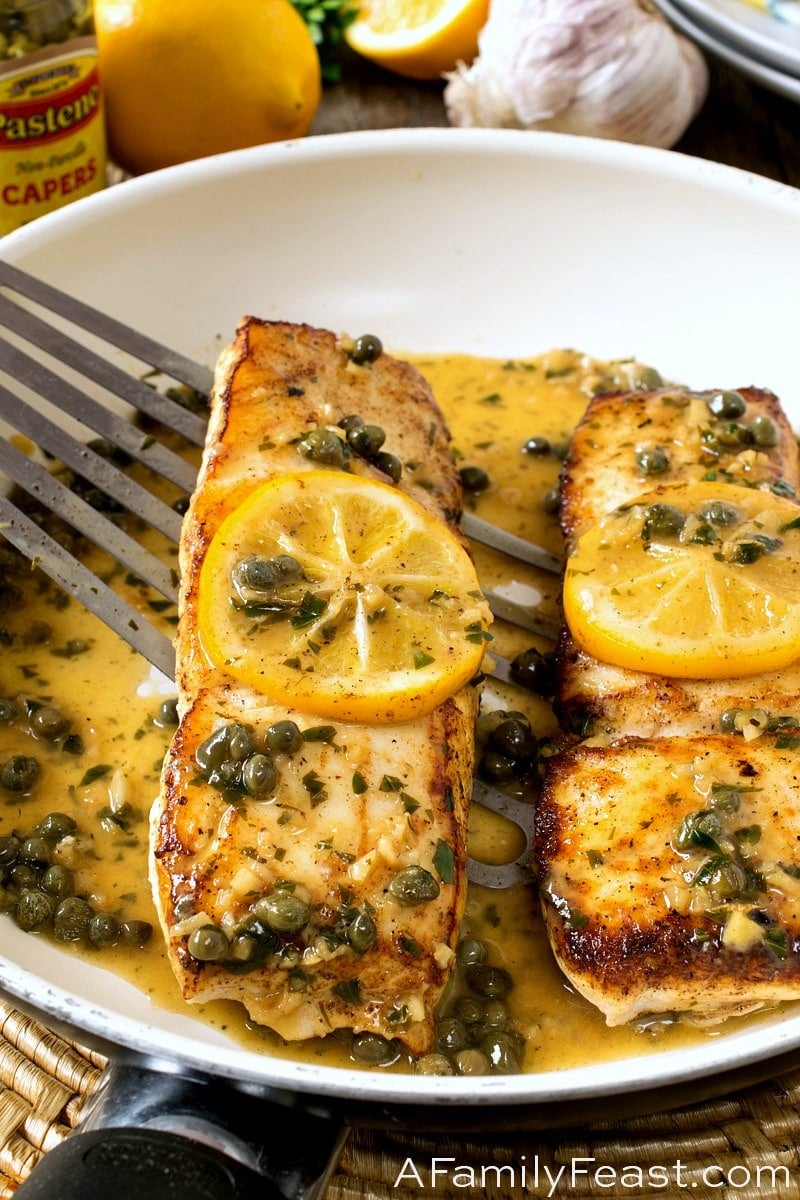 A few other tips for buying fresh seafood.
When you buy any type of fish, keeping it cold while you transport it is crucial, especially during warm weather months. We suggest bringing a cooler full of ice in the back of your car, then place the halibut (or any other kind of seafood) inside that to ensure it stays as cold as possible during the ride home.
Once home, keep your seafood super-chilled by placing it in a bowl of ice in the refrigerator until ready to use.
Always buy the freshest possible fish available. Fresh seafood should not have any smell except the briny smell of the ocean. Don't be shy about asking to smell the fish you plan to buy. If it smells "fishy", walk away.
How do you cook halibut?
We pan seared our halibut in both butter and extra virgin olive oil over medium heat. The butter will start to brown a bit – and that adds some great flavor to this dish! You'll also add lemon slices to the pan, adding a bright citrusy flavor as well.
Once the halibut is cooked through, remove the filets from the pan. Then sauté chopped garlic for a few moments, add a splash of white wine to deglaze the pan, then add lemon juice, capers and parsley, smooth out with butter – and your simple pan sauce is done.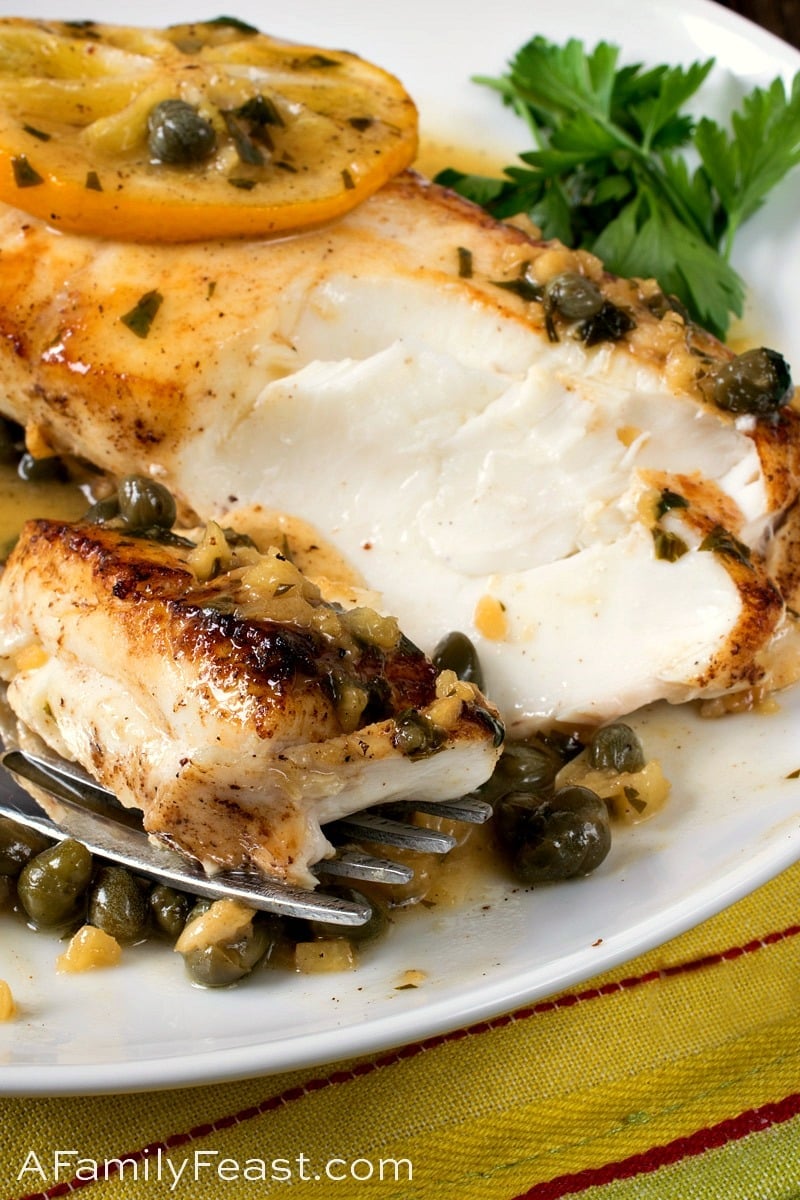 All in all, this elegant, flavorful, tender, moist, and flaky Pan Seared Halibut with Lemon Caper Sauce takes less than thirty minutes to cook. And your guests will think that they are eating at a fine seafood restaurant!
Be sure to check back later this week for the recipes from the rest of our dinner party menu!
You may like these other seafood recipes:
Disclosure: This post contains affiliate links.


Print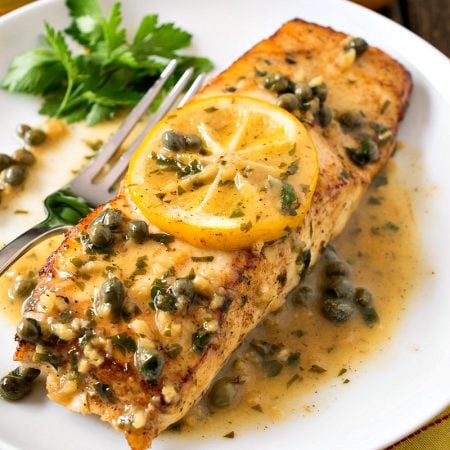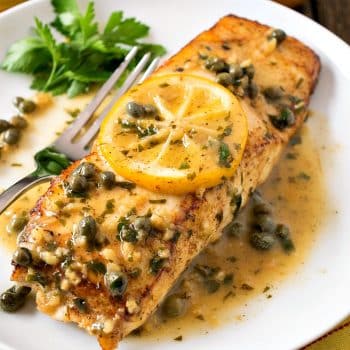 Pan Seared Halibut with Lemon Caper Sauce
Author:

Prep Time:

10 minutes

Cook Time:

12 minutes

Total Time:

22 minutes

Yield:

2 servings

Category:

entree

Method:

saute

Cuisine:

American
---
Description
*If your fish market did not skin the halibut, see the Notes section below for instructions on how to skin the filet.
---
1 pound fresh halibut, skinned* and cut into two equal portions
4 tablespoons butter, divided
1 tablespoon extra-virgin olive oil
½ teaspoon kosher salt
Few grinds black pepper
3–4 slices lemon (we used Meyer lemons but regular lemon will do)
2 teaspoon fresh garlic, finely chopped
¼ cup white wine such as Chardonnay
2 tablespoons lemon juice
2 tablespoon capers drained
2 tablespoons fresh flat leaf parsley chopped
---
Instructions
Salt the top of the fish with just a small sprinkle of kosher or sea salt.
Place two tablespoons of butter and the olive oil in a medium to large skillet or sauté pan and heat over medium heat.
Swirl the butter and oil around and once it starts to slightly brown, add the fish top side down. Sprinkle the side facing up with the rest of the salt and the pepper. Cook for five minutes then using one or two long fish spatulas, gently flip over being careful not to splash hot fat.
Add the lemon slices to the pan as the fish cooks and cook the fish about 3-5 more minutes. Poke the fish to test for doneness or insert a small knife in the side of the center to see if the fish flakes. You want to stop the cooking just before it fully cooks so a little undercooked in the center is fine. It will continue to cook outside of the pan.
Using one or two fish turners, remove the fish filets to a platter along with the cooked lemon slices.
Pour off all but two tablespoons of the fat left in the pan. Best to pour it all into a bowl, let the burned bits sink to the bottom then skim off a few tablespoons of the fat at the top and place back into the pan.
Keep the heat at medium and add the garlic and cook one minute. Add the wine and cook to evaporate. Then add the lemon juice, capers and parsley. Cook for a minute then remove from heat and stir in the remaining 2 tablespoons of butter and stir to make the sauce.
Put the fish back into the pan along with any liquid from the platter, bring heat back to medium and use a spoon to spoon the sauce over the top and cook for 30 seconds then remove to a platter and serve. (I know this seems like a lot of work but at about $23.00 per pound – more if you live away from the ocean – the extra time invested to get this special dish perfect is worth it.)
Serve each portion with a cooked lemon slice and some of the pan sauce.
---
Notes
*If the halibut is not already skinned, place the filet on a cutting board close to the edge where you are working. Use a sharp long knife and start the skin by cutting a little and separating the skin from the meat but still attached. Then hold that piece down tight against your board, skin down, while you run the knife between the skin and the fish holding the knife flat. Pull the skin as you move the knife slightly back and forth and the skin will come right off. Cut filet into two equal portions and discard the skin.