Tomatoes…and more tomatoes…we've still got tons of ripe tomatoes in our garden right now, so we're eating and cooking with them as fast as we can!  But I'm not complaining at all – garden tomatoes are the best!
This recipe for Poached Cod with Tarragon and Cherry Tomatoes is one of our latest, favorite recipes using cherry (or grape) tomatoes.  It's another quick-to-prepare dinner option that is both very delicious and healthy!  Cherry tomatoes and fresh cod fillets are sautéed for a few minutes in a hot skillet.  Then white wine, a little bit of butter, and chopped fresh tarragon are added to create a wonderful sauce for poaching the cod and tomatoes until they are tender and cooked through.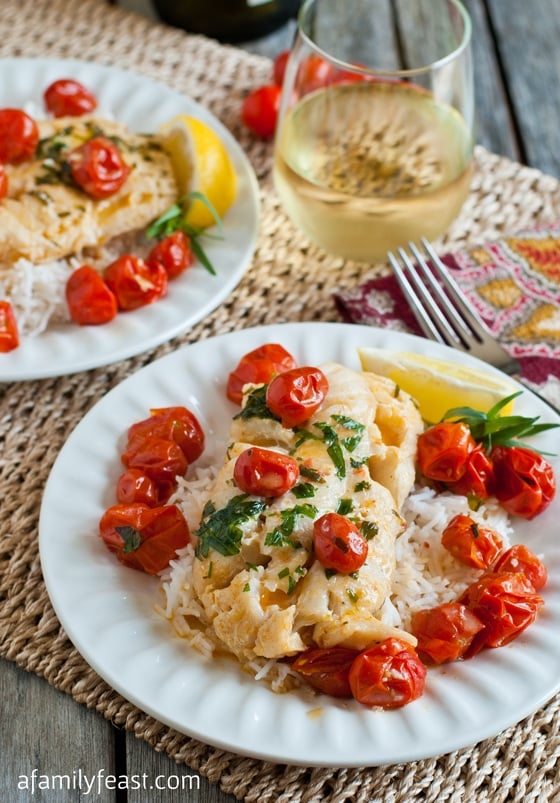 This recipe is so simple – your dinner will be ready in about 20 minutes – and the flavors are really fantastic!  Fresh tarragon is wonderful paired with the fresh cherry tomatoes that, when poached, have both an acidity and a sweetness. And the tarragon and tomato together are the perfect complement to the fresh flavors of codfish.
Served over a bed of white basmati rice along with a wedge of fresh lemon, this poached cod with tarragon and cherry tomatoes is a perfect quick, weeknight dinner – but it's also delicious enough that you could serve this for a casual dinner party as well!
Adapted from The Boston Globe.
Print
Poached Cod with Tarragon and Cherry Tomatoes
Prep Time:

5 mins

Cook Time:

13 mins

Total Time:

18 minutes

Yield:

2-4 servings
---
1 tablespoon

olive oil

1 pint

cherry or grape tomatoes
Salt and pepper, to taste

1

–

2

pounds skinless, boneless cod fillets (about 1" thick), cut into two pieces

½ cup

white wine

2 teaspoons

butter, divided

1 tablespoon

chopped fresh tarragon
Cooked white basmati rice, for serving

2

lemon wedges, for garnish
---
Instructions
In a large skillet with cover, heat the olive oil over medium-high heat. Add the tomatoes, salt and pepper and cook, stirring frequently for 3 minutes.
Push the tomatoes to the sides of the pans and add the fish fillets. Cook the fish for two minutes (do not flip the fish).
Pour the wine over the fish and place a teaspoon pat of butter on each piece of fish. Sprinkle the chopped tarragon over the fish.
Cover the skillet with a lid and simmer on medium-high for 8 minutes or until the fish is cooked through and the tomato skins begin to burst.
Serve immediately over cooked white rice, topping the fish with the tomatoes and sauce. Serve with a wedge of lemon.
---
You may also like: