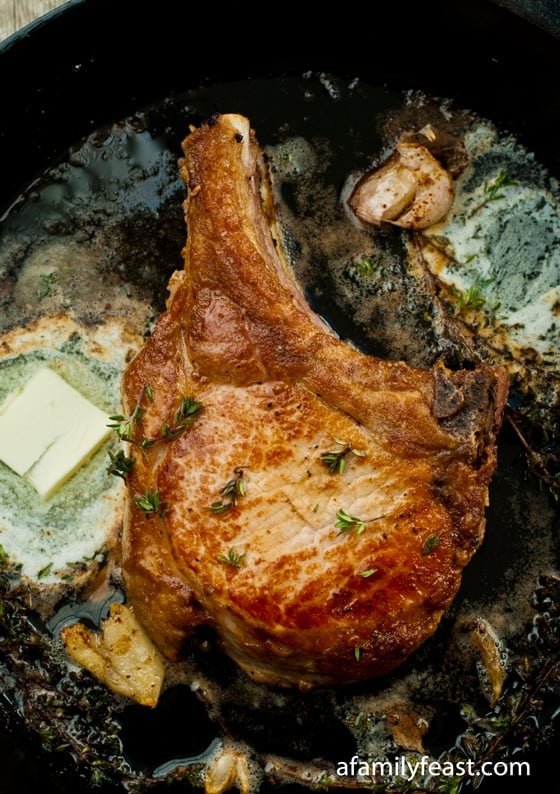 Before I met my husband, I avoided cooking pork chops – not because I didn't like the taste of them, but because I could never cook them very well.  Most of the time my pork chops came out dry and tasteless, so rather than disappointing myself or my dinner guests, I steered clear of pork entirely.  Then Jack taught me how to cook perfect pork chops!
The trick to perfectly tender and juicy pork chops is to quickly sear or brown them first over high heat in a frying pan in order to lock in the juices, and then move the pork chops to the oven to finish cooking.  This cooking technique is a trick of the restaurant trade, and it works just as well at home in your own kitchen!
We cooked two-inch, butcher-cut pork chops for this recipe with just a few simple seasonings, and the results are perfect pork chops that are juicy and really delicious!
Some cooks also suggest soaking pork chops in a brine before cooking to add moisture to the meat. We actually recommend against brining pork chops because it changes the texture and flavor of the meat (other meats such as poultry benefit nicely from a brine before cooking).  If you follow our recipe below, brining should not be necessary for you to cook perfectly moist and flavorful pork chops for you and your family.
Print
Perfect Pork Chops
Prep Time:

15 mins

Cook Time:

30 mins

Total Time:

45 minutes

Yield:

2-4 servings
---
Description
Please do yourself a favor and go to your local butcher and have these chops cut for you. You will rarely find two inch bone-in center cut pork chops in your average supermarket. (This cooking technique will work for thinner pork shops as well.) The pork chops used in this recipe have two rib bones in each chop and were about a pound and a quarter each.
---
2 tablespoons

vegetable oil

2

two-inch bone-in, center cut pork chops

3 tablespoons

butter

2

unpeeled garlic cloves, smashed

3

sprigs of fresh thyme
---
Instructions
Preheat oven to 450 degrees. For later in this recipe, place a cooling rack over a large dish or pan.
In a large cast iron pan, or other oven-proof sauté pan (do not use a non-stick skillet), heat the oil over medium high heat until hot. Place the two chops in the pan, not touching each other, and let them cook – leaving them alone for three minutes. Turn and cook untouched for two more minutes. Then keep flipping every two minutes for about 10-12 minutes or until golden brown.
Remove the pan from the flame and insert a probe thermometer horizontally into the thickest part of one of the chops and set the probe to alarm at 135 degrees. Place the pan with the pork chops in the pre-heated oven and turn the chops every two minutes for about 14-15 minutes or until they reach 135 degrees. (They will cook further after you take them out of the oven so don't leave them in the oven past 135 degrees. The internal temperature will rise to 145 degrees which is the USDA's minimum recommended temperature for cooked pork.)
Remove the pan from the oven and set chops temporarily on the prepared rack. Drain off oil from the pan and discard. Place the pan on stove top over medium heat and add butter, garlic and thyme. Cook for two minutes, scraping up any brown bits, then add the chops back to the pan and baste continually; flipping the chops two or three times to fully coat with butter sauce, about two to three minutes. Turn off the heat.
Remove the pork chops to the rack again and let rest for 10-15 minutes. Cover loosley with foil.
When ready to serve, place the chop on a cutting board vertically and with a long knife, slice down between the two bones. When you get to the connecting bone, snap it or cut it off. This will give you two portions of equal size for each chop for a total of four servings. Serve the pork chop with a little of the browned butter sauce and our Apple Pear Compote. Or if you are feeding large hungry men, just give them a single chop and let them have at it.
---
Notes
Eating pork with a little bit of pink color in the middle is perfectly safe these days according to the USDA.
Back in the old days, pigs were not fed processed feed and grain like they are today and as a result, many people became sick with trichinosis. To avoid trichinosis, years ago people were told to cook pork until it was very well done to kill any bacteria – and the results were dry and tough pork chops to eat.
But because pigs are now grain-fed for pork consumption, like cattle is for beef consumption, it is perfectly safe to eat pork that is still slightly 'rare' – and it will be more moist and delicious too!
You may also like: