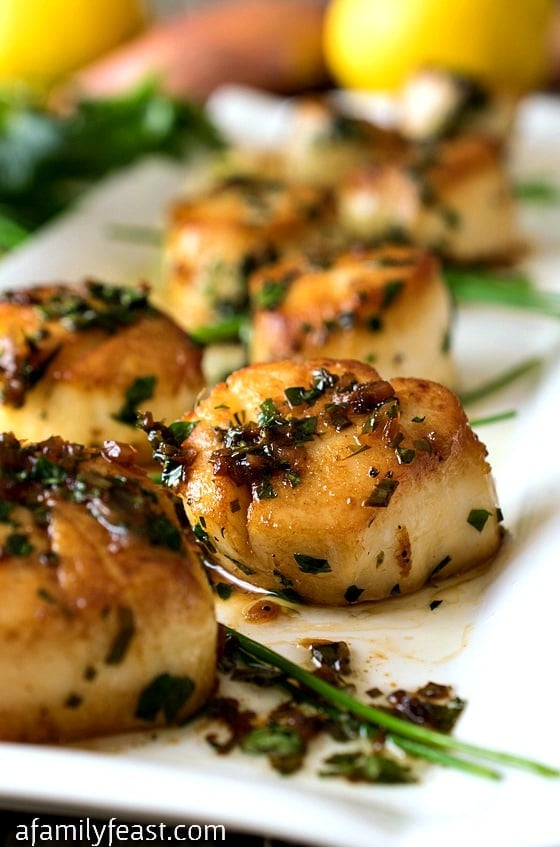 Today we're showing you how to prepare Perfect Pan-Seared Scallops – served with a simple, flavorful pan sauce!  Scallops are one of our favorite types of seafood to eat, but they can be a little tricky to cook!
You'll first want to start with the freshest possible sea scallops you can find (sea scallops are the large-sized scallops, not the smaller ones), and ideally you want to use "day boat" scallops which were harvested on a boat that returned to shore the same day the scallops were caught.
You can read much more about what to look for when buying scallops here.
Perfect pan-seared scallops take just minutes to cook, and one of the secrets to ensuring that wonderful golden, caramelized color is to make sure that the scallops are perfectly dry before you start to sear them.  If the scallops are wet, they won't brown in the pan!
You also want to cook the scallops over very high heat using a combination of clarified butter (which has a much higher smoke point than regular butter) as well as a lighter, neutral-flavored oil such as canola or grape seed so it doesn't detract from the wonderful taste of the scallops.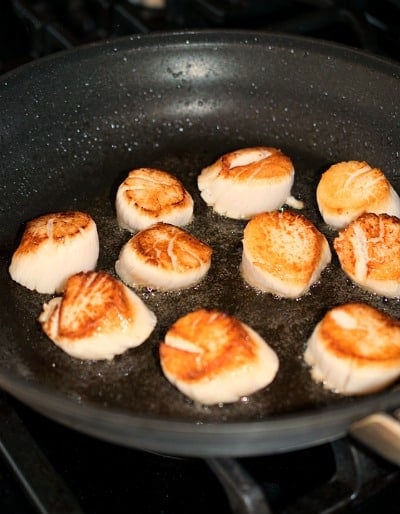 While sautéing, avoid over-crowding the sauté pan (don't let the scallops touch each other in the pan) and also, avoid turning the scallops over and over as they cook.  Just allow each side to brown and caramelize and then remove them from the pan once they are cooked through.
We love serving our scallops with a simple pan sauce made with vermouth or a dry white wine (such as chardonnay), fresh herbs, lemon zest and a touch of butter!  This light sauce comes together quickly as well, and it is the perfect complement to your perfect pan seared scallops!
Print
Perfect Pan Seared Scallops (with a Simple Pan Sauce)
Prep Time:

15 mins

Cook Time:

8 mins

Total Time:

23 minutes

Yield:

Serves 2
---
Description
This recipe comes together very fast so you must have all of the ingredients measured out in advance before you begin cooking. Also remember that scallops get rubbery if they are not eaten soon after cooking so do not start this dish until just before you are ready to serve.
---
1

pound sea scallops

2 tablespoons

clarified butter, divided (use unsalted if you have not made clarified)

1 tablespoon

good quality light oil such as canola or grape seed oil

2 tablespoons

finely minced shallots

¼ cup

vermouth or a very dry white wine

2 tablespoons

chopped fresh flat leaf parsley

1 tablespoon

chopped fresh chives

½ teaspoon

lemon zest

½ teaspoon

salt
Few grinds freshly ground black pepper

2 tablespoons

cold unsalted butter
---
Instructions
Prepare the scallops by removing and discarding the hard little muscle that is attached to the side of the scallop. Sometimes that is removed before sale, most of the time not. Rinse the scallops gently under very cold water and pat dry completely with paper towels. If they are not dry, they will not brown.
Prepare all ingredients and set aside.
In a large sauté pan, heat 1 tablespoon of clarified butter and the oil over hot heat until it just starts to reach the smoking point. If you are using clarified butter it may not smoke so test with a drop of water.
Once the pan and fat are hot, gently place each scallop in, making sure they don't touch. Do not overcrowd the pan. The heat should be at about medium high to high. Once you set the scallops in, do not touch for two minutes. They must remain in one place so they brown. If you think they are browning too quickly, lift one and check. They should be golden in color. Adjust heat slightly if needed.
Turn each one and again do not touch for two minutes. As they cook on the other side, you can see the center start to turn from a slightly off white color to white. If they are not uniform, you may want to remove the smaller ones first. Once cooked, remove all of them to a plate and lower heat to medium.
Add the remaining tablespoon of clarified butter and the shallots and cook for about one minute then add vermouth. Stir to loosen up brown bits from the pan and reduce the vermouth by half.
Add the parsley, chives, zest, salt and pepper and stir.
When the sauce has started to bubble, add the cold butter one tablespoon at a time and stir to make the pan sauce.
Add the scallops back in along with any liquid from the dish and just turn them around in the sauce to bring them back up to temperature and to coat them.
Remove immediately from the heat and serve with the pan sauce over the scallops.
---
You may also like: