Become an expert at cooking a Perfect Pan-Seared Steak at home! (It's easy!)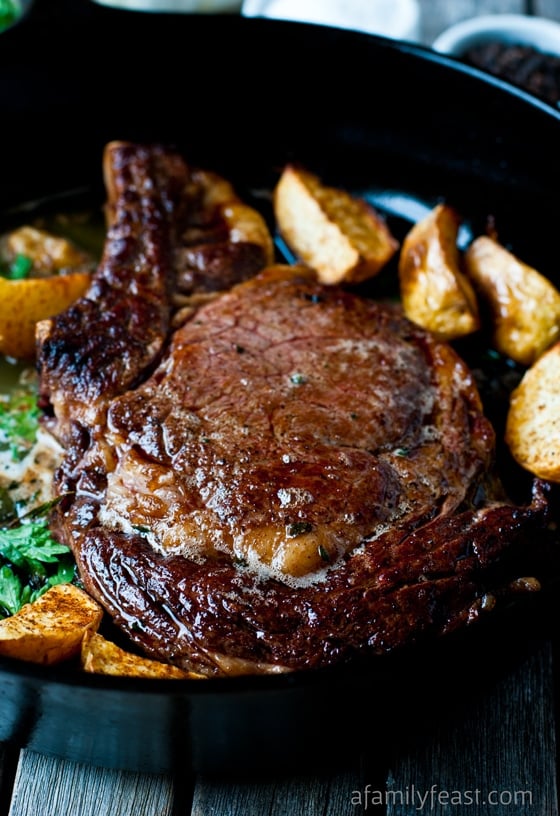 A few weekends ago we had some friends over to our house for lunch, and we got around to talking about A Family Feast.  We love hearing suggestions for the types of recipes people would like to see us post here – and our friend Simone was the first to speak up!  She asked for a simple and easy way to prepare steak – and others agreed (including myself!) – so here is our recipe for the Perfect Pan-Seared Steak!
I'll admit – I usually leave the cooking of steak or other cuts of beef to my husband Jack.  Other types of meat…I have no problems cooking that!  But steak…I've never been happy with how it came out when I cooked it.  Until now that is!  Cooking the perfect pan-seared steak is so easy (and it comes out so deliciously good) you'll become an expert at it too!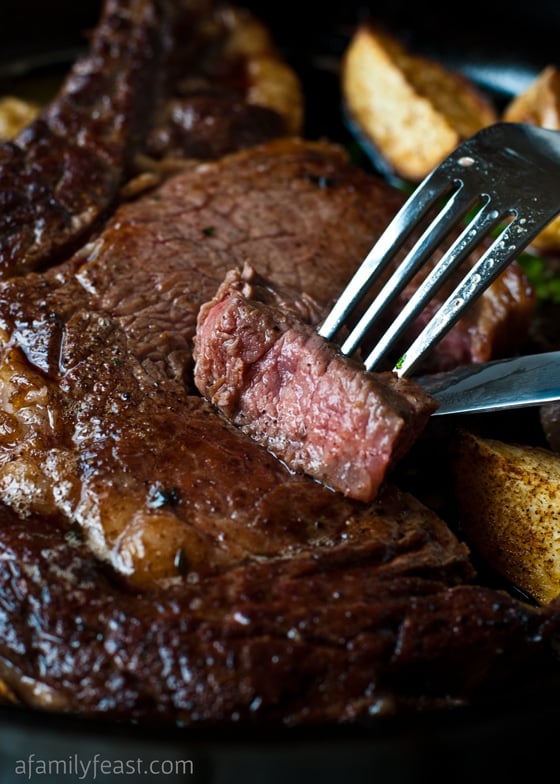 What kind of beef should I buy to make a Perfect Pan-Seared Steak?
For a perfect steak of any kind, you really need to start with a good quality, high-grade cut of beef.  For a Perfect Pan-Seared Steak, a good rib eye or sirloin are our recommended choices – and try to select a thick steak (at least 1½ inches thick).  Look for marbling (little spider veins of fat that are weaved throughout the meat, resulting in a more tender cooked steak) and try to avoid cuts that have large pieces of outside fat or gristle running through it.  Don't be shy about asking your butcher – even at your local supermarket – for exactly the cut of beef you need!
At most supermarkets, you are most likely going to find a grade of meat that is called "choice", which is perfectly fine to use!  Just try to avoid the grades called "select" or "standard" as they are lesser cuts of meat and usually lack the marbling you want. It is also possible to get the best grade called "prime" at the supermarket, but unlikely – you typically will need to go to a specialty butcher for that.  If you don't mind paying top dollar, you can also buy aged beef. The butcher will place the beef in a climate-controlled space for a period of days or weeks. The beef will lose moisture and intensify in flavor. (It is possible to age beef at home yourself…see this article.)
When you get the steak home, remove it from the package and place it in your refrigerator, uncovered, on a plate lined with a few paper towels until you are ready to prepare it.  This will help remove any excess moisture and will also help intensify the flavor of your steak.
Finally, we recommend using a well-seasoned, large black cast iron frying pan for making the Perfect Pan-Seared Steak!
You may like these other Steak recipes:
Print
Perfect Pan-Seared Steak
Prep Time:

4 mins

Cook Time:

6 mins

Total Time:

10 minutes

Yield:

4 servings
---
Description
Note: In our photo, you may have noticed that we show some roasted potatoes in the pan. We roasted potato wedges in the oven with oil and seasonings until tender and then added them to the pan during the last two minutes of cooking. They absorb some of the melted butter and steak drippings and really complements the flavor of the steak! This step is optional and is not fully outlined in the recipe.
---
Ingredients
1

bone-in or boneless rib eye steak or sirloin steak at least 1 ½ pounds, cut to at least 1 ½ inches thick
Pinch of salt
Freshly ground black pepper

2 teaspoons

extra-virgin olive oil

3 tablespoons

butter

2

peeled garlic cloves, left whole
Few sprigs fresh parsley, including stems
Optional: Wine and stock (chicken, beef, veal,etc.) and butter for deglazing the pan and making a delicious pan sauce
Optional: Roasted potato wedges (see note above)
---
Instructions
Salt and pepper one side of the steak.
Heat your seasoned cast iron skillet to smoking hot. Add oil and swirl around to coat. Add steak seasoned-side down (place it in pan away from you so you don't get splattered), and then salt and pepper the other side of the steak. At this point do not touch it for two minutes. Using tongs (never pierce the meat with a fork), flip the steak and add butter, garlic and parsley to the pan next to the steak. Allow the steak to cook for 2 more minutes.
Right after you flip the steak for the first time, with a spoon or small ladle, keep basting the melted butter over the steak. Baste continually for the full two minutes (tilt pan a little if you have to, to get the butter onto the spoon).
After two minutes on each side, keep flipping and basting the steak each time leaving the steak for 30 seconds before turning. Test the steak with the poke test (see note below) and remove at medium rare at about the five to six minute mark of total cooking time. Cook a minute or two longer for medium to well. A thicker steak (such as a sirloin) may take longer.
Turn off the heat and baste one more time. Leave the steak in the pan loosely covered with foil for 10 minutes and allow to rest before cutting. Baste one more time, and remove to a cutting board. Either cut the steak in half for each serving or for a nicer presentation, slice on the bias and serve slices.
Discard the pan drippings or if desired, deglaze the pan with a little wine, then and stock and simmer for a few minutes to reduce the drippings. Add a tablespoon or two of butter to thicken for a nice pan sauce .
---
Notes
Note: To test the meat for doneness, we use what is called the 'poke test'. Make a tight fist and feel the flesh just below your thumb into the palm of your hand. Firm is how well-done steak will feel. Loosen your grip a bit and feel the same spot. That will be medium-rare. Loosen your grip all the way and that is blood-rare. Now poke your finger into the thickest part of the meat and compare it to your palm for the perfect level of doneness that you desire.