Fresh herbs, lemon and garlic add fantastic flavor to any grilled or pan-seared steak with this easy Steak Butter recipe.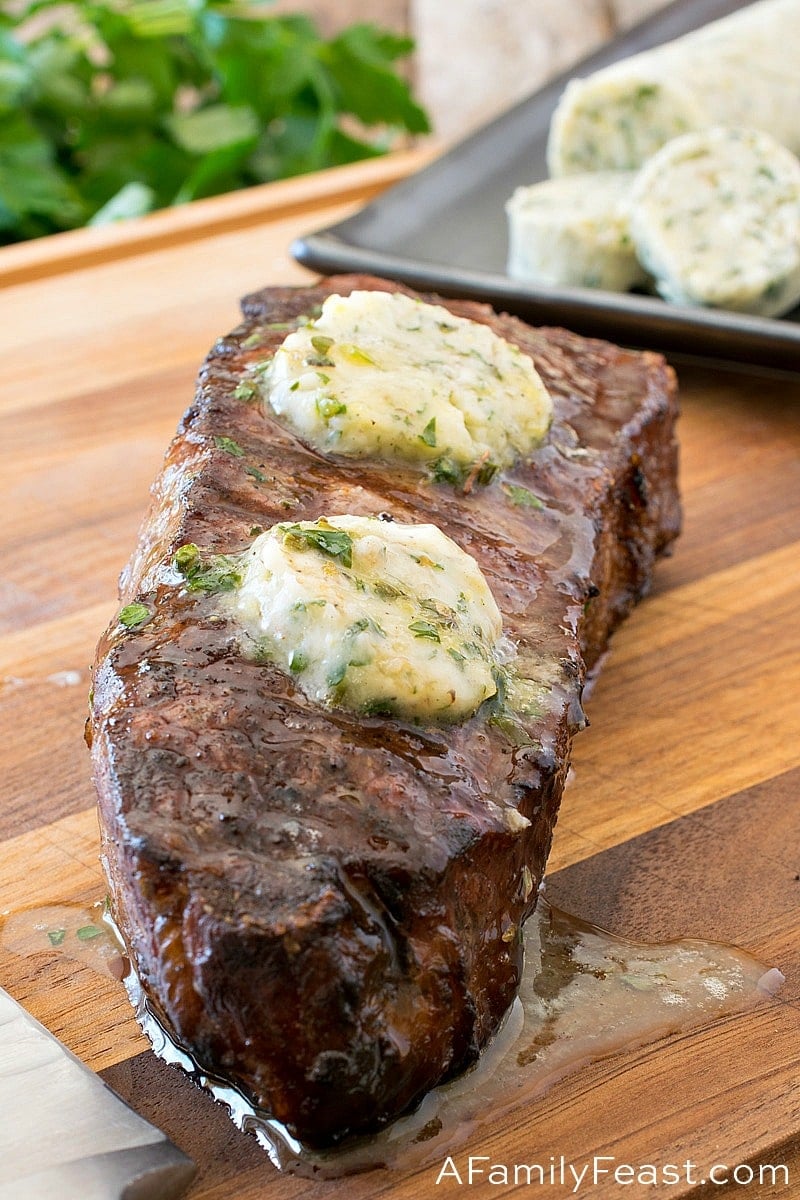 Now that warm weather is (finally) here, we've been grilling dinner almost every night—and a perfect grilled steak has been on the menu.
Admittedly, a good steak, simply seasoned with salt and pepper, is pretty delicious all on its own. But sometimes, we like to dress things up and add this easy Steak Butter on top.
What is Steak Butter?
Steak Butter is essentially a compound butter (a formal name for a mix of butter and other ingredients) with flavors that are specifically formulated for serving on top of steak.
Our Steak Butter is a mix of softened salted butter, garlic, salt and pepper, fresh herbs including parsley, thyme, and chives, plus lemon zest and lemon juice.
You can simply mix up your steak butter, then add a dollop to the top of your steak. But we like to make Steak Butter coins.
Watch this Steak Butter video and see how easy it is to make:
To make Steak Butter coins, roll your compound butter mixture into a long tube shape, and wrap it tightly in plastic wrap. Chill until firm. When you're ready to serve, cut your steak butter into coins.
Then place one or two coins of Steak Butter onto a hot steak. (It's great to do this while your steak rests for a few minutes after cooking.)
Why do people put butter on steak?
Adding butter to steak adds extra richness and can also soften the charred exterior, making a steak more tender.
But a good Steak Butter should complement the flavor of a steak, not mask it. In our recipe today, the garlic and herbs are a wonderful combination of flavors that work nicely with steak, and the additional lemon zest and juice also adds brightness.
This Steak Butter works equally as well on a Perfect Grilled Sirloin Steak as well as Perfect Pan-Seared Steak.
Can I use this Steak Butter on other meats?
Absolutely! The mix of flavors in this compound butter would work nicely with pork, or even grilled chicken and fish.  Feel free to swap in your own favorite herbs and seasonings.
You might enjoy these other Compound Butter recipes:
Print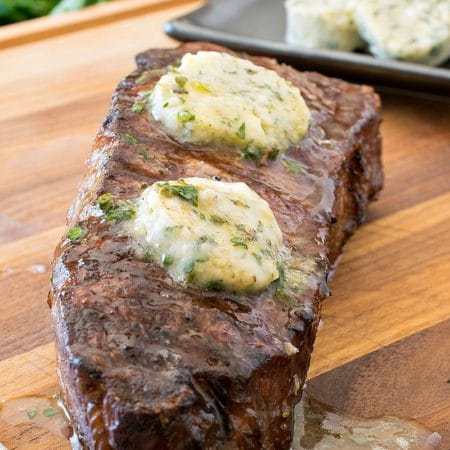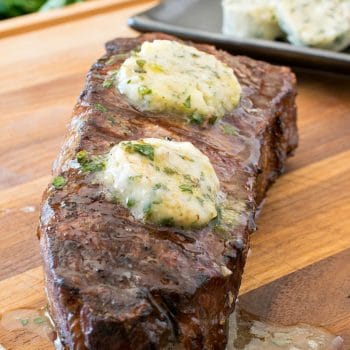 Steak Butter
Author:

Prep Time:

10 minutes

Total Time:

10 minutes

Yield:

10-12 servings

Category:

condiment

Cuisine:

American
---
½ pound salted butter, softened to room temperature (2 sticks, 1 cup)
1 tablespoon garlic passed, through a garlic press
1 ½ teaspoons kosher salt
1 teaspoon freshly ground black pepper
2 tablespoon fresh flat leaf parsley, finely chopped
1 tablespoon fresh thyme, finely chopped
1 tablespoon fresh chives, finely chopped
Zest of half a lemon
1 ½ teaspoons lemon juice
---
Instructions
Mix all ingredients in a small bowl with a wooden spoon.
Lay out a piece of plastic wrap and scrape out butter into a log.
Roll in the plastic, seal the ends and refrigerate for one hour.
Remove and roll the plastic to as perfect a round cylinder as possible.
Refrigerate or freeze until needed.
When ready to use, remove from the wrap and cut into thick coins and place on the freshly cooked steak.
Keywords: Steak Butter, Compound Butter