These Steamers with Compound Butter and Garlic Toast are a delicious taste of summer by the ocean in coastal New England.
 This post is sponsored by Peapod as part of our ambassadorship with the brand.  All opinions are 100% mine.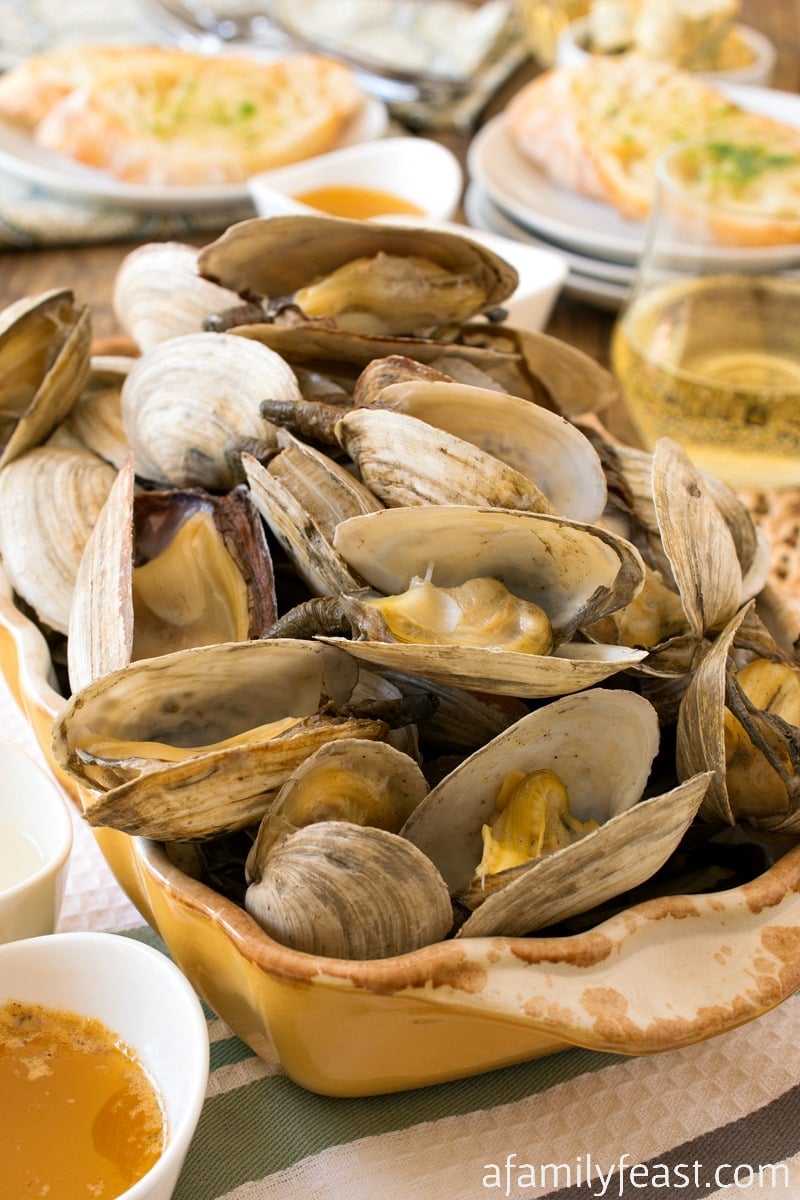 Living in coastal New England near Cape Cod, fresh seafood of all kinds is on the menu at our house pretty regularly. I've lived near the coast for most of my life – but it wasn't until I started dating my husband Jack that I learned how to make steamers at home.  (It's very easy – and steamers are very delicious!)
What are steamers?
Steamers are a delicate soft-shelled clam, sometimes also called steamer clams or long-neck clams. Steamers get their name because you steam them before eating.
How do you cook steamers?
Steamers couldn't be any easier to prepare – but there are a few tips and tricks you need to know before cooking them.
Steamers (as well as any other types of clam) live in the sand so they are naturally full of sand and grit.  Before cooking, simply soak your steamers in a large bowl of salt water overnight – making sure to cover the clams completely with water. The steamers will open up and release most of their sand and grit as they soak.
The next morning, rinse each clam under cold running water and remove any sediment on the shells. You'll also want to make sure that your steamers are alive before cooking – with your finger, just poke at the dark siphon or neck sticking out of the shell. If it retracts, it's still alive and safe to cook. If the clam doesn't move (or if it smells), then it should be discarded.
Then, bring a pot of water to a boil and gently place the steamers into the water to cook.  The clams are fully cooked when their shells open up, so watch as they cook and remove them as they open.
How do you serve steamers?
When you are ready to serve your steamers, give each person a bowl of the hot cooking water, as well as a bowl of melted butter. Remove the clam from the shell, with your fingers, grab the outer skin from the neck and pull off and discard. Then hold it by the neck and dip to rinse first in the water, then dip it in the butter – then pop the steamer in your mouth! (Don't forget to place a large bowl in the center of the table for the empty shells too.)
Click here for our Steamers with Compound Butter and Garlic Toast recipe over on FromThePod.com.  We jazzed things up by infusing melted butter with fresh parsley and thyme, Old Bay seasoning, and lemon to create a flavorful compound butter that goes wonderfully with the salty, briny cooked steamers. We also served our Steamers with Compound Butter along with a fantastic Garlic Toast – perfect for sopping up the juices from the clams and dipping in that butter. Click here for the full recipe.
Your summer just got easier thanks to Peapod!
Planning a vacation to New England? Did you know that Peapod delivers groceries to Cape Cod, Martha's Vineyard/Cuttyhunk Ferry, Fishers Island and Block Island – so you can skip that trip to the supermarket and order grocery delivery while you are on vacation.  (That's my kind of vacation!)
Peapod carries thousands of items – including fresh steamers and everything else you'll need to make these Steamers with Compound Butter and Garlic Toast. They also carry everything you'll need for summertime cookouts or snacks at the beach. Simply place your order online at Peapod.com and schedule delivery when it's convenient for you.
For more information about Peapod grocery delivery, visit Peapod.com.  And click here for that delicious Steamers recipe!
Print
Steamers with Compound Butter and Garlic Toast
Author:

Prep Time:

12 hours 30 minutes

Cook Time:

5 minutes

Total Time:

12 hours 35 minutes

Yield:

4-6 servings

Category:

appetizer

Method:

steamed

Cuisine:

New England
---
Description
Sometimes during the overnight soaking process, the clams retain some of the grit and sand. When you clean it to eat it, if the belly still looks full of dark grit, simply remove and discard the belly and continue on. The very large clams often retain stomach contents and the smalls ones do not.
---
Ingredients
4–6 dozen steamer clams
Table salt
Compound butter
2 sticks butter, softened to room temperature (1 cup)
2 tablespoon fresh parsley, minced fine
1 teaspoon fresh thyme or half that of dry
½ teaspoon Old Bay seasoning
Zest of one lemon
½ teaspoon freshly ground black pepper
Garlic bread
3 tablespoons butter, melted
1 tablespoon fresh parsley, minced fine
Ciabatta or other hard chewy Italian bread
1 garlic clove, cut in half
---
Instructions
In order to purge the steamers of sand and grit, they need to be soaked overnight in salted water.
Fill a large pot or container half full of cold water and add 1 tablespoon of salt for every pint of water (1 pint equals 2 cups), then stir with a whisk to dissolve.
The steamer shells are soft and delicate so carefully place the steamers into the pot with the salted water, making sure the water covers the tops of the steamers by an inch. (Add more water if needed.)
Loosely cover with plastic (leaving air between the top of the water and the plastic).  Refrigerate and soak overnight.
Make the compound butter by mixing the two sticks of softened butter, parsley, thyme, Old Bay, lemon zest and pepper. Roll in parchment or plastic and refrigerate to harden.
The next day, remove the clams using tongs or your hands. Pour out the water and rinse the sediment from the bottom of the pot or container. Under cold running water, rinse each clam* while rubbing the outer shell to remove any grit from the shell. Then place back into the pot or container.
*Note: The long neck that protrudes is a siphon and to make sure the clam is still alive, give it a poke and the clam will react by pulling back or trying to close the shell. Any that don't move or smell, discard.
Place a steamer basket into a medium to large pot with lid, and fill with water up to the bottom of the basket. Cover and bring to a boil.
In the meantime, toast slices of the Italian bread. Mix the remaining butter and parsley. Once the bread is toasted, rub one side of the toast with the garlic half, then brush with the melted butter and parsley.
Place compound butter in a small sauce pan to melt.
Once the water comes to a boil, gently place the steamers into the basket either with tongs or a spider.
Cover pot with lid and set timer for five minutes. Have a large serving bowl standing by.
After five minutes, remove lid and move any clams that have opened to the serving bowl. Replace lid and continue cooking the unopened clams, removing more as they pop open, and replacing lid as needed. If the clams don't open pop after ten minutes of cooking, discard those.  Save the cooking liquid for dipping while eating the steamers.
To serve, place the large bowl of steamers in the center of the table and give each person a small bowl of the clam cooking water, a small bowl of melted compound butter, a bowl or small plate to portion their own clams, plus a large bowl for everyone to use to discard shells.
To eat, pry open the shell and carefully remove the whole clam, belly and all. Grab the skin that surrounds the siphon and peel up, removing the skin along with the rest of the dark material that connects to it. You should have a nice clean clam ready to eat. Dip your steamer into the water to clean off any last sediment and to warm up, then dip in the butter, then place the clam into your mouth. (Silverware not needed!)
---
You may also like: