Our Baked Stuffed Shrimp is tender, perfectly cooked, and bursting with filling that is both moist and flavorful. Make this dish in under an hour!
Skip the over-priced Baked Stuffed Shrimp at a crowded restaurant – and create this impressive dish right at home!
Jumbo, tail-on shrimp are filled with a stuffing made with lump crab meat, a combination of Ritz and Saltine crackers, mayonnaise, clam juice, diced vegetables, plus sherry, butter and other seasonings.
This baked stuffed shrimp recipe is very easy to make, and just as delicious as any version you'd order while dining out. In fact – we'd even go as far as to say that this recipe is even better!
Why you'll to love Baked Stuffed Shrimp!
Create a restaurant-quality dish at a fraction of the price.
This goes from prep to plate in 40 minutes.
Serves four or six (depending on how many you serve per portion), making it an impressive option for dinner guests.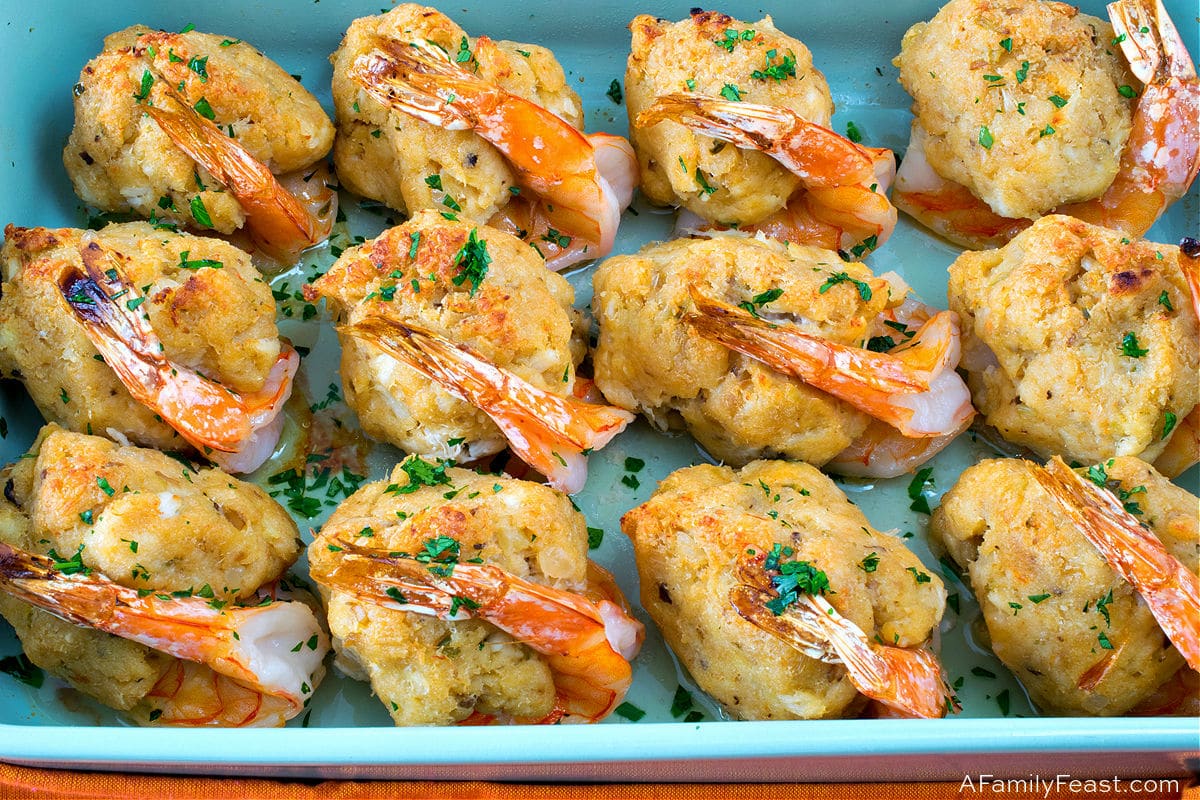 Key ingredients and Substitutions
Jumbo shrimp – Look for fresh or frozen, shell-on, uncooked, 8-12 per pound. Using frozen ensures that your shellfish is fresh (You never know how long fresh shrimp has been in the display case)- plus, it typically comes shelled and deveined, saving you extra prep work. Defrost in the refrigerator overnight or place the bag in a bowl of cold water for 15-20 minutes.
Lump Crab – Feel free to use whatever crab meat is available and within your budget. If you can get fresh, buy one pound of fancy lump – but note that it has be used quickly for optimal freshness. If you can only get canned, no worries. You will need four 6-ounce cans (4.25 ounce drained weight) which are usually found in the canned seafood isle.
Crackers – This recipe uses both Ritz and Saltines. You can substitute private label brands to save a little bit of money.
Mushrooms – You'll only need a handful for this easy shrimp recipe, and white button mushrooms are typically the easiest to buy loose. For extra savory flavor, use cremini.
Clam juice – Look for an 8-ounce bottle in the canned seafood isle. This adds both flavor and moisture to the stuffing.
Butter – Chose unsalted butter for this dish as the clam juice can sometimes be very salty.
Sherry – Use dry sherry for savory dishes like this stuffed shrimp. Note that if you can't find dry, sweet sherry will also work in a pinch.
Other ingredients – Fresh lemon juice, cayenne pepper, Old Bay seasoning, lemon juice, mayonnaise and an egg complete the stuffing.
Special supplies needed
A food processor makes quick work of creating cracker crumbs. If you don't have one, place the crackers in a zippered storage bag and crush them with a rolling pin instead. The consistency should be similar to breadcrumbs.
Medium sauté pan
Small to medium casserole dish, for baking
How do I make Baked Stuffed Shrimp?
Peel the shrimp but leave the tail piece on. Save the shells (you'll add them to the broth for extra flavor). Press the cut side down so that each shrimp sits flat with the tail curling up and over.
Drain the crab in a sieve over a bowl and squeeze out the liquid, then add the liquid to the sauté pan. Set the crab aside.
Place the drained crab juice, the bottle of clam juice and the shrimp shells in a medium sauté pan and cook down to reduce the liquid to two tablespoons. Discard shells and reserve reduced liquid. Strain through a fine sieve to catch any pieces of shell.
Sauté the onions, celery, green pepper and mushrooms in butter and cook to soften the vegetables. Add the sherry and cook to reduce. Set aside.
Crush the crackers in food processor to a fine crumb. (Or use a rolling pin to crush the crackers in a bag.)
Combine crushed crackers, drained crab meat, reduced clam juice, cooked vegetables, and the remaining ingredients to make the stuffing.
Gently mix all of the ingredients, trying to prevent the crab meat from breaking up too much. Divide the filling between the number of shrimp and fill, letting the tail curl up over the top.
Bake with extra butter drizzled over each shrimp until the stuffing is golden and the shrimp is pink and opaque. Once baked, drizzle the remaining butter over each and serve.
 Chef's Tip –

Cooking the clam juice down with the liquid from straining the crab, as well as the peeled shrimp shells will add briny flavor to the stuffing, eliminating the need for salt.
Frequently asked Questions
Can I make baked stuffed shrimp ahead of time? You can prepare the filling up to a day in advance. Just keep in mind that the texture will be a bit softer once baked. Store in a sealed container in the refrigerator, then let it warm on the counter while you prep the shrimp.
How long does stuffed shrimp last in the refrigerator? Leftovers are good for up to 3 days when stored in an airtight container. Reheat in the oven at 350 degrees until warmed through and crispy.
Can I use chicken broth instead of clam juice? You can, but you'll miss out on some of the seafood flavor of the dish. If you happen to have fish stock on hand, that would be a better substitute.
What is a good substitute for the cracker crumbs? Panko breadcrumbs have a similar crispy texture but will lack the salt and buttery flavor from the crackers. A tablespoon or two of finely grated Parmesan should solve that problem.
What goes with baked stuffed shrimp?
Serve this with our Pan-Seared Sirloin Steak for a delicious surf & turf dinner.
For sides:
You may enjoy these other Seafood recipes:
Print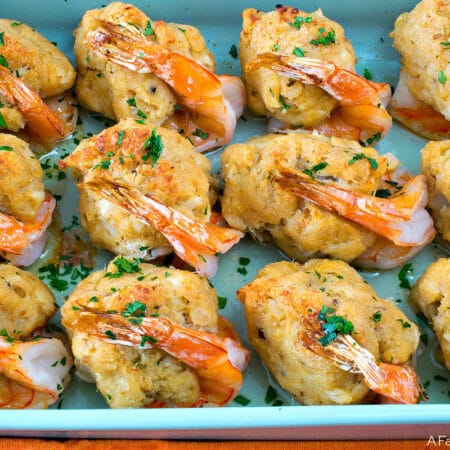 Baked Stuffed Shrimp
Author:

Prep Time:

40 minutes

Cook Time:

20 minutes

Total Time:

1 hour

Yield:

6 servings

Category:

entree

Method:

baked

Cuisine:

seafood
---
1 pound shell-on, uncooked jumbo shrimp (8–12 per pound)
1 pound fresh fancy lump crab meat or four 6 ounce cans (4.25-ounce drained weight) lump crab meat
1 8-ounce bottle clam juice
8 tablespoons unsalted butter (1 stick), divided
¼ cup onions, finely chopped
¼ cup celery, finely chopped
¼ cup white mushrooms, finely chopped
2 tablespoons green bell pepper, finely chopped
1 sleeve Ritz crackers (3 ounces and once crushed equal one cup)
½ sleave Saltine crackers (3 ounces and once crushed equal one cup)
1 large whole egg, beaten
1 tablespoon freshly squeezed lemon juice
3 tablespoons mayonnaise
¼ teaspoon cayenne pepper
½ teaspoon Old Bay seasoning
---
Instructions
Peel each shrimp but leave the tail piece on and save the shells. Press the shrimp cut down on your cutting board so that the cut opens up flat and the tail curls around over it.
Drain and squeeze the crab meat but do not discard the liquid.
In a medium saute pan, place shrimp shells, crab liquid and the bottle of clam juice and bring to a fast simmer. Cook until the liquid has reduced to two tablespoons. Strain through a fine sieve and discard shells and any sediment. Save reduced liquid.
In the same pan, melt 4 tablespoons of the butter over medium heat and add the onions, celery, mushrooms and green bell pepper and cook for four minutes.
Add the sherry off heat then back on the medium heat burner and cook to evaporate most of the liquid, about two minutes more. Set aside.
Place both crackers in a food processor and process to a fine crumb.
Preheat oven to 375 degrees F.
In a large bowl, mix the drained crab meat, the reduced seafood liquid, the cooked butter and vegetables, the cracker crumbs, the beaten egg, lemon juice, mayonnaise, cayenne pepper and Old Bay seasoning and gently toss to combine, trying not to break up the crab meat too much.
Divide this filling by the number of shrimps. Our package had 12 shrimps so after dividing the filling by 12, each ball of filling was about 2 1/3 ounces.
Spray a small casserole dish with kitchen pan spray. The pan should be big enough to hold all stuffed shrimp without them touching each other.
Take a ball of filling and press it onto the inside curl of the shrimp, letting the tail wrap around the top. Repeat for all shrimps, arranging in your prepared casserole dish as you fill.
Melt the remaining 4 tablespoons of butter and drizzle two tablespoons of it over the shrimp tops then bake uncovered for 20 minutes.
As soon as they come out of the oven, drizzle on the remaining two tablespoons of butter.
Serve immediately.
---
Notes
Serving should be two per person. With 12 shrimp, the recipe should serve six. If the portion is three per person, the recipe will serve four.
Keywords: Baked Stuffed Shrimp, stuffed shrimp recipe