Manhattan Clam Chowder is a thick and flavorful tomato-based chowder loaded with chopped clams, potatoes, green bell peppers and other vegetables.
Where we live in the Boston area, if you order a cup of chowder (aka 'chowdah') off a menu, it will always be the classic, creamy New England-style clam chowder.  It's actually not very often that you'll find Manhattan Clam Chowder listed on a restaurant menu!
Manhattan Clam Chowder recipes are believed to date back to the 1800's, but even today – and even far outside of New England – many people feel quite strongly that a tomato-based clam chowder is just, simply wrong!
It does seem that people either love Manhattan Clam Chowder or they hate it. But if you are willing to put any preconceived notions aside – this Manhattan Clam Chowder recipe is actually quite delicious!
It's a thick tomato soup with generous amounts of chopped clams added, plus diced tomatoes, green bell pepper, carrots, onions, and celery.  The broth gets additional flavor from salt pork, bay leaves, and other seasonings, and the briny flavor of the clams is actually enhanced by the tomato flavor.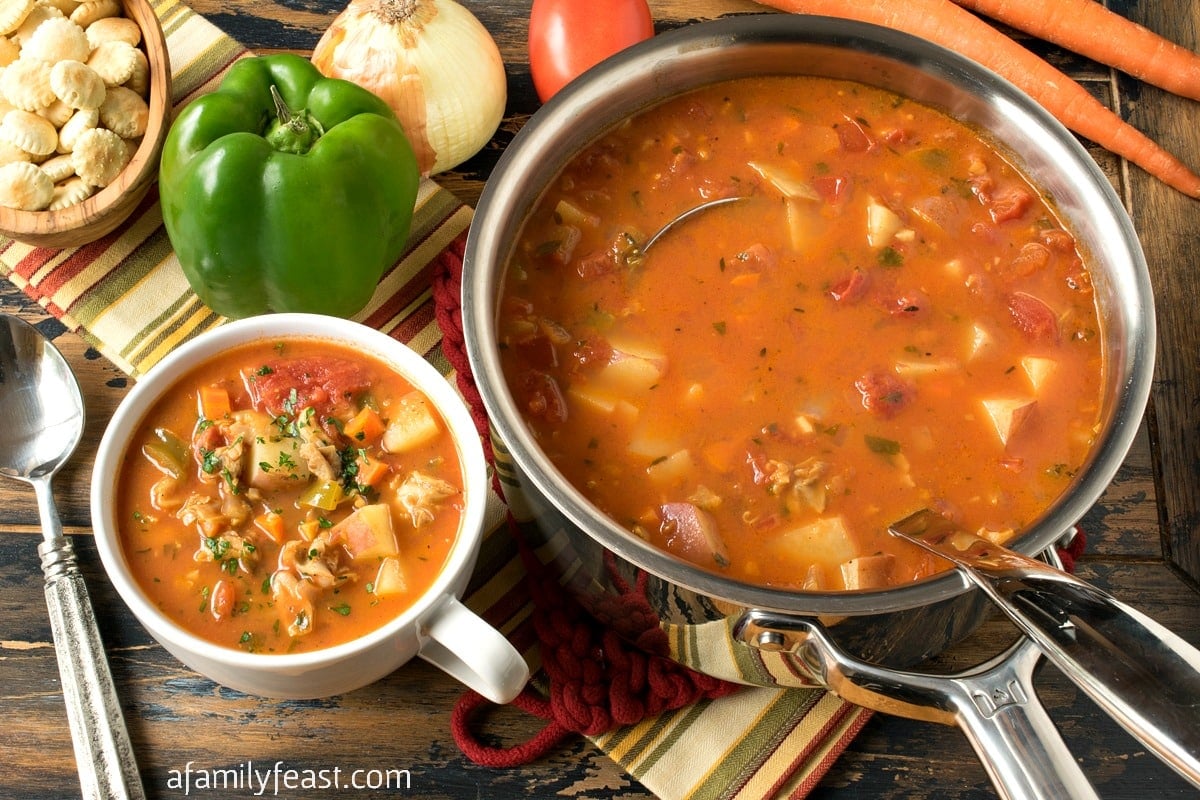 Like many vintage recipes, there are some different stories circulating around about who made the first Manhattan Clam Chowder recipe – in fact, some believe that Rhode Island cooks were the first to add tomatoes to their chowder!
But according to the New York Cookbook by Molly O'Neill, there is a letter on display at New York's South Street Seaport Museum where a Mr. Austin Phelps Winters writes to confess to his daughters that his own grandfather – William H. Winters – invented Manhattan Clam Chowder.  William H. Winters operated the Fulton Fish Market which became a fairly well-known seafood operation in the city. (Austin Phelps Winters clearly wasn't a fan of this soup, and his letter is almost an apology to his daughters!)
One final anecdote that Jack and I both found to be fascinating as we researched this recipe: In 1939, a legislator in Maine tried to introduce a bill to outlaw putting tomato in clam chowder in the state of Maine! (The bill was never filed and instead the matter was put to rest as part of a clam chowder recipe contest. Needless to say, the creamy clam chowder won.)
You may also like these other chowder recipes:
Disclosure: This post contains affiliate links.


Print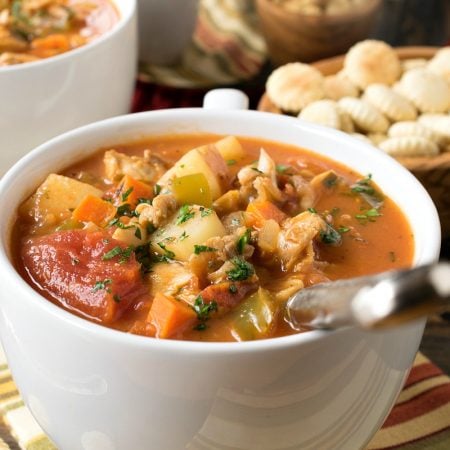 Manhattan Clam Chowder
Author:

Prep Time:

15 minutes

Cook Time:

45 minutes

Total Time:

1 hour

Yield:

10-12 servings
---
Description
Tip: If you live in an area where you can't buy whole fresh clams, substitute 2 cups of fresh or canned chopped clams and 6 cups (48 ounces) of bottled clam juice.
---
3 dozen cherry stone clams, see tip above for substitutions
1 tablespoon extra-virgin olive oil
¼ cup salt pork diced small
1 cup Spanish onion, diced
½ cup celery, diced
½ cup carrot, diced
½ cup green bell pepper, diced
1 tablespoon fresh garlic, minced
Pinch red pepper flakes
1 cup white wine
4 plum tomatoes, diced
1 28-ounce can whole tomatoes in juice (break up tomatoes with your hands before adding to the chowder)
1 bay leaf
1 teaspoon freshly ground black pepper
¼ cup fresh Italian flat leaf parsley, chopped, plus more for garnish
1½ teaspoons fresh thyme (or ½ teaspoon dry thyme)
2 pounds skin-on new red potatoes, diced into half inch pieces
2 tablespoons tomato paste
Kosher salt (only if needed) to taste
2 tablespoons butter
Oyster crackers, for serving
---
Instructions
Scrub clams under cold running water to remove any grit and sand from shells. Discard any clams that don't close when squeezed.
Bring 6 cups of water to a boil and add clams and cover pot.  Cook over medium high heat 7-9 minutes. If any clams don't open, discard. Remove clams from broth once they pop open and transfer to a sheet tray or large bowl. Reserve the broth. Strain broth through a fine sieve and a coffee filter or cheese cloth.  Strain a few times to remove all traces of sand. Hold for later in this recipe.
Remove the clams from the shells to your cutting board.  With a sharp knife, cut meat around belly, chop and reserve.  Then split the bellies lengthwise and scrape out and discard the contents.  Cut bellies and add to chopped clams. Discard shells and refrigerate chopped clams until later in this recipe.
Or simply buy 2 cups of fresh or canned chopped clams and 6 cups (48 ounces) bottled clam juice.
In a large Dutch oven or heavy bottomed pot, heat olive oil over medium heat and add salt pork. Cook until golden brown and crispy then add onion, celery, carrot, bell pepper, garlic and pepper flakes. Sauté for three minutes then add wine.
Cook to reduce wine to about ¼ cup then add diced tomatoes, canned tomatoes, bay leaf, ground pepper, parsley, thyme and potatoes.
Add the reserved clam broth. If you have less than six cups, add water to top off.
Bring to a boil then lower to a gentle simmer and cook, stirring occasionally for 25 to 30 minutes or until potatoes are almost tender. Add in tomato paste and cook for five more minutes.
Add chopped clams and remove from heat.
Taste for salt if needed then stir in butter.
Remove and discard bay leaf.
Garnish with chopped parsley and serve with oyster crackers.
---