We originally shared this Chicken Corn Chowder recipe back in February 2013 – right after winter storm Nemo had hit New England – and we were without heat and electricity for several days.  Four years later, I still remember how cold it was in our house! With a young daughter at home with us, once we ran out of wood to burn in our fireplace, we drove to a hotel about an hour away from our house just so we could warm up.
We recently made this Chicken Corn Chowder again for dinner, so we decided to snap a few new photos and update this post.
Thankfully, there is no blizzard in our weather forecast anytime soon – but this delicious Chicken Corn Chowder is still one of my favorite ways to warm up.  Years ago, I lived near a local produce market that also served hot prepared foods – including soups – and one of my favorites was their chicken corn chowder. This recipe is my husband Jack's attempt to recreate that favorite soup for me, and in my opinion, he's made it even better!
This chicken corn chowder is full of chunks of tender chicken and potatoes, as well as diced red pepper (just like the soup I had at that local produce market).  The creamy soup base is rich and flavorful thanks to the addition of diced salt pork, both kernel and creamed corn, plus other seasonings. A final sprinkle of bacon on top makes this one of the best corn chowders I've eaten.
I hope you enjoy it as much as I do!
Print
Chicken Corn Chowder
Prep Time:

30 mins

Cook Time:

30 mins

Total Time:

1 hour

Yield:

8-10 servings
---
Description
If you are not using a strong home made chicken stock to make this recipe, boil a quart and a half of canned stock down to one quart. That will make the base for this soup recipe much more flavorful.
---
3 cups

all-purpose potatoes, diced into

½

inch pieces

5 oz

slab salt pork, finely diced

4 tablespoons

butter

¼ cup

diced celery

1 cup

chopped onions

½ cup

diced red pepper

¼ cup

flour

1 quart

very flavorful chicken stock

1 cup

whole milk

1 cup

heavy cream
One

14 ¾ oz

can creamed corn
Two

14 ¾ oz

cans kernel corn drained

1 tablespoon

Worcestershire sauce

½ teaspoon

dry thyme

¼ teaspoon

freshly ground nutmeg
Pinch of cayenne pepper

2 cups

cooked chicken, cut into bite sized chunks
Salt and pepper to taste

1

pound bacon cooked to crisp and chopped for garnish (optional)
---
Instructions
Place potatoes in a medium pot with a pinch of salt and cover with water. Bring to a boil and cook for about 10 minutes or until tender. Drain and set potatoes aside.
Put diced salt pork in a 10-quart stock pot and sauté over medium high heat until crispy.
(At this point, you can remove the salt pork and strain the fat for a lower calorie version, however we leave it in as it adds great flavor to the soup.).
To the cooked salt pork, add the butter and melt.
When butter is melted, add celery, onions and red pepper and cook 2-3 minutes.
Reduce heat to medium and add flour. Stir to combine.
Cook this mixture on medium to medium low for an additional 2-3 minutes until the raw flour smell is gone.
Add chicken stock one third at a time, stirring each time with a wire whisk.
Add milk, cream, creamed corn, kernel corn, Worcestershire sauce, thyme, nutmeg, and cayenne pepper. Stir to combine.
Add cooked chicken and cooked potatoes and stir gently.
Adjust seasoning with salt and pepper and serve. Crumble cooked bacon over the top as garnish.
---
You may also like:
Fall Harvest Vegetarian Corn and Butternut Chowder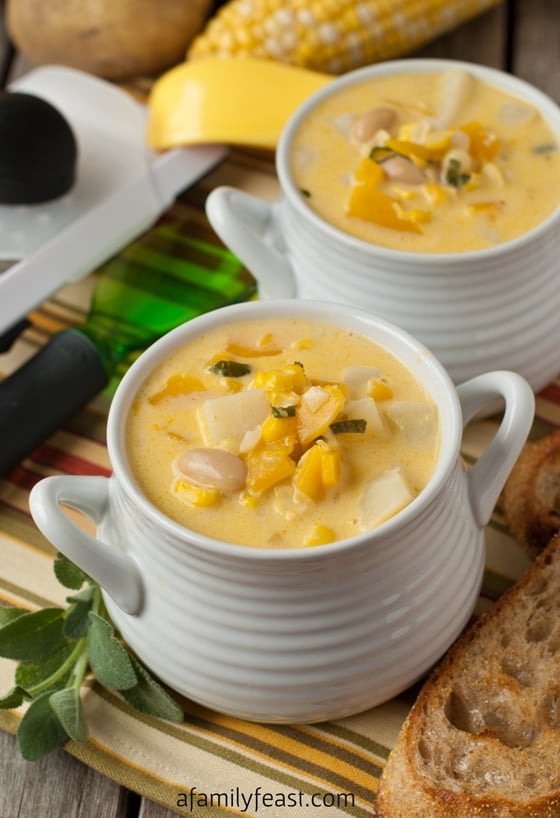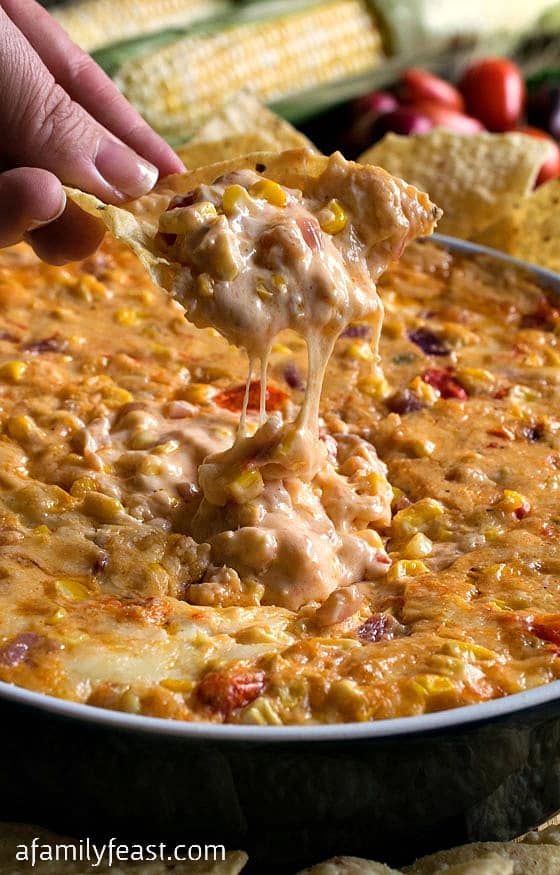 How to Easily Cut Fresh Corn Kernels Off The Cob