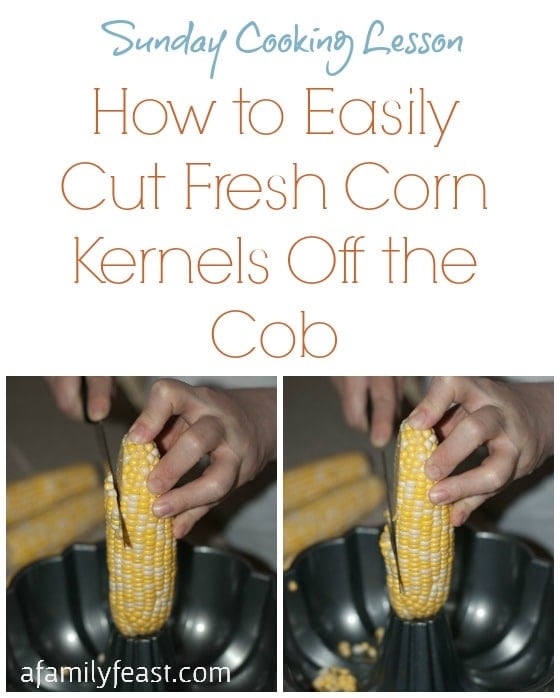 A quick note before we share today's Sunday Cooking Lesson: A Family Feast has experienced some tremendous growth over the last few months – and especially in the last few weeks. So we've just moved to a new web host that will allow our site to load faster and operate more smoothly for you – our wonderful readers!  Thanks so much for your patience if you've had some difficulty reaching our site lately!
And now – with the end-of-summer corn harvest in full swing, we're making lots of salads and chowders, casseroles and sautés that call for fresh corn kernels in the recipe.
Today's Sunday Cooking Lesson is a quick trick that shows you How to Easily Cut Fresh Corn Kernels Off the Cob! (I'll give you a hint: You'll need a bundt pan
!)
Recipes pictured above: Grilled Summer Vegetable Salad, Corn and Bacon Casserole, Avocado, Corn and Tomato Salad, Confetti Corn, Sautéed Fresh Corn, Fall Harvest Vegetarian Corn and Butternut Chowder.
Note: We've linked to the page with this tip from some of our earlier corn recipes, but many of you haven't seen this great trick – so we're sharing it today as part of our Sunday Cooking Lesson series! We hope you'll give it a try!