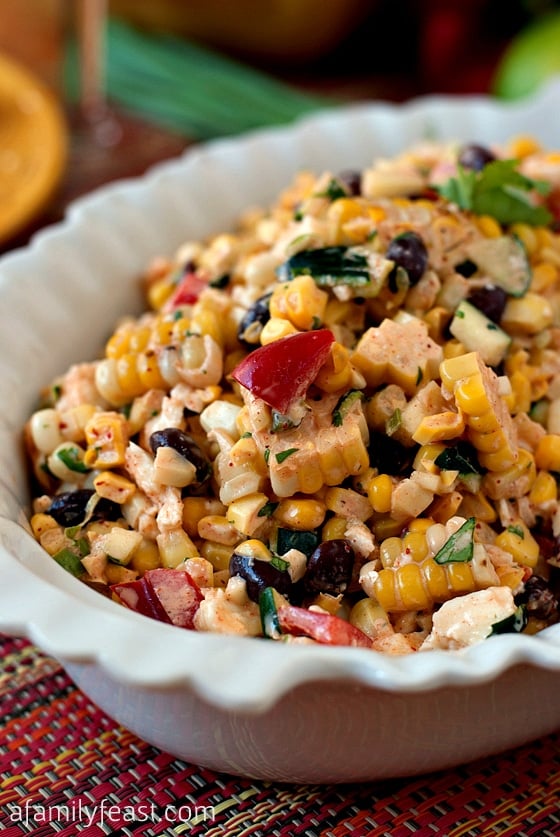 I was super excited to see some fresh corn on the cob at the grocery store earlier this week, and with Cinco de Mayo coming up in just a few days – what a perfect excuse to make this delicious Mexican Corn Salad! We even fired up our grill for the first time this season (brrr…in 45 degree weather) just to make this fantastic salad!
This Mexican corn salad is a great way to enjoy some veggies as part of your Mexican fiesta (or any time of year for that matter) and this salad is chock full of corn, zucchini, peppers, and beans – all tossed together with cheese in a flavorful, light and zesty dressing! This salad also has lots of amazing fresh flavor plus a wonderful smokiness thanks to the smoked paprika that is added along with lime, cilantro and other seasonings!
I should note that typically, Mexican corn salads are made with Cotija cheese – a dry, firm cheese with a distinctive salty flavor. Where we live in New England, we couldn't find Cotija (according to Wikipedia, it's a seasonal cheese so perhaps that's why it was so difficult for us to find it at this time of year) – so we've substituted a Farmer's cheese (or Queso blanco) in this recipe. However, if you are able to find Cotija cheese where you live, we do encourage you to use that so your Mexican corn salad is more authentic!
This Mexican corn salad is a delicious side to just about any Mexican dinner – see some great menu ideas right here!
Print
Mexican Corn Salad
Prep Time:

30 mins

Cook Time:

30 mins

Total Time:

1 hour

Yield:

8-10 servings
---
6

ears of corn, husks left on

2 tablespoons

salt

1 tablespoon

vegetable oil

½

small zucchini, cut into a few thick slices for grilling

1

large or

2

small fresh jalapeno's left whole

½ cup

canned black beans, washed and drained

4

–

6

scallions (

1/2 cup

), sliced both tops and bottoms

½ cup

chopped sweet red bell pepper

2 tablespoons

chopped fresh cilantro
Juice from

one

lime

½ teaspoon

chili powder

¼ teaspoon

cumin

¼ teaspoon

garlic powder

½ teaspoon

smoked paprika

1 teaspoon

sriracha

½ cup

mayonnaise

8 ounces

Farmer's cheese (Queso Blanco), broken up and crumbled by hand – or use Cotija cheese if you are able to find it locally
Salt and pepper to taste
---
Instructions
Peel back corn husks but do not remove and take off all silk from the ears. Fold the husks back up around the ears. Fill a large pot or your kitchen sink with corn, salt and enough water to cover the corn. Place something on top of the corn to keep it submerged and soak for 15 minutes.
While corn is soaking, heat grill to medium.
Remove corn from water and drain off excess water. Place corn with husks on grill and cook for about 15 minutes turning every five minutes or so. If the husks burn, don't worry, they will be discarded. Set aside to cool.
Turn grill up to high.
Brush vegetable oil on the zucchini slices and grill on both sides for just a minute or until there is a nice char but the squash still has some bite to it. Do not over cook. Set aside to cool.
Put the jalapeno on the hot grill and turn until all sides are black and blistered. Remove from grill and put in a paper bag or plastic bag for a few minutes to loosen up skin. Remove skin and discard and then cut down the center and remove and discard stem and seeds. Dice into small pieces and set aside.
Remove corn husks and discard. Using a bunt pan, place corn point end down into the center of the Bundt pan and with a sharp knife, cut kernels off and let fall into Bundt pan. Place cut corn in a large mixing bowl.
Cut the zucchini into small pieces and add to corn.
Add the cooked cut jalapeno pieces.
Add all other ingredients, taste and add salt and pepper only if it needs it.
Allow the salad to sit for an hour in your refrigerator so the flavors blend, then serve.
---
You may also like: