Last weekend – on one of the last gloriously warm "official" weekends of the summer – we co-hosted a clambake in our backyard for some of our closest friends. After the party, we made this delicious Lobster Corn Chowder with some of the leftovers!
Our friend Chris came up with the idea for the backyard clambake after he was able to get a great bargain on some local, fresh-from-the-ocean, littleneck clams through a family connection. After a little bit of planning with my husband Jack, we came up with the idea of using our backyard fire pit for the clam bake!
Here are a few photos of the pit:
We bought lobsters, littleneck clams, mussels, corn-on-the-cob, kielbasa and red potatoes – and went to work building a fire in the pit, cooking the food – and finally eating!! Fortunately, we also have some friends who cater beachside clambakes on Cape Cod and the Boston area, so we were able to get lots of pointers from them on how to do a clambake ourselves, as well as providing us with some of the supplies like fresh seaweed to layer in the pit. (Thank you Paul and Tonya!) 🙂
The clambake was absolutely perfect – and the food was fantastic! But as is our usual style – we made WAY too much food and had tons of leftovers.
But leftover lobster (and corn and potatoes) is not at all a bad thing to have on hand – especially when it gets turned into Lobster Corn Chowder! This chowder is light and creamy with chunks of lobster, corn and potatoes in a super flavorful broth…the perfect way to remember a great summer!
Print
Lobster Corn Chowder
Prep Time:

30 mins

Cook Time:

90 mins

Total Time:

2 hours

Yield:

6-8 servings
---
2

lobsters (about

1 ½

pounds each)
For the Lobster Stock
2 tablespoons

olive oil

1

medium carrot chopped

½

large onion, roughly diced

1

stalk celery chopped

1

medium garlic clove, crushed

2 teaspoons

kosher salt

2

whole peppercorns

1

large sprig fresh thyme

2

stalks fresh parsley

2 tablespoons

tomato paste

½ teaspoon

Old Bay seasoning

2

bay leaves

2 quarts

water
To Make the Chowder
2 tablespoons

butter

1 cup

diced salt pork

1 cup

onion, diced

½ cup

celery, diced

1 teaspoon

fresh thyme

1 tablespoon

fresh chopped parsley

¼ cup

flour

5 cups

lobster stock, from above

2 cups

skin-on new red potatoes cut into bite-sized pieces

2

ears fresh corn removed from cob, or

two cups

frozen corn
Lobster meat from above

1 cup

half and half cream
Salt and pepper to taste
---
Instructions
Bring a large pot of water to a boil and plunge in live lobsters. Boil for 12 minutes then remove to an ice bath.
Once lobsters are cool enough to touch, remove meat from claws and tail draining any liquid from the lobsters into a bowl. Cut the meat into bite sized pieces, add to the bowl with the liquid and refrigerate until later in recipe.
Open up body cavities and rinse out any of the green tomalley if present.
Place all shells and body on a large cutting board, cover with a dish towel and break and crush the shells with a rolling pin or mallet. Alternatively you can place everything in a food processor and pulse a few times to break up the shells but the cutting board method is easier, for me anyway.
Take the pot you cooked the lobsters in and wipe dry with a paper towel and heat oil over medium high heat.
Add crushed lobster shells, carrots, onions, celery, garlic, salt, peppercorns, thyme and parsley and cook for 15 minutes stirring often so it doesn't stick.
Add tomato paste, old bay and bay leaves and cook for five more minutes stirring often.
Add water, bring to a boil and simmer for one hour or until reduced to five cups of liquid. Discard all solids. Set the stock aside.
In a medium pot, melt butter and add salt pork. Cook over medium high until slightly browned. Add onions, celery, thyme and parsley and cook for three minutes.
Lower heat to medium and add flour. Stir and cook for three minutes.
Whisk in the lobster stock, increase heat and add potatoes. Cook ten minutes or until potatoes are tender.
Add corn and heat to hot.
Add cooked lobster meat with any liquid along with half and half and heat to hot but do not boil.
Adjust seasonings and serve.
---
You may also enjoy: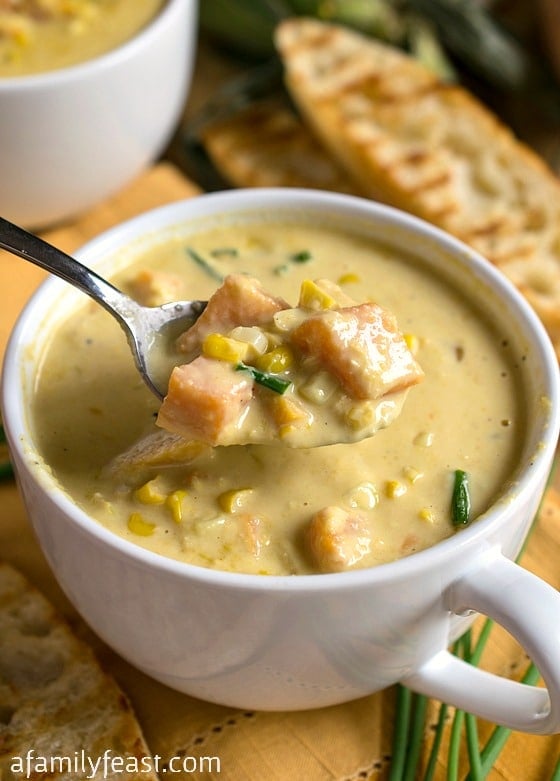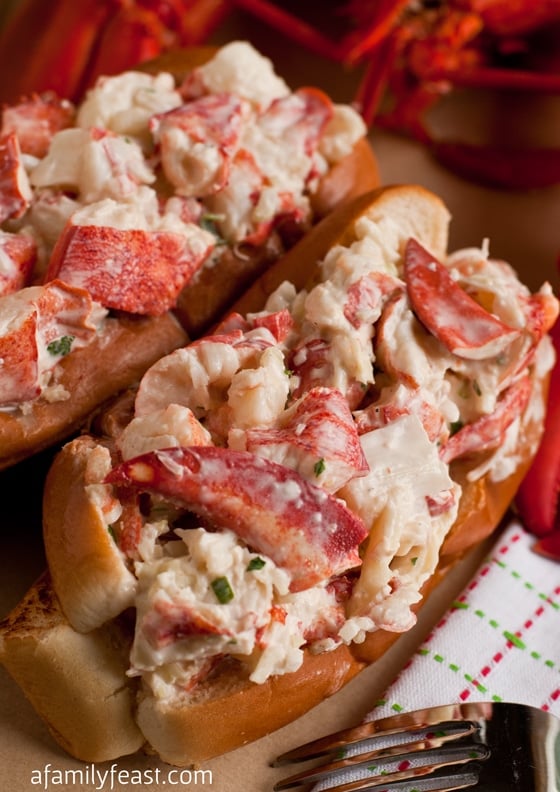 Slow Cooker Creamed Fresh Corn