Nantucket Corn Pudding is a must-make recipe for Thanksgiving dinner! Creamy baked corn pudding, topped with buttery, cheesy crumbs.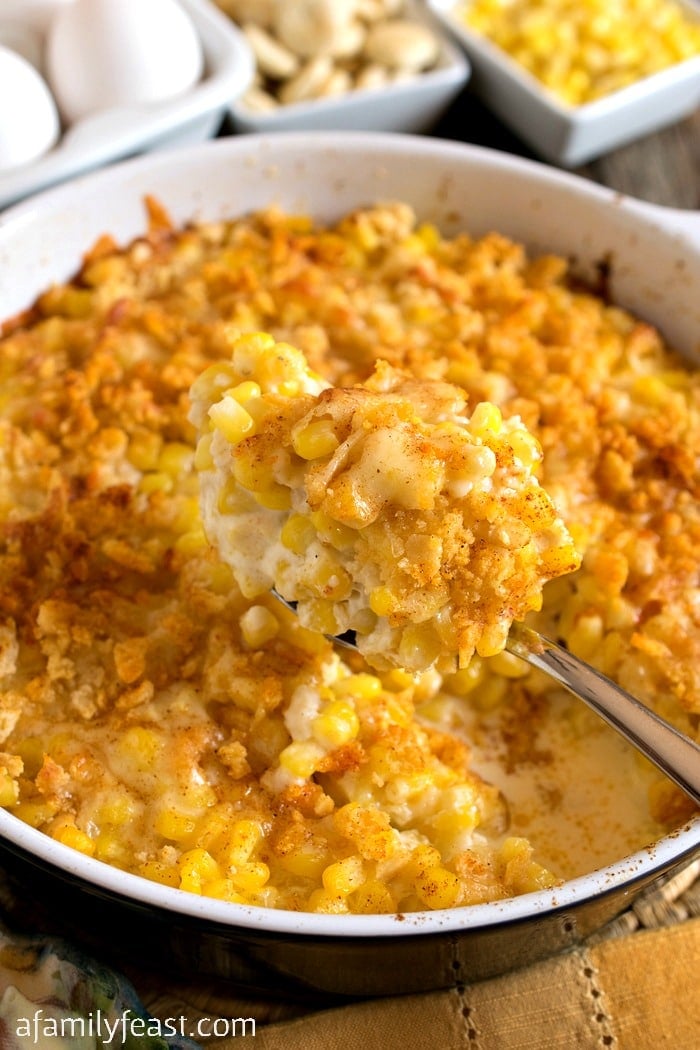 Nantucket Corn Pudding is a traditional recipe that was popular with the original colonial inhabitants of New England – and today, it's a classic side dish still served at many Thanksgiving dinners around the United States.
There are so many different recipes for corn pudding – and most modern day versions (like today's Nantucket Corn Pudding) use whole corn kernels, rather than a porridge made with ground corn or corn meal. Back in the 17th century, the savory corn meal porridge was called 'Hasty Pudding, and the sweet corn meal porridge was called 'Indian Pudding.'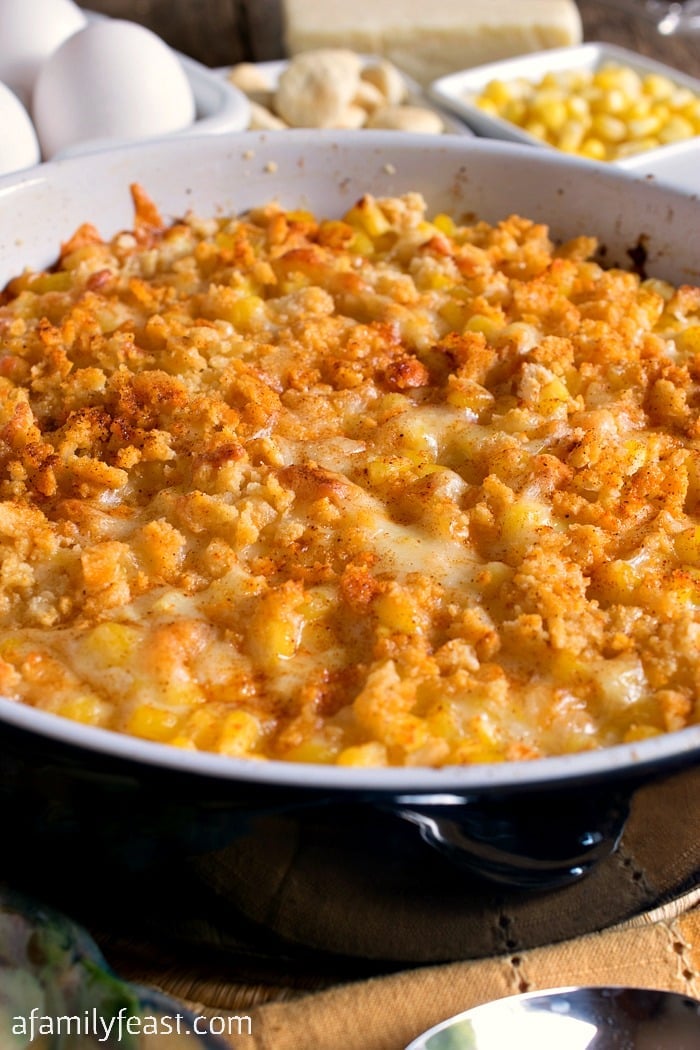 We found this Nantucket Corn Pudding recipe in this cookbook – and my husband Jack and I absolutely loved the golden and savory, buttery cracker and cheddar topping that was piled high on the creamy, flavorful corn pudding.
If you can find it, this Nantucket Corn Pudding is best with fresh whole corn kernels cut off the cob. But fresh corn isn't often readily available during the Fall season, so a good quality drained canned sweet corn is a good alternative. (Frozen corn kernels may also be used, but we've found that the texture of frozen corn tends to be a little rubbery, so we'd highly recommend using canned as the best alternative to fresh corn.)
You may also like these other Corn recipes:
Print
Nantucket Corn Pudding
Prep Time:

15 mins

Cook Time:

50 mins

Total Time:

1 hour 5 minutes

Yield:

6-8 servings
---
Description
Note: The original Nantucket Corn Pudding recipe calls for 'pilot crackers', 'hard tack' or oyster crackers. We're fairly certain pilot crackers and hard tack (a simple flour and water biscuit) aren't available at the supermarket, so oyster crackers are what we used. (They worked great in this recipe!)
---
8

–

10

ears fresh corn on the cob, or

5 cups

canned corn, drained

2

large eggs

1 cup

half and half

½ teaspoon

kosher salt

1/8 teaspoon

white pepper
Few grinds fresh nutmeg

¾ cup

crushed oyster crackers, divided (crush the crackers, then measure). Also see note above

3 tablespoons

melted butter, divided

½ cup

sharp cheddar cheese, shredded
Paprika
---
Instructions
Preheat oven to 350 degrees F.
Cut corn from cob if using fresh corn and scrape right down to the cob saving the liquid that scrapes off with the corn kernels. You should have about 5 cups. Set aside. (Alternately, drain 5 cups of canned corn.)
Butter a 9" round or square 9 X 2 ½" deep casserole dish.
In a large bowl beat eggs, half & half, salt, pepper and nutmeg.
Add corn, ½ cup of the cracker crumbs and 2 tablespoons of the melted butter.
Pour the mixture into the prepared pan.
Sprinkle all of the cheese over the top.
Mix the remaining cracker crumbs with the remaining butter and sprinkle over the top.
Dust with a little paprika.
Bake 45-50 minutes or until puffed and golden brown. The edges will be crispy and the center a bit loose.
Serve immediately.