Indian Pudding is a classic New England dessert made with milk, molasses and corn meal. It's delicious!
Living in Plymouth, Massachusetts – with Pilgrim history all around us – we take our Thanksgiving preparations pretty seriously! This recipe for Indian pudding is a traditional New England Thanksgiving dessert, and if you've never tried it before – you really are missing out!
Indian Pudding may not be the most elegant-looking dessert, but please don't judge this book by its cover. Indian pudding is one of the most delicious desserts around, particularly when served warm out of the oven with vanilla ice cream on top.
Indian pudding is made primarily with milk, corn meal, molasses and spices, and we've added golden raisins to our version. It is simple to make – essentially a corn meal and molasses porridge-like custard – and it is baked in a water bath (similar to a cheesecake) until golden and slightly caramelized on top, and soft and creamy inside.
According to Yankee Magazine*: "The history behind Indian pudding dates back to early colonists who brought with them a fondness for British "hasty pudding," a dish made by boiling wheat flour in water or milk until it thickened into porridge. Since wheat flour was scarce in the New World, settlers adapted by using native cornmeal, dubbed "Indian flour," and flavoring the resulting mush to be either sweet (with maple syrup or molasses) or savory (with drippings or salted meat). In time, the dish evolved into one that was resoundingly sweet, with lots of molasses and additional ingredients such as butter, cinnamon, ginger, eggs, and sometimes even raisins or nuts. Recipes for Indian pudding began appearing in cookery books in the late 1700s."
We suspect the early colonists served this with heavy cream on top (rather than ice cream as shown) – which would be equally delicious!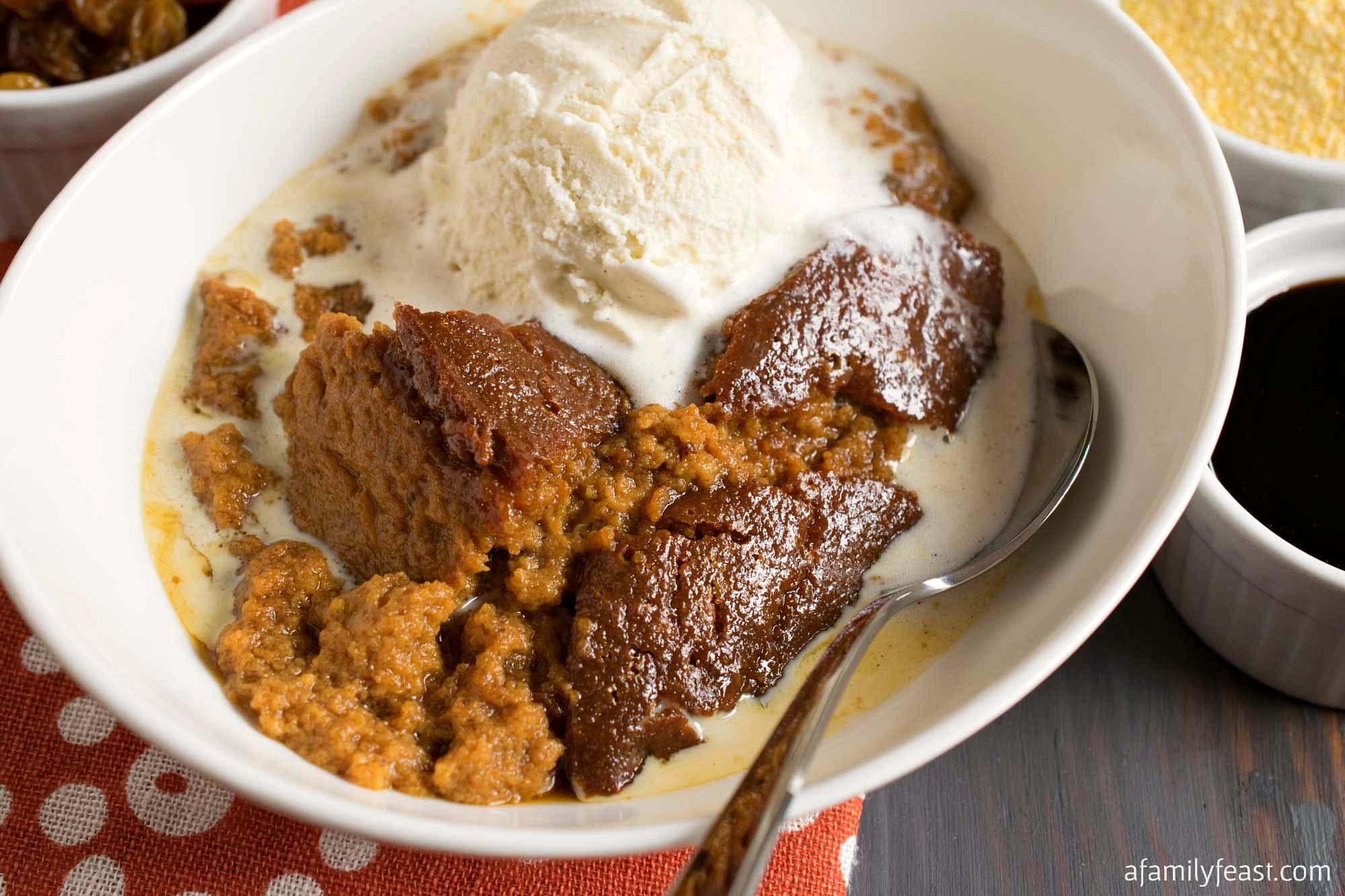 This humble New England Indian Pudding really does deserve a place on your Thanksgiving dessert table this year. It's so good – my husband Jack (who has been eating a low-carb diet these days) planned his weekly 'cheat meal' around this recipe! 😉
*The original history according to Yankee Magazine, and recipe we've adapted can be found here. 
Print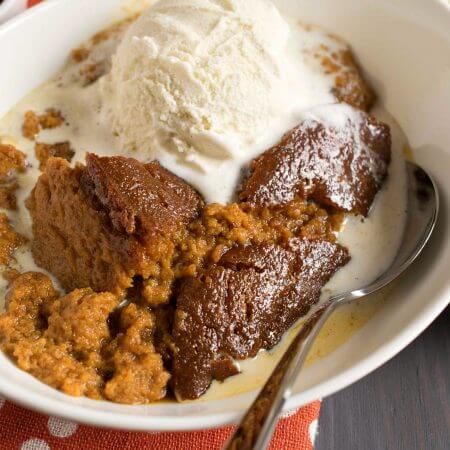 Indian Pudding
Prep Time:

20 mins

Cook Time:

1 hour 30 mins

Total Time:

1 hour 50 minutes

Yield:

8 servings
---
2

eggs

4 cups

whole milk

½ cup

corn meal

2 tablespoons

butter

½ cup

molasses

¼ cup

maple syrup

¼ cup

brown sugar

1 teaspoon

salt

½ teaspoon

cinnamon

½ teaspoon

dry ginger

¼ teaspoon

allspice
pinch of nutmeg

2/3 cup

golden raisins

½ teaspoon

vanilla extract

1 tablespoon

butter to grease the pan
Vanilla ice cream for serving (optional but highly recommended)
---
Instructions
Preheat oven to 325 degrees.
Beat eggs in a small bowl and set aside.
In a 6 quart pot, heat milk to hot, do not boil. Slowly add in corn meal and whisk continually until all of the corn meal is added. Cook for 10 minutes on a low simmer, stirring occasionally. Be careful that it does not stick and burn to the bottom of the pan.
Remove from heat and add all other ingredients except the beaten eggs. Mix to combine.
Temper the eggs by slowly adding some of the hot pudding a little at a time to the eggs, stirring as you go (about a cup total). Then add the egg mixture to the pot and stir.
Pour mixture into a buttered 6-cup casserole dish and place the casserole dish in a water bath. Bake for about one hour and 30 minutes. Pudding should be set up and somewhat firm. If the center is a bit loose, that is OK.
Let the pudding rest for 15 minutes, then serve hot with a scoop of vanilla ice cream.
---
Notes
The Water Bath just needs to be a pan larger than the casserole dish filled with enough hot water to come halfway up the outside of the casserole dish. Some people do not use the water bath for this recipe and instead bake it directly in the oven. We think Indian Pudding comes out creamier with the water bath but either baking method can be used. Cooking time may be a bit shorter without the water bath.
You may also like:
New England Caramel Pumpkin Pudding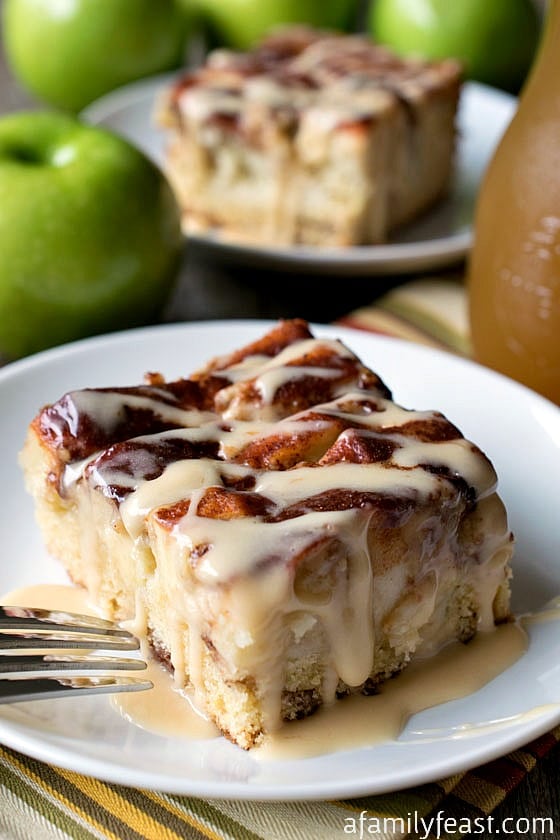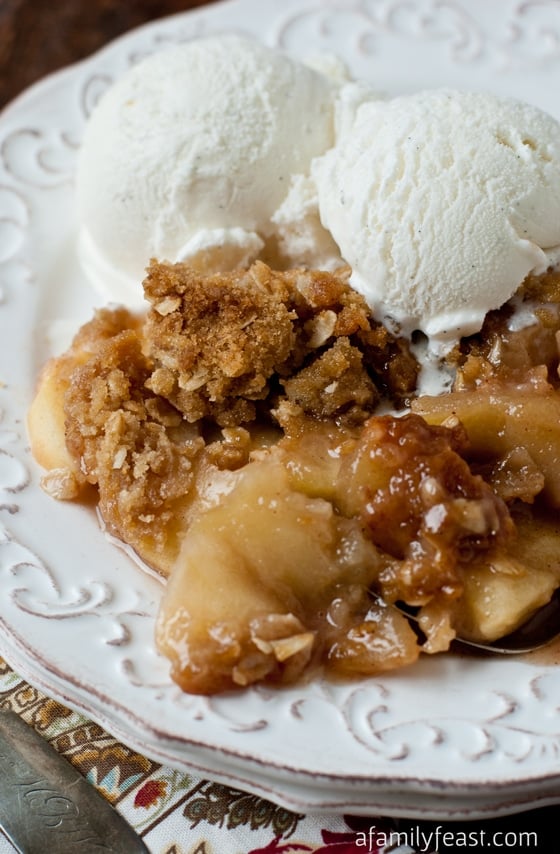 This recipe originally appeared on A Family Feast in November 2012.