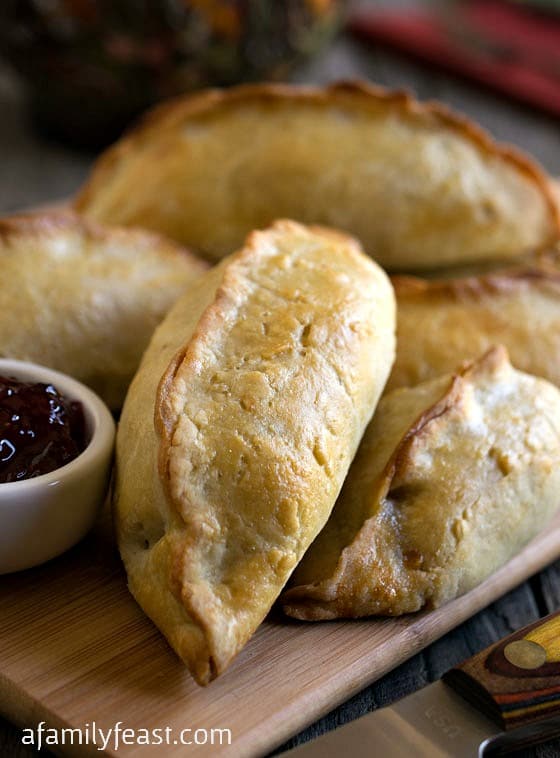 Not too far from where we live in Plymouth, Massachusetts is a British-themed pub and restaurant called the British Beer Company, or the "BBC" as we like to call it. The restaurant's menu and decor are a bit of nod to Plymouth's American history of being founded by British settlers many years ago!
We eat at the BBC fairly frequently – mostly because our 8-year-old loves getting a chocolate chip cookie as part of her kids' meal, as well as it being conveniently close to home and reasonably priced.
On a recent visit, my husband Jack decided to try something new to eat, and he was eyeing a dish on the menu called "The New England Pasty." Neither of us had any idea what a 'pasty' was – so Jack 'googled' the word on his phone and we learned that it's a meat pie baked in dough. The BBC version was filled with turkey, cheddar mashed potatoes, stuffing, gravy and cranberry sauce – a dish inspired by a traditional Thanksgiving dinner!
Jack absolutely loved The New England Pasty – especially the pastry crust which reminded us of the crust we use to make our homemade empanadas (you can see that recipe here). It's similar to dough used to make a pie crust – but with both butter and shortening that makes it sturdy enough to hold a generous amount of filling but still flaky and flavorful!
The New England Pasty is a very delicious way to use up your Thanksgiving leftovers – turkey, mashed potatoes, stuffing, gravy, cranberry sauce, etc.  The dough is very simple to make – and you can really use any sort of fillings you want! (In addition to the "New England" version that the BBC makes, they also offer a shepherd's pie pasty which we also think would be fantastic!)
Print
The New England Pasty
Prep Time:

45 mins

Cook Time:

15 mins

Total Time:

1 hour

Yield:

6
---
For the Dough
3 cups

flour, plus more for rolling out dough

½ teaspoon

salt

½ cup

cold vegetable shortening

¼ cup

cold butter cut into small pieces

½ cup

milk plus 2 tablespoons as needed

2

eggs, divided
For the Filling
Leftover turkey
Leftover stuffing
Leftover turkey gravy
Leftover mashed potatoes
Shredded yellow cheddar cheese
---
Instructions
In a large bowl, sift the 3 cups of flour and salt. With a fork or pastry cutter, cut in cold shortening and cold butter until pea size balls form.
Beat one egg with ½ cup of milk and add to flour mixture and mix with a wooded spoon or by hand. Only add the remaining two tablespoons of milk if the dough is dry. (I added both)
Wrap the dough in plastic and place in the refrigerator for 30 minutes.
Preheat oven to 425 degrees and line a sheet pan with parchment paper.
On a floured surface, roll out dough 14X20 inches. Using a 6" circle (I used a canister lid) cut out six circles.
Fill each circle by filling the center, covering a row that almost touches the left and right side. The total weight of the filled Pasty should be about four ounces. Any more and it will squeeze out when you pinch it closed. I found the easiest method was to put the dough circle on a kitchen scale and then fill it with the five different ingredients trying to keep each about equal. It can be any combination you wish just keeping it at the four ounce mark.
Take the remaining egg and beat it with a teaspoon of water and with a brush, brush around the edge of the top half. Then take the farthest top and the closest bottom and bring them together and pinch closed. Lift the filled Pasty in your palm and with the other hand pinch the rest closed and place seam up on the prepared pan. Repeat for the remaining five.
When you finish the last, go back and make sure none popped open and reseal.
Brush the entire surface with the egg wash trying not to let it drip onto the paper.
Bake for 20-25 minutes until golden brown.
Serve hot with additional gravy and cranberry sauce.
---
You may also like: