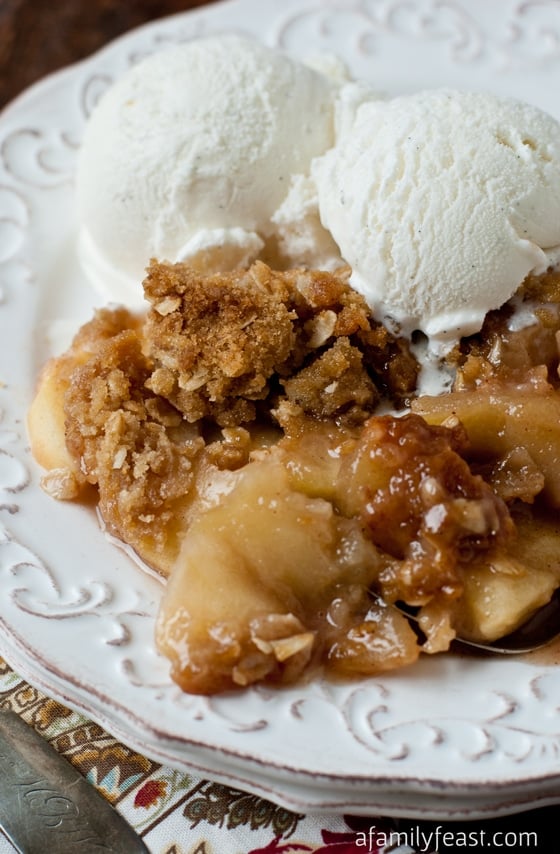 This amazingly delicious, classic Apple Crisp recipe had been my go-to apple crisp recipe for years.  Every fall during apple-picking season, I'd pull this recipe out of a binder that I keep of old tried-and-true recipes I've collected, and I would bake this perfect apple crisp.
And then…I lost the recipe.
I looked through every page of my recipe binder with no luck!  I tried recreating this apple crisp from memory – I had made it so many times that I remembered the combination of ingredients, but not the exact proportions.  And over these last few years, I tried many other apple crisp recipes – but none compared to this one!
But, eureka!  I found this apple crisp recipe a few weeks ago (in my binder, just filed in the wrong section…) and I was finally able to make it again!  This apple crisp more than lived up to memory, and my husband Jack thinks it's the best apple crisp he has ever eaten!
Slices of sweet apples are combined with sugar, cinnamon, and nutmeg plus a pinch of salt and a few tablespoons of flour (which help to thicken the juices from the apples into the perfect, sweet creamy sauce) and then placed in a large casserole dish.  The apple mixture is then topped with a generous topping of flour, oats, brown sugar and butter that bakes into the perfect crisp.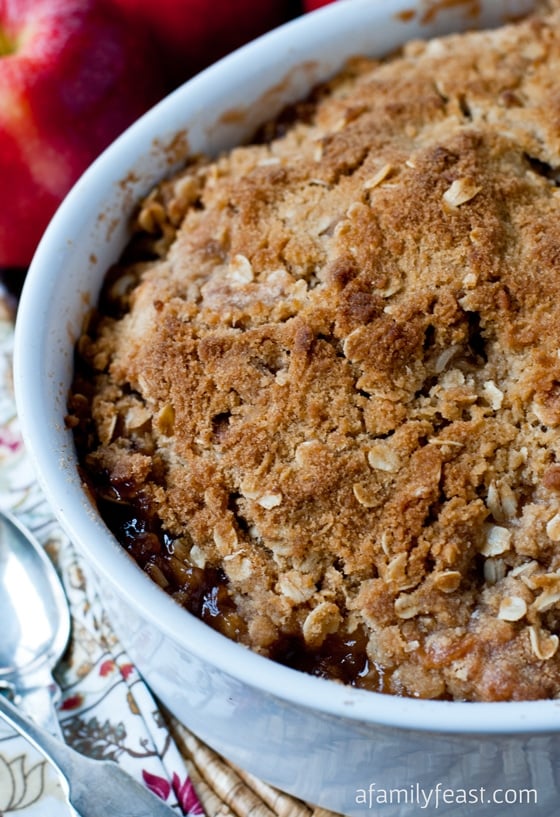 This recipe is very versatile and you can use a mix of apples depending on what is available in your area.  It's best to use a combination of both apples that stay firm while baking (such as Cortland, Honey Crisp or Gravenstein) and some apples that cook down to a soft consistency when baking (such as MacIntosh).
Served with some vanilla ice cream – this is the perfect fall dessert!
This recipe was originally printed in The Boston Globe and is adapted from the Tougas Family Farm Cookbook which you can find online here.  The Tougas Family Farm bakes and sells tray after tray of this delicious apple crisp every fall at their farm store located in Northborough, Massachusetts.
Print
Apple Crisp
Prep Time:

20 mins

Cook Time:

40 mins

Total Time:

1 hour

Yield:

8-10 servings
Ingredients
For the Apples:
9-10 large apples, peeled, cored and sliced
3/4 cup sugar
2 tablespoons flour
1 teaspoon cinnamon
¼ teaspoon nutmeg
¼ teaspoon salt
For the Topping:
1 cup flour
1 cup brown sugar
½ cup oats
½ cup butter (1 stick) cut into 1-inch pieces
Vanilla ice cream, for serving
Instructions
Preheat the oven to 375 degrees. Spray a large casserole dish or 9×13-inch glass baking dish with non-stick cooking spray.
In a large bowl, combine the apple slices, sugar, flour, cinnamon, nutmeg and salt. Toss to coat the apples and transfer to the prepared baking dish.
To make the topping, combine the flour, brown sugar and oats in a medium bowl. Add the butter pieces, and with your fingers, rub the butter in the mixture until it resembles coarse crumbs. Sprinkle this mixture over the apples.
Bake for 35 to 40 minutes or until the topping is crisp and golden and the inside is warm and bubbly.
Let sit for about 30 minutes before serving with vanilla ice cream
You may also like: