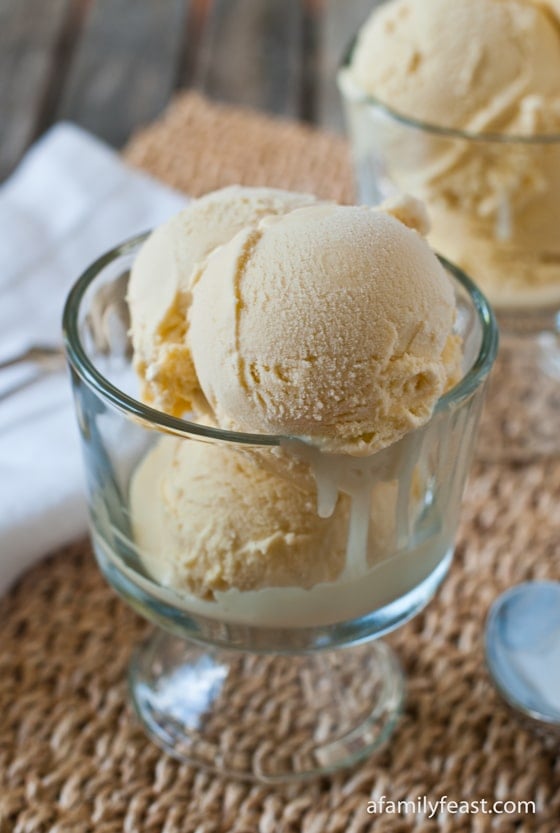 When Jack and I got married almost 9 years ago, one of our wedding gifts was an ice cream maker.  For an ice cream fanatic like myself, as you can probably guess, that gift was one of my favorites!
The first batch of ice cream I made was this recipe we're sharing today called "The Best Vanilla Ice Cream," and it's been my go-to ice cream recipe ever since!  As much as I love chocolate, when it comes to ice cream, I'd choose a bowl of simple, delicious vanilla ice cream pretty much any day of the week.
This is a very rich (but oh-so-good!) vanilla ice cream made with heavy cream, whole milk, sugar and egg yolks, plus a generous amount of vanilla to give it that distinctively yummy flavor.   Please don't be intimidated to make ice cream using eggs – it's actually quite simple to do, and the rich creaminess you get from a custard-based ice cream is so worth it in the end!
This vanilla ice cream is terrific with desserts like our Hot Fudge Pudding Cake, Bourbon Poached Peaches, Brew Moon Chocolate Pudding, or our Indian Pudding.  I even used this recipe as the starting point for our Chocolate Malted Ice Cream, so it really is the best vanilla ice cream recipe to have in your collection!
Note: Like most food bloggers, we always try to give credit to the original source if we've adapted a recipe and published it here on A Family Feast.  Unfortunately, the printed version I've had in my recipe book for years does not include the link to the original recipe and even after searching online, I've been unable to find the original source.
Print
The Best Vanilla Ice Cream
Prep Time:

18 hours

Cook Time:

10 mins

Total Time:

18 hours 10 minutes

Yield:

1 quart
---
Ingredients
4

egg yolks, at room temperature

1 cup

whole milk

3 cups

heavy cream

¾ cup

sugar

2 tablespoons

vanilla extract
---
Instructions
In a medium bowl, whisk the egg yolks. Set aside.
In a heavy bottomed saucepan, heat milk, heavy cream and sugar, stirring occasionally until the sugar is dissolved and the mixture is hot. (This will take less than 5 minutes – do not bring to a simmer or boil.) Remove from the heat.
Take about a cup of the hot mixture and very slowly drizzle it into the bowl with the egg yolks – constantly whisking while you add the hot mixture. (A slow drizzle will prevent the eggs from cooking as you add the hot cream mixture.)
Once your egg mixture is smooth, slowly pour the egg mixture back into the saucepan with the rest of the hot cream mixture.
Cook the mixture over medium heat, stirring constantly, until the mixture thickens a bit and coats the back of a spoon. (This will take less than 5 minutes as well, and again, do not bring the mixture to a simmer or boil, or it will curdle.)
Remove the pan from the heat and pour the mixture through a fine strainer into a bowl (a large measuring cup like this one works great because you'll have a spout for pouring the cooled custard into the ice cream maker once it has cooled). Add the vanilla extract and mix well.
Cover the bowl with a large piece of plastic wrap, pushing the plastic down to touch the top of the custard. (This will prevent a skin from forming on the custard as it cools.) Refrigerate overnight.
Churn in an ice cream maker according to manufacturer's instructions. After churning, freeze again for 4-6 hours before serving.
---
Disclosure: This post contains affiliate links.
You may also like: