This recipe for Bourbon Poached Peaches is simply amazing! Delicious over ice cream too!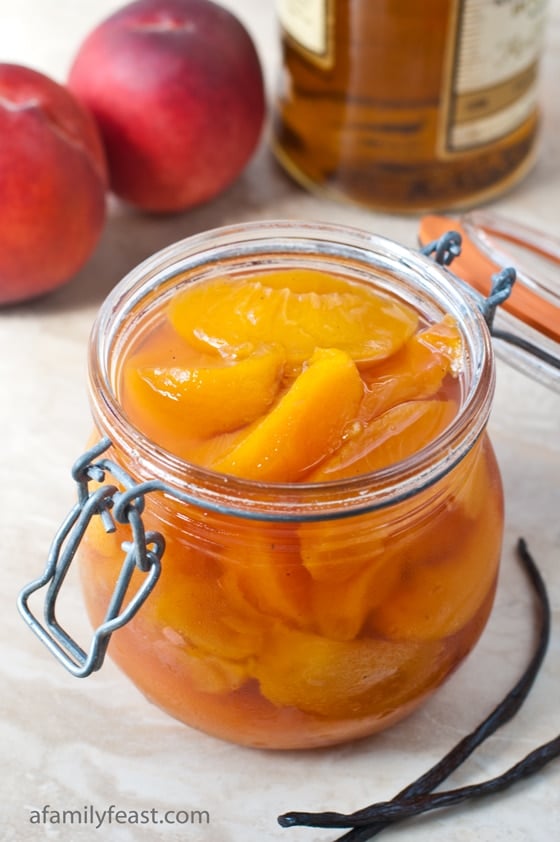 There is an abundance of peaches in the market this year so we've stocked up!  And today's recipe for Bourbon Poached Peaches is the first of several peach-inspired recipes we're sharing with you this week.
Jack and I were joking with each other over the weekend because we are two people who never actually drink bourbon – but we sure do like to cook with it!  (You may have seen our earlier recipes using bourbon such as our barbecue chicken wings, barbecue sauce, sautéed mushrooms, and cinnamon rolls.)
And these bourbon poached peaches…oh my!
How do you make Bourbon Poached Peaches?
The peach slices have been gently simmered in a mixture of water, sugar, bourbon and vanilla until perfectly tender.  Then the poaching liquid was boiled some more and reduced to an amazingly good syrup.  The flavors of the bourbon syrup are reminiscent of a buttery caramel with hints of vanilla, and it is really delicious with the sweet peaches that have also absorbed the same wonderful bourbon-vanilla flavors.
We served these bourbon poached peaches over our vanilla ice cream – and as we ate this dish (immediately) after taking our photos (we couldn't wait!), Jack was unusually quiet as he ate.  Then he let out a deep, satisfied, "Mmmmmmmmm!"  Trust me – you'll want to make this recipe as soon as possible!
Adapted from Martha Stewart Living.
You may also like these other Peach recipes:
Print
Bourbon Poached Peaches
Prep Time:

15 mins

Cook Time:

30 mins

Total Time:

45 minutes

Yield:

Fills a 24 ounce jar with a generous amount of peaches and syrup
---
Description
These peaches may also be canned and stored at room temperature for up to three months. Adapted from Martha Stewart Living
---
2

pounds of peaches (approximately 4-5)

1

vanilla bean

2 cups

water

1 ¼ cup

sugar

½ cup

bourbon
---
Instructions
Bring a large pot of water to a boil. While that is heating, fill a large bowl full of ice water (this will be used as an ice bath).
With a sharp knife, cut a small X in the bottom of each peach. When the water comes to a boil, carefully place the peaches into the water and cook for 1 minute. (Cooking for much longer than 1 minute will make the peaches very soft to handle, so be sure to time this step. No need to bring the water back to a boil before you start timing the minute.)
With a slotted spoon, transfer the peaches to the ice water bath and let cool slightly.
Once the peaches have cooled, peel and pit the peaches and cut into ¾-inch thick wedges. (If you aren't able to get the pit out easily – like me – try cutting the wedges all around the peach while the pit is still intact, and then used a knife to pry each wedge off the pit.)
Cut the vanilla bean in half the long way and with the tip of a knife, scrape out all of the seeds. In a medium pot, place the vanilla seeds and pod in with the two cups of water and the sugar. Bring to a boil, stirring so that the sugar completely dissolves.
Add the peaches and bourbon and simmer for about 5-7 minutes or until the peaches are tender but still hold their shape.
Transfer peaches to a bowl using a slotted spoon. Continue to cook the syrup over medium heat until reduced by half, about 15-20 minutes. Pour the syrup over the peaches and let cool completely.
Store peaches in a covered container in the refrigerator for up to a month – but I predict they won't last that long!
These peaches may also be canned and stored at room temperature for up to three months.
---