Make these tender and delicious Peaches & Cream Scones with sweet and juicy in-season peaches and fresh dairy cream!
This Peaches & Cream Scones recipe was created in partnership with the dairy farm families of New England. All opinions are 100% ours.
It's that time of the year…when abundant quantities of fresh, local peaches are on sale at the supermarket. We just can't get enough of their juicy sweetness! So we're digging out all of our favorite peach recipes, including these buttery Peaches & Cream Scones.
But peaches aren't the only local ingredient in today's recipe…we're also using fresh cream and butter from New England dairy farmers!
New England is home to more than 1,000 dairy farming families, and more than 99% of the milk produced on New England Dairy farms is bottled or turned into cheese, butter, yogurt and ice cream sold in New England and New York. In fact, milk and other dairy products often go from farm to fridge in just two days – so you know it's fresh!
How do you make Peaches & Cream Scones?
Chunks of ripe and juicy peaches are gently mixed into a simple pastry dough made with flour, sugar, baking powder, and a touch of salt – plus chilled butter and cold light cream.
There are a few tricks to ensuring that these Peaches & Cream Scones come out tender and delicious – and the most important thing is making sure that the butter and cream used in this recipe are locally-produced, fresh, and cold!
Then, as you mix the ingredients together, use a pastry cutter instead of your hands so that the dough doesn't warm up from the heat of your hands. As your Peaches & Cream Scones bake in the oven, the steam from the melting butter creates pockets of air – yielding tender and light scones.
We also selected super fresh light cream from local New England dairy farms as the liquid of choice in these Peaches & Cream Scones recipe. The extra creaminess from the milk fat also helps lend moistness to the finished scone.
Finally, the baked Peaches & Cream Scones were drizzled with a simple glaze made from confectioner's sugar, a touch of vanilla extract, and more fresh, local cream. What a heavenly way to start your day!
Fresh peaches and cream are really a perfect pairing – especially when the peaches and cream are both local and fresh!
For more information about the dairy farm families of New England, school nutrition, and health and wellness topics, please visit New England Dairy & Food Council and Must Be the Milk.
You may enjoy these other recipes made with fresh dairy:
Disclosure: This post contains affiliate links.


Print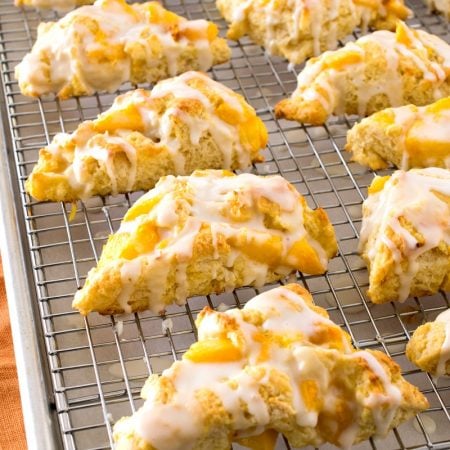 Peaches & Cream Scones
Author:

Prep Time:

20 minutes

Cook Time:

13 minutes

Total Time:

33 minutes

Yield:

12 scones

Category:

breakfast

Method:

baking
---
Description
Make these tender and delicious Peaches & Cream Scones with sweet and juicy in-season peaches and fresh dairy cream!
---
For the Scones
2 cups all-purpose flour, plus a little extra for flouring your work surface
1 tablespoon baking powder
3 tablespoons granulated sugar
½ teaspoon salt
5 tablespoons cold unsalted butter, cut into ¼-inch cubes
1 cup peaches, peeled and cut into ½" dice (approximately 1 ½ peaches)
¾ cup light cream
For the Glaze
1 ½ cups confectioner's sugar
2–3 tablespoons light cream
¼ teaspoon vanilla
---
Instructions
Preheat oven to 400 degrees. Line a baking sheet with a silicone baking mat or a sheet of parchment paper. Set aside.
In a mixing bowl, combine 2 cups flour, baking powder, sugar and salt. Using a whisk, stir to combine.
Add butter pieces to the flour mixture, then using a fork or a pastry cutter, mix together until crumbly. (Avoid using your fingers. The heat from your hands will soften the butter too much.)
Add the peaches and toss to coat in the flour mixture. Pour in light cream. Using a rubber spatula, fold the ingredients together to create a soft dough. Don't over mix the dough – just stir until the mixture holds together.
Lightly flour your work surface, then pour the dough out on the surface. With your fingers, shape the dough into a rectangle, about 5"x10" in size and 1" thick.  With a large sharp knife, cut the rectangle into 6 squares (2 x 3 rows). Then, cut each square diagonally in half – you'll have 12 triangles in total.
Gently place the triangles onto the prepared baking sheet. (You should be able to fit all 12 onto the same single baking sheet.) Bake 13-16 minutes in preheated oven, turning halfway through the cooking time, until scones are lightly golden brown on top.
Remove scones from the baking sheet onto a cooling rack and allow to cool for about 10 minutes.
Once the scones have cooled, place a piece of parchment paper under the cooling rack.
Prepare the glaze by whisking together confectioner's sugar, 2 tablespoons light cream and vanilla extract.  Stir with a whisk until smooth, adding the additional tablespoon of light cream if necessary if the glaze is too thick.
Dip the whisk into the glaze, then use the whisk to drizzle the glaze over each scone.  Allow glaze to firm up before serving.
---
Keywords: scones, peaches, dairy