Today is a special day! In addition to September 25th being Jack's and my wedding anniversary (9 happy years!), today is also the official one year anniversary of A Family Feast!
One year ago today, we registered our website domain (choosing our wedding anniversary as the official start for this blog somehow seemed like a good omen) – and this wonderful blogging adventure of ours began! As the saying goes, "We've come a long way baby!" This makes me cringe a bit to look at it – but you can see our very first recipe post here.
Growing a food blog has been an immensely challenging and rewarding experience for us – but the most rewarding aspect has been sharing our recipes with you, our truly wonderful readers!! We absolutely LOVE hearing that you've prepared our recipes and that your family and friends enjoyed the food. As we mentioned here, for us – preparing a great meal is one way that we show our love and caring to family and friends – and we're glad that your own families are feeling the love too!
For those of you who are regular visitors here at A Family Feast, thank you so much for your continued loyalty and readership! And for anyone reading this who is new to A Family Feast, we hope you'll come back and visit again! We've got lots of great recipes to share with all of you!
And any special anniversary celebration wouldn't be complete without a special dessert, like this Greek Yogurt Panna Cotta! This is one of my all-time favorite desserts – it's creamy and decadent, and it's so easy to make!
This panna cotta (Italian for 'cooked cream') is made with a mixture of low-fat Greek yogurt, cream, sugar, vanilla, and gelatin which is simmered together until combined and then cooled until set. (You could even substitute non-fat Greek yogurt and light cream or whole milk for a lighter version, although it won't be quite as creamy and thick when set as the version shared here.)
Panna cotta can be cooled in ramekins and then unmolded onto a plate before serving, or you can allow it to cool and set in decorative glasses like we did here. This Greek yogurt panna cotta is delicious on its own or served with fresh or sweetened, poached fruit.
Recipe adapted from Barefoot Contessa at Home
.
Print
Greek Yogurt Panna Cotta
Prep Time:

5 mins

Cook Time:

10 mins

Total Time:

15 minutes

Yield:

6-8 servings
---
3 tablespoons

cold water

1

packet unflavored gelatin powder

3 cups

heavy cream

2 cups

low-fat plain Greek yogurt

1 ½ teaspoons

vanilla extract

1

vanilla bean

¾ cup

sugar
---
Instructions
In a small bowl, add 3 tablespoons cold water. Sprinkle the gelatin powder on the water, and stir to combine. Let sit for 10 minutes to allow the gelatin to fully dissolve.
In the meantime, in a medium bowl, whisk together half (1½ cups) of the heavy cream, the yogurt and the vanilla extract – mixing well to combine. Remove the seeds from the vanilla bean (cut the bean lengthwise with a sharp knife and then use the tip of the knife to scrape the seeds out of the bean); add vanilla seeds to the cream mixture.
In a small pan, heat the other 1½ cups of heavy cream and the sugar over medium heat. When the mixture comes to a simmer, remove from the heat and stir in the dissolved gelatin. Stir until completely dissolved. Add the hot cream-gelatin mixture to the cold cream mixture and mix well.
Pour the mixture into decorative serving glasses, ramekins or custard cups (or a single, wide flat bowl will also work if you do not have ramekins) and chill until cold. Once the panna cottas are completely chilled, cover with plastic wrap and refrigerate overnight (or at least another 6 hours).
---
You may also like: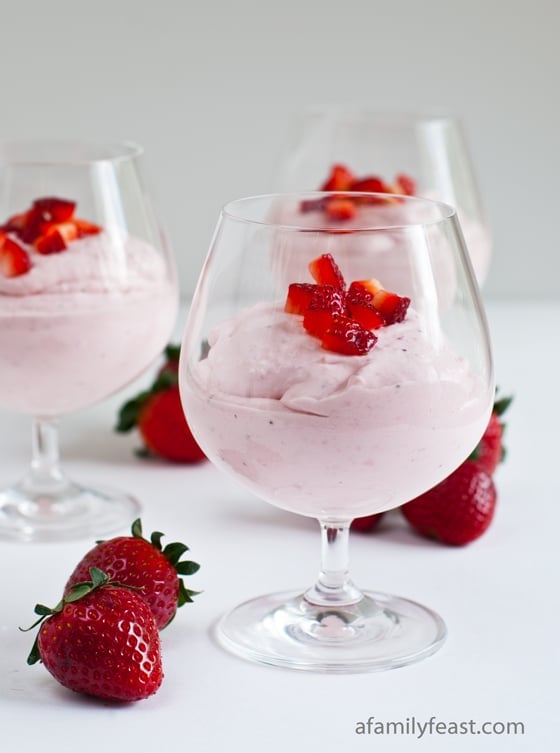 No-Bake Mini Pumpkin Cheesecake