These No-Bake Greek Yogurt Cheesecake Squares are creamy and delicious with a wonderful tangy-sweet flavor thanks to the addition of whole-milk Greek yogurt and cream cheese.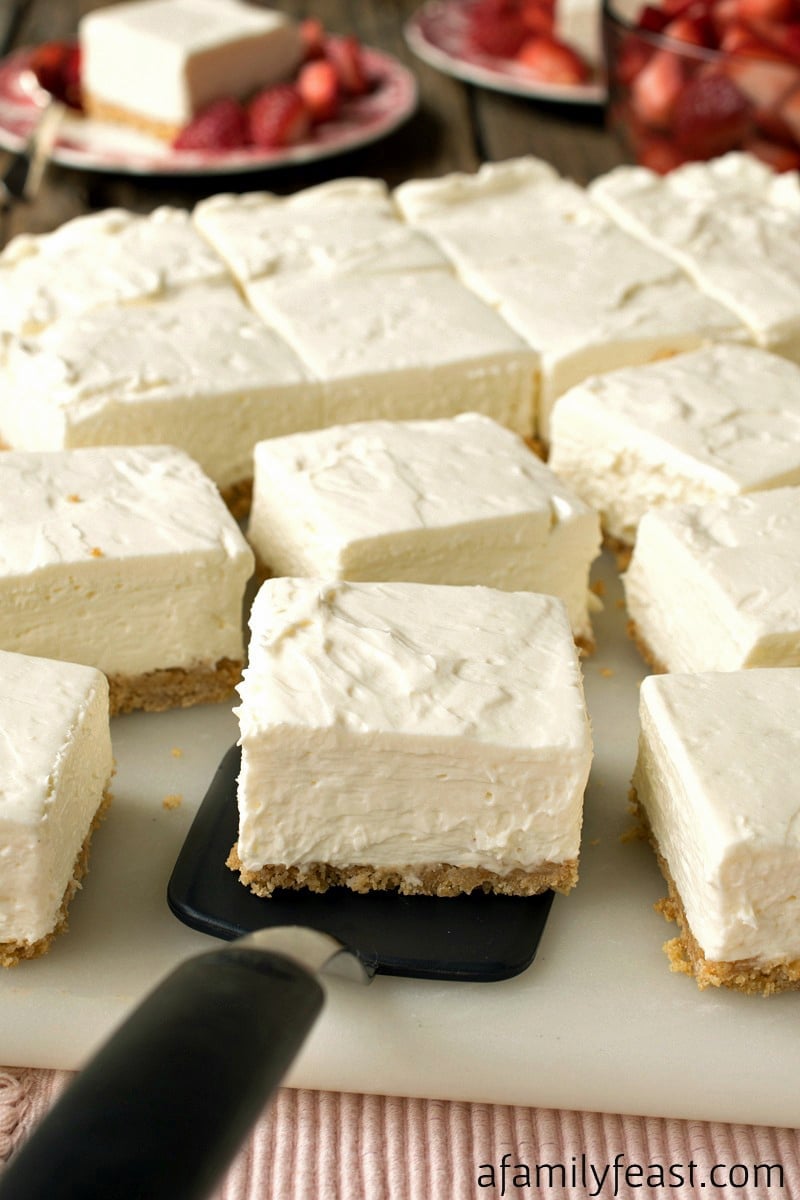 This No-Bake Greek Yogurt Cheesecake Squares recipe was created in partnership with the dairy farm families of New England. All opinions are 100% ours.
June is National Dairy Month and what better way to celebrate than with a wonderful dessert made with four different kinds of dairy!  Greek yogurt…butter…cream cheese…and heavy cream – today's No-Bake Greek Yogurt Cheesecake Squares are a very special dessert that is perfect to serve for any special event!
We brought these No-Bake Greek Yogurt Cheesecake Squares to a family graduation party a few weeks ago and everyone loved this creamy dessert! (So much so – they've been anxiously waiting for us to post this recipe today!)
Cooking with Dairy
Earlier this year, I attended an event sponsored by The New England Dairy & Food Council where I joined fellow Team Dairy New England digital influencers at a fun culinary event in Boston. At the 177 Milk Street Kitchens, we had the chance to meet and cook with some New England dairy farmers using fresh, locally-produced cheeses, yogurt and cream.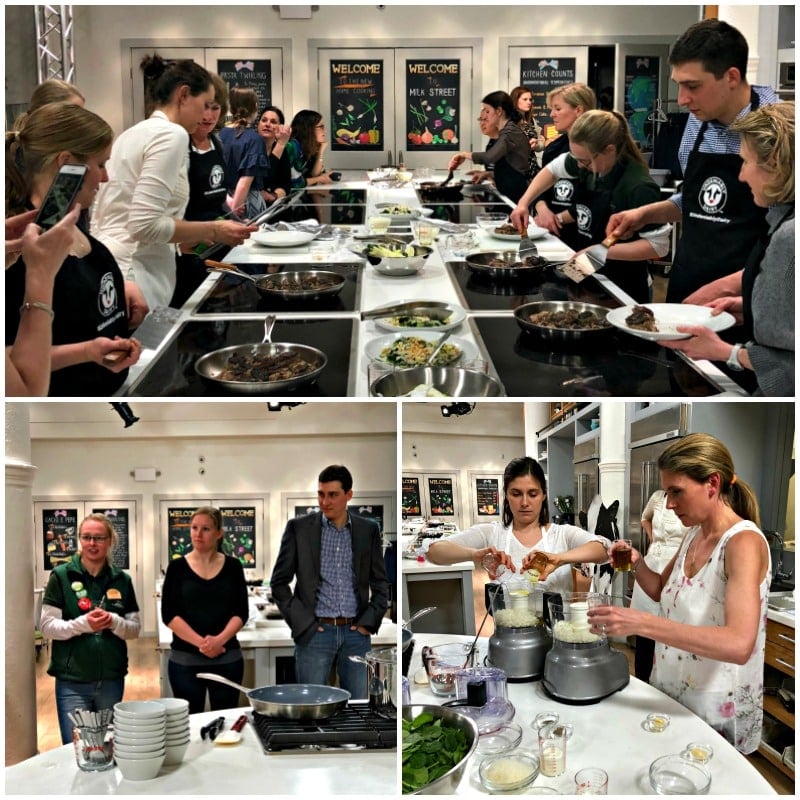 New England is home to more than 1,000 dairy farming families.  Hearing our guest speakers, I'm always very impressed by the passion and dedication that our New England farm families display as they talk about their work to produce fresh, great tasting, and wholesome dairy products. More than 99% of the milk produced on New England Dairy farms is bottled or turned into cheese, butter, yogurt and ice cream sold in New England and New York.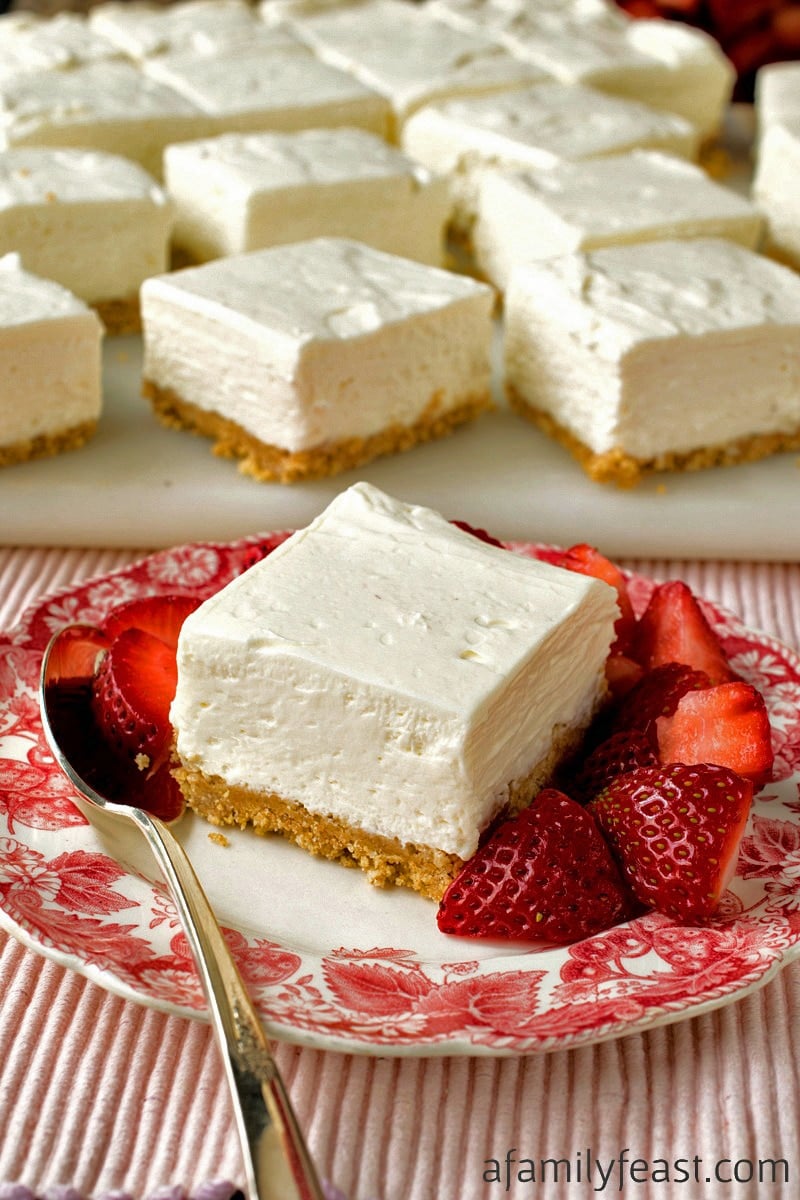 As I prepared these No-Bake Greek Yogurt Cheesecake Squares – and as I tasted how delicious they are too – I couldn't help but think about all of the effort that went into the wonderful fresh and nutritious ingredients I used for cooking. These farm families provide exceptional animal care and use innovative and safe technology to produce quality products for all of our families to eat.

Dairy is really the star in this No-Bake Greek Yogurt Cheesecake Squares recipe.  A lightly sweet, buttery graham cracker crust is topped with a super creamy filling made with Greek yogurt, cream cheese, whipped cream, vanilla and sugar.  These cheesecake squares are sweet, but not too sweet and that distinctive tangy flavor from both the yogurt and cream cheese is perfectly complemented by fresh strawberries.
You can serve this easy no-bake cheesecake dessert slightly frozen for a firm, ice cream-like texture, or you can allow the bars to soften for a spoonable, creamy texture. (Either way is delicious!)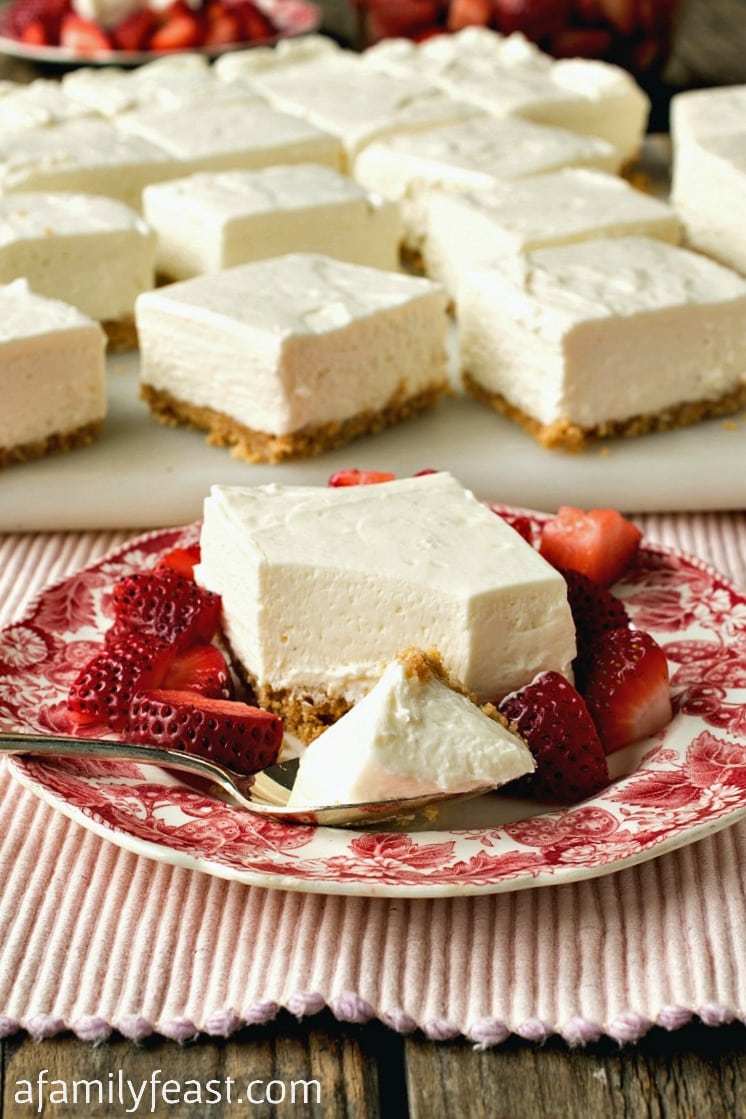 For more information about the dairy farm families of New England, school nutrition, and health and wellness topics, please visit New England Dairy & Food Council and Must Be the Milk.
You may also like these other recipes created in partnership with the New England Dairy & Food Council:
Print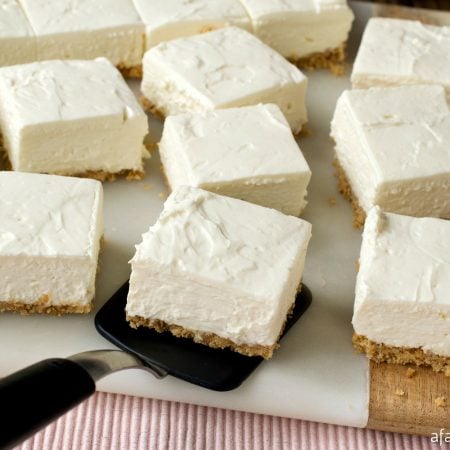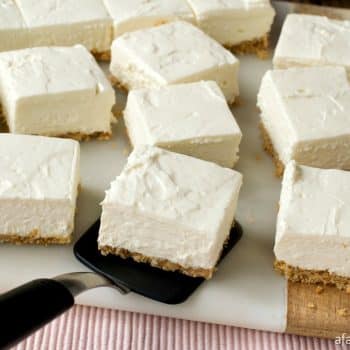 No-Bake Greek Yogurt Cheesecake Squares
Author:

Prep Time:

8 hours 20 minutes

Total Time:

8 hours 20 minutes

Yield:

24 squares

Category:

dessert

Method:

no-bake

Cuisine:

American
---
Description
These No-Bake Greek Yogurt Cheesecake Bars can be served slightly frozen for a firm, ice cream-like dessert. Or, they can be served fully thawed for a light and creamy dessert. The choice is yours!
---
For the Crust:
18 graham crackers (2 sleeves)
2 tablespoons granulated sugar
¼ teaspoon kosher salt
½ cup (1 stick) unsalted butter, melted
For the Filling:
3 8-ounce packages cream cheese, softened to room temperature
1½ cups confectioner's sugar
1 tablespoon vanilla extract
2 cups whole-milk Greek yogurt
1¼ cups heavy cream, chilled
For Serving:
1 pint fresh strawberries, diced
---
Instructions
Line a 13×9-inch baking pan with two sheets of parchment paper – the first sheet widthwise and the second sheet lengthwise – leaving about a 2-inch overhang on each edge of the paper. If necessary, cut a slit in each corner to allow the lengthwise parchment to lay flat in the pan. Set aside.
In the bowl of food processor, pulse the graham crackers until fine crumbs form. Add sugar, salt and melted butter and pulse again to fully combine. Pour the buttery crumbs into the prepared parchment-lined baking pan. Spread the crumbs evenly, pressing down to create a firm layer on the bottom of the pan. Place pan flat in freezer.
In a large mixing bowl, cream the cream cheese, confectioner's sugar, and vanilla on high speed until light and fluffy (about 3 minutes), scraping the sides of the bowl as necessary. Add yogurt to the mixing bowl and mix on medium speed until combined.
In a separate mixing bowl, beat the heavy cream until stiff peaks form. With a large spatula, fold a heaping spoonful of the whipped cream into cream cheese mixture, stirring well to combine. This will help loosen up the mixture. Fold in the remaining whipped cream with the spatula.
Spoon the filling into the chilled baking pan and spread the filling evenly. Cover the pan with a tented piece of aluminum foil and freeze at least 4 hours or overnight.
About a hour before serving, remove the pan from the freezer. Using the parchment paper overhang, carefully lift the frozen cheesecake mixture out of the pan and onto a cutting board. (Allow the cheesecake to soften slightly if necessary.) Using a long, sharp knife, cut the cheesecake into squares.
Place each square on a plate and serve with sliced, fresh strawberries.
Keywords: No-Bake Greek Yogurt Cheesecake Squares