This Halal Cart-Style Chicken and Rice with White Yogurt Sauce was created in partnership with the dairy farm families of New England. All opinions are 100% ours.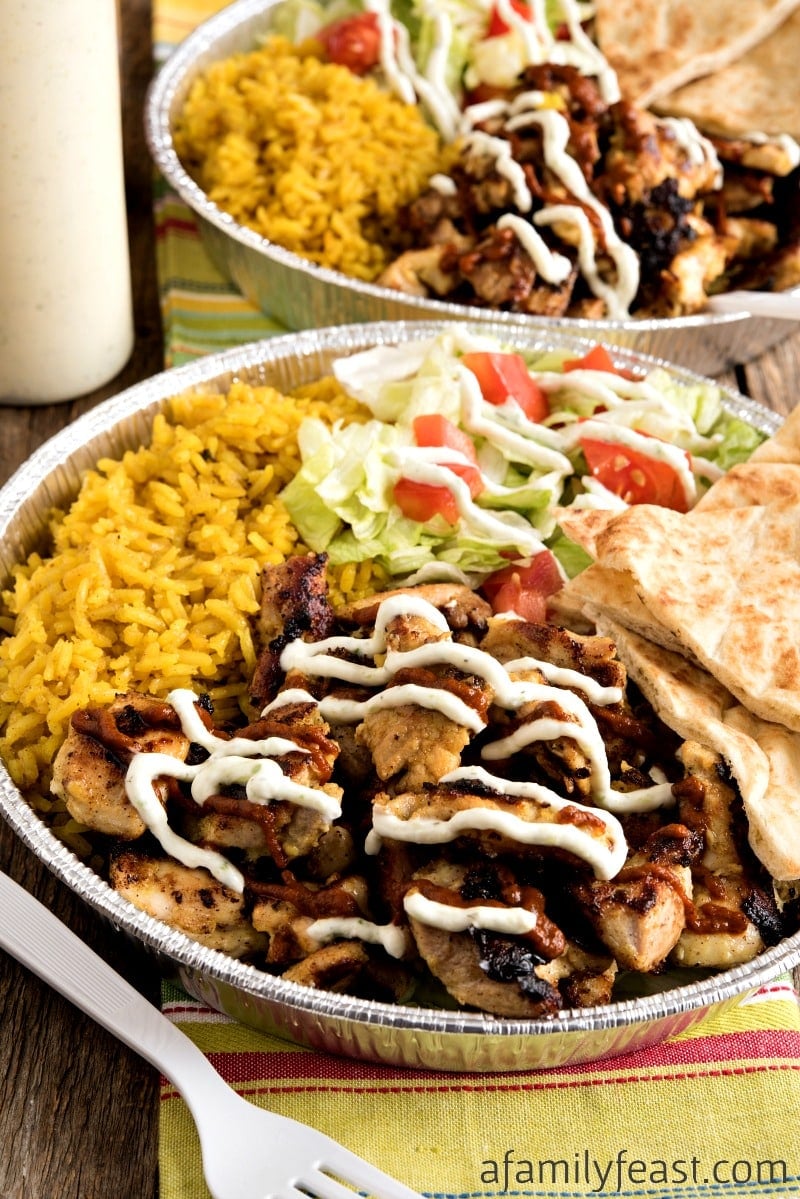 If you've ever been to New York City, chances are you've seen people waiting in long lines stretching almost an entire city block – just to buy lunch at one of The Halal Guys food trucks. The Halal Guys are best known for their platters and gyros filled with tender, grilled Halal chicken and seasoned rice, served with a creamy white sauce.
The good news is that you won't need to make a special trip to NYC to enjoy all of the fantastic flavors in our Halal Cart-Style Chicken and Rice with White Yogurt Sauce! While the original food truck recipe is a closely guarded secret – I think our recipe today is a very close copycat.
Boneless, skinless chicken thighs are marinated overnight in Greek yogurt, garlic, lemon zest and spices including oregano, cumin and coriander. The yogurt really helps tenderize the poultry, and the chicken gets completely infused with all of the wonderful, spicy flavors! This grilled chicken is so delicious – even if you aren't making the full cart-style meal – this is a chicken marinade you'll want to make again and again!
The cooked Halal Cart-Style Chicken is served alongside a flavorful seasoned rice, chopped lettuce and tomatoes – then slathered with a wonderful creamy white sauce made with yogurt, cucumber, mayonnaise, lemon juice, garlic and dill. We also drizzled on a red and spicy Harissa sauce for a little extra heat.
We even took some inspiration from the original food trucks by serving our Halal Cart-Style Chicken and Rice with White Yogurt Sauce in a round, aluminum pan – similar to how you'd be served in New York City. This meal is so incredibly delicious, after one taste, I think you'll understand why this dish has such a following!
Cooking with Dairy
We're so thrilled to be partnering again with the dairy farm families of New England in 2018. We eat and cook with all types of dairy because it is delicious and nutritious, and we can't wait to share some of our favorite recipes made with dairy.
Our daughter absolutely loves drinking milk!  And as a parent, I feel good about serving milk and other dairy products to my family because it is farm-fresh, and a natural source of high-quality protein and other nutrients.
We also enjoy supporting local farm families with our dairy purchases. The local New England dairy farmers are hard working families who have a positive impact on our local communities.
For more information about the dairy farm families of New England, school nutrition, and health and wellness topics, please visit New England Dairy & Food Council and Must Be the Milk.
Print
Halal Cart-Style Chicken and Rice with White Yogurt Sauce
Prep Time:

8 hours 90 minutes

Cook Time:

45 minutes

Total Time:

10 hours 15 minutes

Yield:

4-6 servings
---
Description
Although this recipe does take some time to prepare, it is well worth the effort! Much of the prep for this Halal Cart-Style Chicken and Rice with White Yogurt Sauce can be done a day ahead of time, including cooking the rice and making the sauce – so when you are ready to eat, all you'll need to do is grill the chicken, reheat the rice, and assemble your plate.
---
Marinade
2½ pounds boneless skinless chicken thighs
1½ cups full-fat Greek yogurt
1 tablespoon finely ground fresh garlic
Zest of one lemon (but not the juice), see note below*
1 teaspoon curry powder
1 teaspoon kosher salt
1 teaspoon dried oregano
½ teaspoon ground cumin
½ teaspoon ground coriander
White Yogurt Sauce
2 small mini cucumbers
2 cups full-fat Greek yogurt
¼ cup mayonnaise
½ teaspoon kosher salt
2 tablespoons freshly squeezed lemon juice
2 teaspoons finely ground fresh garlic
½ teaspoon dried dill
½ teaspoon granulated sugar
2 tablespoons extra virgin olive oil
Rice
2 tablespoons extra virgin olive oil
1 cup Jasmine rice
1 teaspoon ground curry powder
½ teaspoon white pepper
½ teaspoon ground turmeric
1½ cups homemade chicken stock
Kosher salt to taste
For Serving
Pita bread
Shredded iceberg lettuce
Fresh tomatoes, diced or cut into wedges
Harissa sauce, jarred or see our homemade recipe here
4 tablespoons olive oil, to cook chicken
---
Instructions
Remove all visible fat from thighs and cut into one-inch pieces.
In a large bowl, mix all marinade ingredients and add chicken and stir with a wooden spoon or tongs to make sure all pieces are covered.
Spoon into a gallon zip lock bag and marinate overnight up to 24 hours.
The sauce can be made ahead and refrigerated.
Grate the cucumbers on the large holes on a box grater and squeeze out all liquid and discard the liquid. You should be left with ½ cup of cuccumber. Add this to a food processor along with all other sauce ingredients and blend until the cucumber pieces are finely incorporated into the sauce. Refrigerate until needed.
If you are following our Harissa recipe, make that now or use store bought.
The following day, about 45 minutes before serving, cook the rice and chicken.
In a medium sauce pan with a tight-fitting lid, add olive oil and heat to medium heat. Add rice and cook for five minutes stirring often with a wooden spoon. Add spices and cook one minute then carefully add stock. (Mixture will bubble up so be careful). Bring to a boil, cover and lower heat to low and cook for 12 minutes. Remove from heat and let sit covered for five minutes then fluff with a fork.
While rice is cooking, in a large heavy bottomed skillet with high sides, heat one tablespoon of oil over high heat. Remove marinating chicken to a bowl to make it easier to use and cook one quarter of the chicken by placing one piece at a time into the hot oil and cook for a minute or two on each side, keeping marinade stuck onto the chicken (do not rinse off). Do not crowd pan or they will steam and not brown.
As each batch is done, start another batch with additional oil and chicken until all of the chicken is cooked. I had to stop half way through to wipe the pan clean of burned bits.
To serve, in a traditional aluminum to-go container or on a dinner plate, partition cooked chicken, cooked rice, lettuce and tomato and pita bread. Drizzle the white sauce over the chicken, lettuce and tomato and drizzle the Harissa over the chicken and the rice.
---
Notes
*The chicken needs to marinate overnight. Do not put any acid such as lemon juice in the marinade or the chicken will be mushy and opaque when cooked. (If using lemon juice, the longest you should marinate any meat is three hours.) Using yogurt instead of lemon juice allows the mixture to sit for 24 hours and really absorb all of the spice flavors.
You may also like: