Don't buy the jarred stuff! It's so easy to make spicy, flavorful Harissa at home!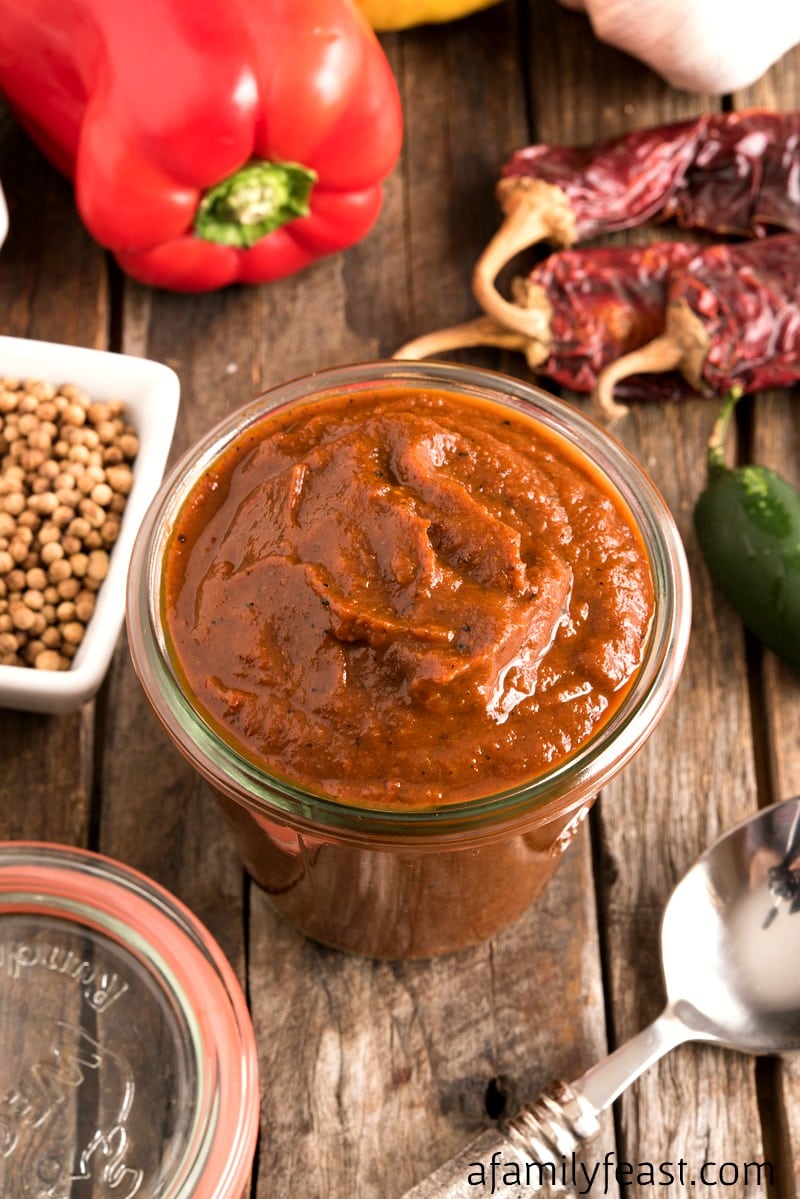 Harissa is a delicious chili pepper sauce or paste that is sometimes called the 'national condiment of Tunisia'.
It has a spicy, somewhat smokey, deep and complex flavor, and Harissa is delicious used both as a condiment on meats or vegetables, or as an ingredient added to a sauce.
Ever since we used Harissa in this recipe, Jack has been talking about making a homemade version. I will note that, as written below, our homemade Harissa is slightly milder that most because we used dried California chile peppers instead of other hotter, spicier peppers that some recipes call for. California chiles are easy to find at most supermarkets in the produce section (or you can find them online here) , and they add a sweet, rich pepper flavor without a lot of heat. (If you like a spicier Harissa – by all means, use a hotter pepper instead.)
We also amped up the flavor in this homemade Harissa by roasting the peppers, and toasting the spices before grinding them. This extra step really deepens the flavor of the finished sauce.
Today's recipe yields about two cups of Harissa, and it can be stored in a clean, sterilized jar in the refrigerator for two to three weeks.  (The flavor seems to deepen and improve over time.)
Print
Harissa
Prep Time:

15 minutes

Cook Time:

30 minutes

Total Time:

45 minutes

Yield:

2 cups
---
Description
Any dried mild pepper will work in this recipe if you can't find dried California peppers. Or, feel free to swap in a spicier dried pepper if you prefer.
---
Ingredients
1 pound thick-skinned red bell peppers (2–3 peppers)
3 dried California chile peppers (available in most markets)
½ teaspoon coriander seeds
½ teaspoon caraway seeds
½ teaspoon cumin seeds (or roasted ground cumin)
½ teaspoon kosher salt
3 medium garlic cloves left in their skins
1 large or two small jalapenos
2 tablespoon tomato paste
¼ cup fresh cilantro
1 tablespoon fresh lemon juice
½ cup sweet onion coarsely chopped, such as Vidalia
2 tablespoons olive oil
---
Instructions
If you have a gas range, place the whole red bell peppers over the open flame of one burner and char the skin on all sides until black. I used two burners and did all three bell peppers at once. After they are totally black, remove and put directly into a zip lock bag and seal. Let these sit in the bag for ten minutes. If you do not have a gas range, use your oven broiler to char the skins by placing them onto a broiler pan and charring close to the broiler grates. If weather permits, an outdoor grill works very well.
Place a pan or kettle of water on to boil.
While the peppers sit in the bag, toast the 3 California chile peppers, coriander seeds, caraway seeds and cumin seeds in a medium sauté pan over medium heat until browned. Be careful not to burn.
Transfer the 3 California chile peppers to a bowl, pour boiling water over them to cover and place a top on the bowl to keep in the steam. Let those sit while you continue with the recipe.
Pour the toasted spices and the salt into a mortar and grind with the pestle until ground fine. Set aside.
Use the same pan and the same method as the spices and toast the garlic until slightly blackened on the outside skins. Remove to your cutting board and peel off and remove skins.  Set garlic aside.
Open the bag with the bell peppers and under running water or in a large bowl of water, peel off skins, they should come right off. Move the peppers to your cutting board, remove stem and seeds and place the flesh into a blender.
Along with the peppers, add the ground spices and the toasted peeled garlic to the blender.
Cut open the jalapeno and remove seeds and stem and place whole into the blender.
Add the tomato paste, cilantro, lemon, onion and olive oil to the blender.
Finally, remove California chiles to your cutting board using tongs and remove seeds and stem and add the softened flesh to the blender. Save the pepper water.
Blend the ingredients to a smooth puree and serve or refrigerate until needed.
If too think, dilute with a small amount of the pepper water.
---
Disclosure: This post contains affiliate links.


You may also like: