This recipe for Cinnamon Rolls with Bourbon-Soaked Raisins is a really delicious option for a special holiday breakfast or brunch.  A filling of sweet brown sugar, cinnamon and bourbon-soaked raisins is rolled between a light and delicious pastry.  Then, a sweet and light confectioner's sugar glaze is poured on top of the rolls soon after they come of the oven – soaking into the crevices of the pastry for even more added goodness!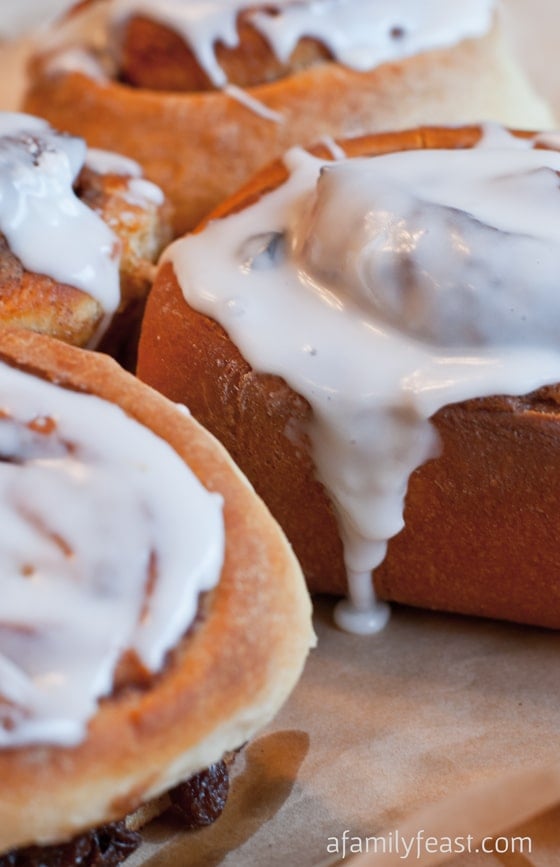 Whenever my husband makes this recipe, the smells that fill the house as the rolls bake in the oven are just amazing!!  And, by the time the cinnamon rolls come out of the oven, a crowd has usually gathered in anticipation so they can get their first taste of this delicious breakfast pastry.  And if you have any leftovers…our Cinnamon Roll Bread Pudding with Bourbon Sauce is a delicious way to use them up!
Print
Cinnamon Rolls with Bourbon-Soaked Raisins
Prep Time:

3 hours 15 mins

Cook Time:

25 mins

Total Time:

3 hours 40 minutes

Yield:

12 servings
---
Ingredients
½ cup

bourbon

½ cup

raisins

5 cups

flour, divided plus more as needed

1

package dry yeast (

1/4 ounce

)

1 cup

of milk

5 tablespoons

butter

1 tablespoon

extra virgin olive oil

1/3 cup

sugar

½ teaspoon

salt

3

eggs

¾ cup

brown sugar

¼ cup

flour

1 tablespoon

cinnamon

1

stick melted butter
Soaked raisins

2 cups

powdered sugar
A few teaspoons of milk
---
Instructions
The night before preparing the rolls, soak raisins in bourbon in your refrigerator. Or if you are in a rush, microwave raisins and bourbon for two minutes and let sit at room temperature for one hour.
Butter a 13X9 casserole dish.
In a stand mixer, sift in 2 1/2 cups of the sifted flour and pour in the yeast packet. Attach paddle.
In a small sauce pan, melt butter with olive oil, sugar and salt and once melted add milk and heat until mixture reaches 110 degrees F using a probe thermometer. Add this one third at a time to the flour mixture beating on low speed until all of the liquid is in.
Add the eggs one at a time while continuing to beat on low speed.
Scrape the sides and beat on a higher speed for 3 minutes.
Pull out paddle and replace with dough hook. On low speed, add 2 1/2 cups of sifted flour and mix until a soft dough has formed. Add up to 1/2 cup more to get the dough to a state where it is elastic and no longer sticky. (I used exactly 5 1/4 cups total.)
Place the dough in a large greased bowl, turn and cover with plastic and a towel. Let rise in a warm place until doubled in size. (1-2 hours)
Punch the dough down and let rest 10 minutes.
In a medium bowl, mix brown sugar, flour and cinnamon. Pour in the melted butter and stir to combine.
Roll the dough out to approximately a 14×22-inch rectangle.
Spread the sugar and butter mixture over the dough with an off-set spatula leaving ½ inch along the furthest edge free. Sprinkle on the soaked raisins and discard any soaking liquid left.

With a pastry brush, brush a little water on the ½ inch of dough that was left dry and begin loosely rolling the opposite side towards the edge you just wet, ending with seam side down.
With a knife cut the dough in half and in half again. Then cut each piece into thirds so you end up with twelve pieces.
Arrange cut side up in the prepared baking dish.

Spray the top of rolls with pan spray and place a sheet of plastic wrap and a kitchen towel over the top. Let rest for about one hour in a warm place until doubled in size.

Preheat oven to 375 degrees.
Remove plastic and bake for 20-25 minutes until browned. Ours took exactly 23 minutes.Cool for five minutes.
Mix powdered sugar and enough milk to form a thick consistency (add milk a teaspoon at a time to get desired thickness). Spread over slightly warm rolls and serve.
---
Disclosure: This post contains affiliate links.
You may also like:
Cinnamon Roll Bread Pudding with Bourbon Sauce
Saigon Cinnamon Ginger Cookies