Skip the boxed mix – it's easy to make Perfect Fluffy Homemade Pancakes.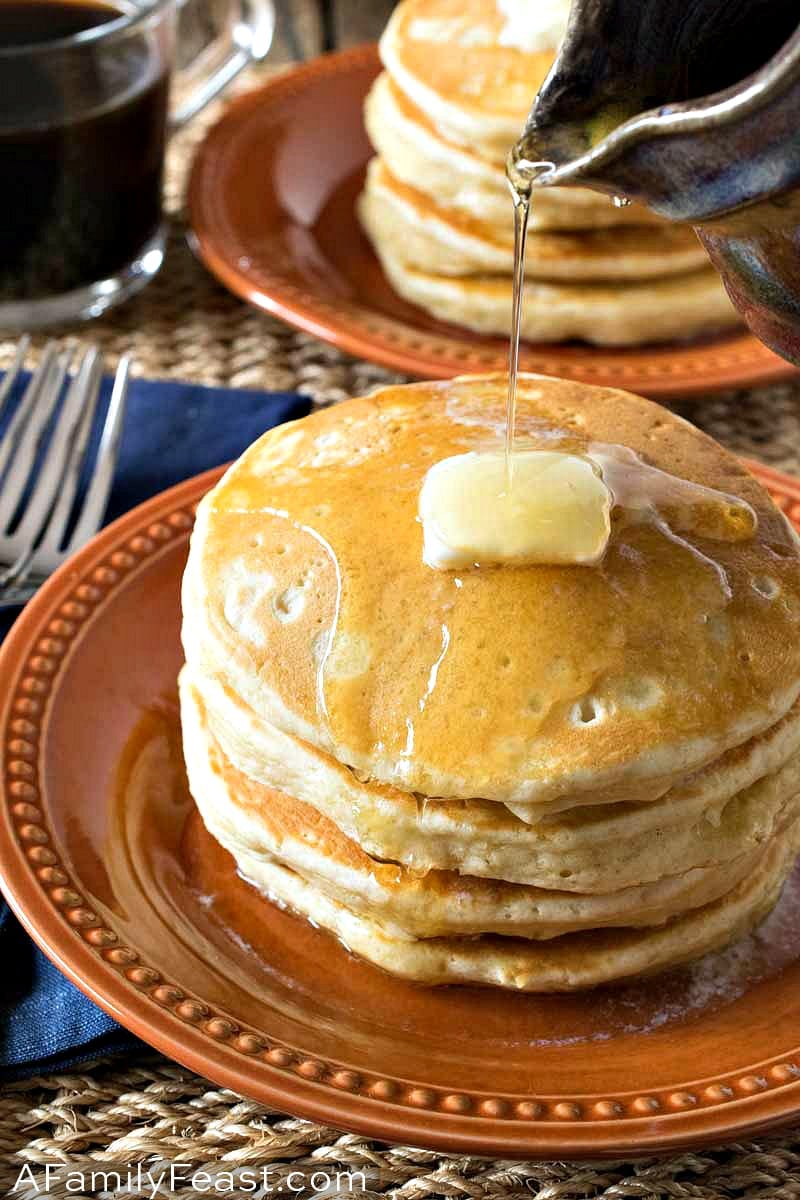 There are a few requirements – in my humble opinion – that make up a perfect pancake recipe:
The pancakes should cook up soft and fluffy. There's nothing worse than flat, tough pancakes!
They shouldn't be overly sweet. Since a sweet syrup is drizzled over the top – the pancakes themselves should only be lightly sweetened so you don't start the day with a sugar rush (and slump later in the morning).
Perfectly cooked pancakes should be uniformly golden brown in color.
The good news – we're showing you how to make Perfect Fluffy Homemade Pancakes that are not too sweet, and cook up to a perfect golden brown color.
How do you make Perfect Fluffy Homemade Pancakes?
Our recipe today uses ingredients you probably already have on hand: flour, baking soda and baking powder, sugar, salt, eggs, milk, butter, and vanilla extract.
Our first tip is to prepare the batter just before cooking. You can mix the dry ingredients together, separate from the wet ingredients ahead of time. But if you mix the dry with the wet too far in advance of cooking, the leavening from the baking soda and baking powder will start to occur before you begin cooking – resulting in flat pancakes.
Second tip to achieving fluffy homemade pancakes is to cook them at the perfect temperature of 350 degrees F.  Too hot, and your pancakes will scorch. Too cool, and your pancakes will cook up pale and still raw in the middle – or they will get tough if you leave them on long enough to cook in the center.
If you have a griddle like this, use it and set the griddle to the proper temperature. If not, select a thin, flat, non-stick pan (we use a crepe pan like this ourselves to make pancakes at home) and you just might need to do a test batch or two to make sure that the temperature of the pan is at the correct temperature.
Spray your griddle or pan with non-stick cooking spray – then wipe off most of the spray with a paper towel. This will leave some oil behind to prevent sticking, but you won't have pools and bubbles of oil on your griddle or pan – which would give your cooked pancakes dark uneven spots.
As you cook your Perfect Fluffy Homemade Pancakes in batches, you can keep them warm in the oven until you are ready to serve. But – just keep the oven to 200 degrees F and don't leave the pancakes in for too long, otherwise, the oven can dry the pancakes out and make them tough.
We like to serve our Perfect Fluffy Homemade Pancakes with warm maple syrup and butter. Enjoy!
Print
Perfect Fluffy Homemade Pancakes
Author:

Prep Time:

15 minutes

Cook Time:

15 minutes

Total Time:

30 minutes

Yield:

4 servings

Category:

breakfast

Method:

stovetop

Cuisine:

American
---
3 cups all-purpose flour
1 teaspoon baking soda
1 ½ tablespoons baking powder
1/3 cup granulated sugar
1 teaspoon salt
2 whole eggs
1 2/3 cup whole milk
2 tablespoons melted butter
½ teaspoon vanilla extract
Non-stick cooking pan spray
Softened butter, for serving
Heated maple syrup, for serving
---
Instructions
Optional, preheat oven to 200 degrees F. to keep each batch warm. Line a sheet tray with a rack and place a piece of parchment over the rack.
In a large bowl whisk flour, baking soda, baking powder, sugar and salt.
In a smaller bowl beat eggs with milk, butter and vanilla.
Heat a griddle to 350 degrees F.* See notes below.
Whisk wet into dry until combined.
Lightly spray the griddle with pan spray then with a paper towel, wipe it so that there are no obvious pools of oil. Keep the oiled paper towel and use to wipe the pan before the next batch.
Once the pan is at 350 degrees F., use a 1/3 measuring cup for a 5" pancake and pour onto the prepared pan. The total cooking time will be between 3 ½ to 4 minutes. It may take a little longer on the first side than the second. Wait until the edges start to dry and get a few bubbles, then take a peek under one. Flip using a silicone thin lipped spatula and cook on the second side.
If you are cooking in batches, place your first batch on the prepared pan and hold in the oven. Be advised however that holding them in the oven will dry them out a bit so if you are following the oven hold method, do not keep them in the oven for more than ten minutes.
Serve immediately with softened butter and maple syrup.
---
Notes
Do not prepare the batter until you are ready to cook. You can however prepare the dry in one bowl and wet in another ahead of time.
If you do not have a griddle that you can control the heat (perfect temperature is 350 degrees F.), I find that a thin non-stick pan to be the easiest to use. The reason is that you can get closer to the correct temperature quickly, where a thick grill pan retains heat and if it gets too hot, it is hard to get it to the correct temperature. I spend a lot of time getting the pan at exactly the right temperature before I start, even testing a few small pancakes first. If it gets too hot, the bottom gets too browned before the center cooks. Too cool and they cook up pale and dry.
If cooking in batches without an electric griddle, try to keep the batches to just two batches so that the first batch doesn't remain in the oven too long. Use more than one pan at a time on multiple burners to be able to cook in two batches.
Lightly spray and wipe the grill or pan before pouring on batter. Too much oil and the pancake will have an inconsistent look. I spray the pan then wipe it off with a paper towel, then keep using that oiled paper towel for future batches.
Soften butter and heat the maple syrup before serving. Serving hot syrup with hot pancakes makes for a perfect serving.
Keywords: perfect fluffy homemade pancakes