Cinnamon Roll Bread Pudding with Bourbon Sauce is outrageously delicious! Served with or without the sauce, you are going to love this sweet and comforting bread pudding.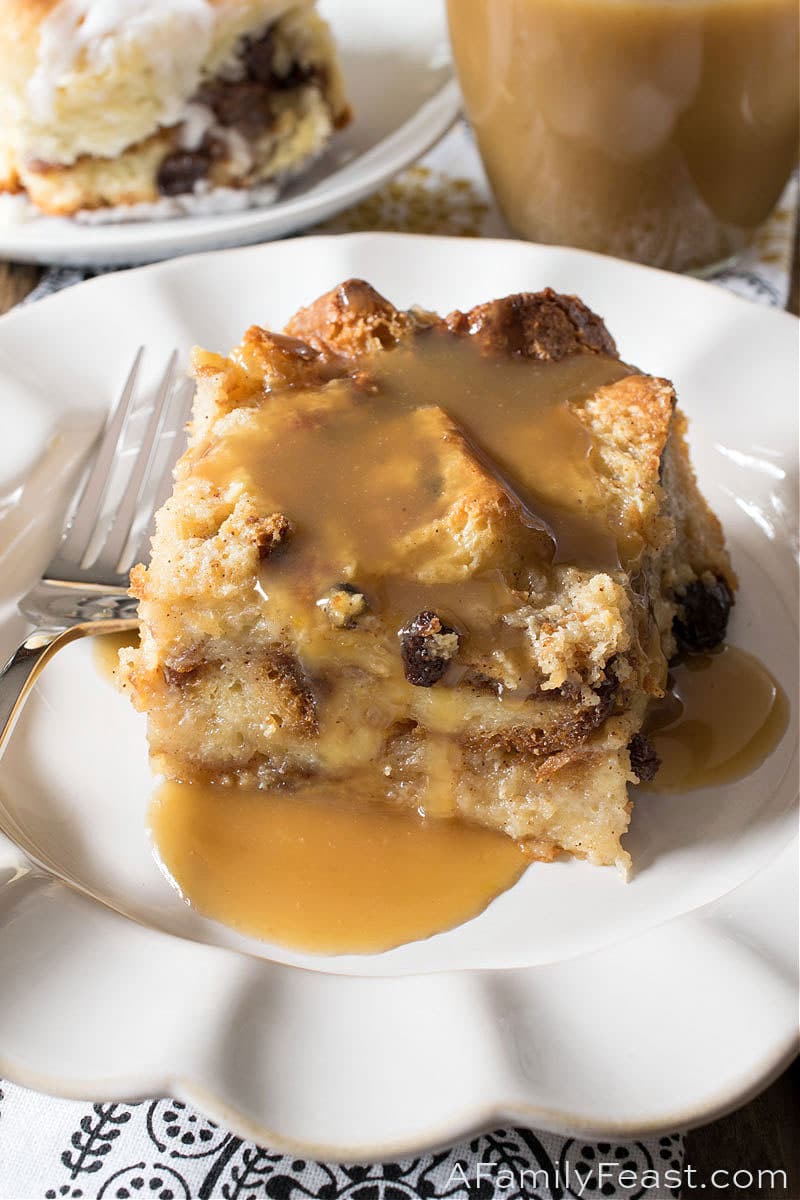 This recipe for Cinnamon Roll Bread Pudding came about thanks to a snowstorm. One day, back when my husband worked in food service, a snow storm hit the area. Because of that storm, most of that day's cinnamon rolls went unsold because very few customers came in for breakfast.
In food service, nothing goes to waste – if at all possible. So, the next morning, Jack made bread pudding using the day-old cinnamon rolls.  This bread pudding became such a hit with his customers he was begged to prepare it from that day forward as a regular menu offering – which of course, he did!
Served warm out of the oven – with or without the sauce – this Cinnamon Roll Bread Pudding is divine!
We've added a delicious bourbon sauce as part of this recipe, which perfectly complements the sweet cinnamon roll flavors of the pudding.  If you prefer to skip the sauce, you can also enjoy the warm bread pudding with a scoop of ice cream on top, or with a drizzle of warm maple syrup.
You may like these other warm puddings:
Print
Cinnamon Roll Bread Pudding with Bourbon Sauce
Author:

Prep Time:

15 mins

Cook Time:

75 mins

Total Time:

1 hour 30 minutes

Yield:

12 servings
---
For the bread pudding
8 cinnamon rolls that are a day-old, cut into large cubes (see cinnamon roll recipe here). If buying cinnamon rolls, you will need just shy of four pounds (64 ounces)
1 quart milk
3 eggs
1 egg yolk
1 cup heavy cream
2 cups sugar
2 tablespoons vanilla
¼ teaspoon allspice
Pinch of freshly ground nutmeg
1 additional cup of milk
3 tablespoons butter, divided
For the bourbon sauce
8 tablespoons (1/2 cup or 1 stick) of butter
1 cup brown sugar
1 egg
½ cup heavy cream
½ cup bourbon
1 teaspoon vanilla extract
Pinch of nutmeg
---
Instructions
Preheat oven to 375 degrees F.
To prepare the bread pudding, cut the cinnamon rolls into large cubes and place in a large bowl.
Pour in one quart of milk and press into rolls so they absorb all of the liquid.
In a separate bowl, beat eggs, egg yolk, cream, sugar, vanilla, allspice, nutmeg and the additional cup of milk.
Add egg mixture into cinnamon roll mixture and stir gently. (Try not to break up the rolls too much as you stir.)
Coat the bottom and sides of a 13x9x3-inch glass baking dish with one tablespoon of the butter, then melt the remaining two tablespoons of butter and pour into the bottom of the baking dish.
Pour in the pudding.
Bake for 45 minutes at 375 degrees, then 15-30 minutes at 325 degrees or until set. (A tooth pick inserted should come out clean.) I baked mine for 1 hour 10 minutes total.
While pudding is baking, start bourbon sauce by melting butter in a medium sauce pan.
Beat sugar, egg and cream in a separate bowl and slowly add to melted butter. Stir to combine and cook over very low heat until thickened, about ten minutes, whisking continually. Important: Keep heat low or mixture will break. The finished consistency should be like gravy.
Add in bourbon, vanilla and nutmeg and remove from the heat. Stir to combine and let cool. As it cools, it will thicken some more. If the sauce starts to separate while cooling, whisk briskly as it cools until the sauce is stable.
Let pudding sit for ten minutes then cut 3×4 into 12 portions.
Pour bourbon sauce over individual portions of bread pudding and serve.*
---
Notes
The bourbon sauce contains alcohol since it is not cooked down after adding to the sauce. The mixture is strong so use sparingly over portions. You could omit the bourbon sauce and just serve the bread pudding with vanilla ice cream or warm maple syrup.