Old fashioned Bread Pudding dessert is a delicious way to use up leftover bread.
I have vivid childhood memories of my parents baking Bread Pudding for dessert. I was raised with the mindset that you never wanted to waste good food – so if a loaf of bread went stale – bread pudding was on the menu!
No complaints from me though – I love it! And to this day, the wonderful aroma of a hot and steamy pan of bread pudding coming out of the oven brings me back to my childhood.
What is bread pudding?
Bread pudding is a baked dessert made with stale bread, milk or cream (or both!), eggs, sugar, and butter. Using stale bread is key – because it soaks up the creamy egg mixture better than freshly-baked bread.
(I should note too, that some bread puddings are savory – and those are called a strata.)
According to this article, food historians trace the origins of bread pudding back to the early 11th or 12th century, and in 13th century England, it was referred to as "poor man's pudding."
Fast forward to today, and bread pudding is a beloved, comfort food, and you'll find it on restaurant dessert menus around the world.
How do you make bread pudding?
Our recipe today is made with day-old, country-style bread with a hard, crunchy crust on the outside, and a soft but dense inside.
Cut the loaf into large cubes and place them in a large bowl. Then heat milk, cream, butter and raisins in a sauce pan. Pour the mixture over the bread cubes, allowing the bread to absorb the milky liquid.
In a separate bowl, combine eggs, sugar, vanilla, and spices – including cinnamon and nutmeg. Pour the egg mixture over the milk-soaked bread cubes and stir to combine.
Next, pour the bread mixture into a buttered baking dish. (Make sure the raisins are evenly distributed throughout your bread pudding before baking.)
Then – bake until golden brown and caramelized on top, but still soft and creamy on the inside.  (Jack and I both personally love the really browned, chewy bits of crust on top – but if you prefer, take your bread pudding out of the oven sooner.)
How do I serve bread pudding?
You'll want to let your bread pudding sit for about ten minutes or so, after it comes out of the oven, to give it time to set up a bit.
Then cut into squares (or just spoon it out with a large serving spoon) and serve with vanilla ice cream on the side.  (Our Roasted Strawberries or our Vanilla Custard Sauce are other great topping choices if you want to change things up.)
How do I reheat bread pudding?
This recipe makes a large 9×13-inch dish so – lucky you – you may have leftovers. To reheat, we typically microwave our bread pudding for a minute or so before serving. But, you can also cover the bread pudding with a sheet of foil, then reheat in a warm oven until warmed through.
You make enjoy these other dessert recipes:
Print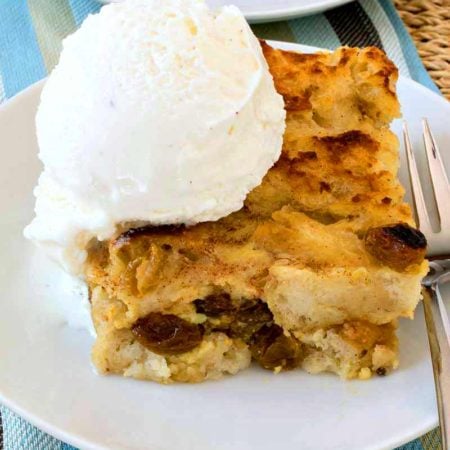 Bread Pudding
Author:

Prep Time:

15 minutes

Cook Time:

45 minutes

Total Time:

1 hour

Yield:

12 servings

Category:

dessert

Method:

baking

Cuisine:

American
---
1 large loaf dense country style bread, day old or stale
2 cups whole milk, divided
2 cups heavy cream
3 tablespoons butter
1 cup raisins (we used a mix of regular and golden raisins)
6 whole eggs
1 cup granulated sugar
2 teaspoons vanilla
¼ teaspoon salt
1 teaspoon ground cinnamon
Few grinds fresh nutmeg
Vanilla ice cream, for serving
---
Instructions
Preheat the oven to 350 degrees F and heat a large sauce pan or tea pot of water to a boil.
Butter a 9×13-inch pan and place that pan in a larger pan (I used a roasting pan). This is for the water bath. The water bath helps the custard bake up soft and even and prevents the sides and bottom from browning.
Cut the bottom crust off the bread and cut the remaining loaf into thick 1 ½ inch slices. Then cut the slices into 1 ½ inch cubes. You should have about 10 cups of cubed bread (1 ¼ pounds). Place the cubed bread into a large bowl and set aside.
Place one cup of the milk, all of the cream, the butter and raisins into a large sauce pan and heat to hot (do not boil). Once the butter has melted into the milk and cream, pour over the bread and press the cubes down to absorb all of the liquid. Let this sit while you prepare the other ingredients.
In a medium bowl, beat eggs, remaining milk, sugar, vanilla, salt, cinnamon and nutmeg.
Pour the egg mixture over the soaking bread and toss to distribute all of the ingredients.
Pour this mixture into the buttered pan making sure the raisins are evenly distributed and not all sitting on the bottom.
Place this pan into the larger pan and place in the center of the oven. Pour the boiling water in the outer pan to form a water bath. The water should come half way up the sides of the inner pan.
Bake for 40 minutes and test the center. It should bounce back when pressed and a tooth pick should come out clean when inserted into the center. If still a little loose, bake for five more minutes.
To brown the top, switch your oven to broil and broil for 1-3 minutes to brown the top, being careful not to burn.
Let sit ten minutes then cut 3X4 into 12 pieces.
Serve warm or cold with ice cream.
---