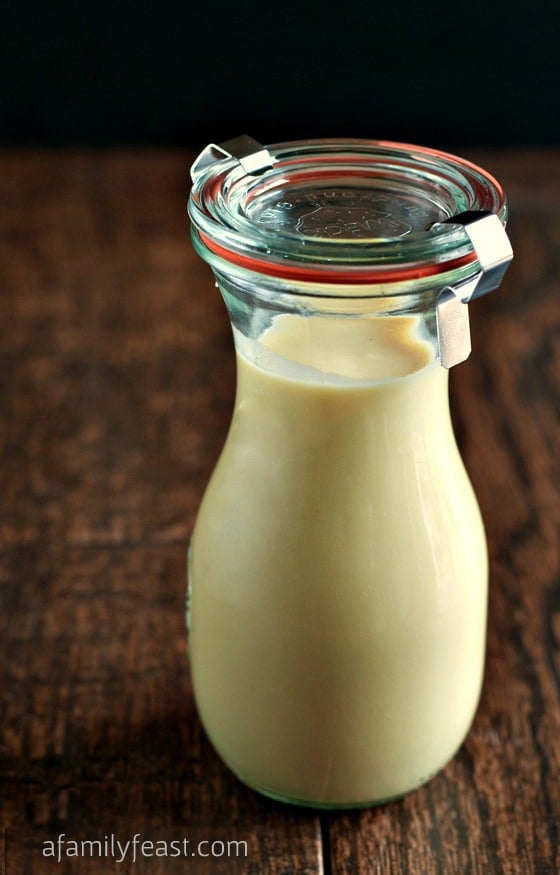 This Vanilla Custard Sauce is served with our recipe for Poached Pears in Red Wine.  It's rich, creamy and delicious – and full of wonderful vanilla flavor!
This vanilla custard doesn't take long to make – but you do need to keep a watchful eye as you scald the milk on the stove, and again as you temper the eggs.  (But don't worry – we talk you through this step-by-step in the instructions!)  And, you'll want to prepare this sauce ahead of time so that it has a chance to cool before serving with the poached pears.
Although we share this vanilla custard sauce as part of our poached pears in red wine recipe – this sauce is actually quite versatile and would be wonderful served over an apple crisp or other warm fruit desserts!
Print
Vanilla Custard Sauce
Prep Time:

10 mins

Cook Time:

5 mins

Total Time:

15 minutes

Yield:

2 1/2 cups
---
2 cups

whole milk

5

egg yolks

1/3 cup

sugar

1 teaspoon

vanilla extract
---
Instructions
Pour milk into a medium-sized sauce pan and heat to the point where the milk begins to scald. Remove from heat.
In a medium bowl, beat the egg yolks with the sugar.
Very slowly, drizzle about half of the milk into egg yolk mixture, stirring constantly until the eggs are tempered. Then add tempered eggs back to the rest of the scaled milk.
On low to medium heat cook mixture stirring continually watching to make sure it does not get too hot. If it does, the eggs will congeal and cook. (If you have to, keep removing the pan from the heat, stirring as you go.) Continue this for about five minutes or until mixture thickens. Immediately remove from heat, then add vanilla and stir.
Place a fine sieve over a bowl and pour the custard mixture through the sieve to filter out any egg bits that started to congeal. Cover the bowl with a large piece of plastic wrap, pushing the plastic down to touch the top of the custard. (This will prevent a skin from forming on the custard as it cools.) Refrigerate until completely cooled.
The finished sauce can be stored in the refrigerator for up to a day and used as needed for recipes calling for custard sauce including our Poached Pears in Red Wine or Apple Crisp.
---
You may also like:
Poached Pears in Red Wine with Vanilla Custard Sauce