Today's recipe for Poached Pears in Red Wine with Vanilla Custard Sauce is a wonderful dessert option when you're preparing a very special meal!  Not only is this dessert rich and delicious – but it's also quite impressive and elegant, and sure to impress that special Valentine in your life!
If you've never had poached pears in red wine – you are in for a real treat!  Poaching pears makes them so tender you can eat them with a spoon, and the red wine adds both flavor and a gorgeous color!  Next the red wine is reduced down to a thick sweet syrup, then paired with a wonderful vanilla custard sauce that is the perfect creamy, sweet counterpart to both the red wine reduction and the pears!
These poached pears in red wine with vanilla custard sauce can be served as we show – on a long, flat platter for an impressive presentation, or in individual serving plates or bowls.  Simply spoon some of the wine reduction onto the bottom of the plate and add drops of the vanilla custard sauce.  We used a toothpick to make decorative swirls for a beautiful effect.  Place the pears on the plate and serve with any extra red wine reduction as well as more vanilla custard sauce on the side.
Print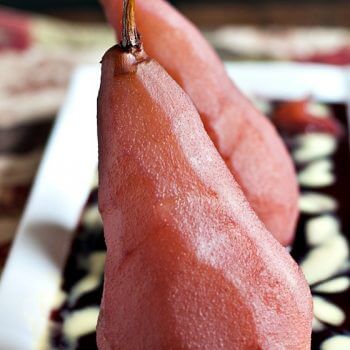 Poached Pears in Red Wine with Vanilla Custard Sauce
Prep Time:

20 mins

Cook Time:

2 hours

Total Time:

2 hours 20 minutes

Yield:

4 servings
---
Vanilla Custard Sauce (see recipe here)

4

Bosc pears, stems intact

1

bottle Burgundy or Merlot

1 cup

sugar

1

cinnamon stick
Rind of

one

lemon
---
Instructions
Prepare the vanilla custard sauce ahead of time to allow it to cool before serving.
Cut a small amount from the ridges at the bottom of each pear so the end is flat and the pears will stand upright. With a small paring knife, remove the core from the bottom of each pear by turning the knife around and around until you have whittled out the core. Peel the pears, leaving the stems intact.
In a 4-quart pot, pour in the bottle of wine. Fill the wine bottle with water and then add the water to the pot with the wine so you have a 50/50 mix of wine and water. Add sugar, cinnamon stick and lemon rind and bring to a boil.
Gently add pears and cover with a dish or pan so they stay submerged under the liquid.
Gently boil for 40 minutes or until tender. Use a small skewer or tooth pick to see if they are done.
Remove pears to a plate with a slotted spoon, cover and refrigerate.
Bring the liquid back to a boil and simmer for 50-60 minutes or until the liquid has reduced to one cup. The finished wine sauce will thicken as it reduces. Let the sauce cool slightly.
To serve, spoon wine sauce onto the bottom of a small flat dish or bowl, add drops of vanilla custard sauce to the wine sauce (if you'd like, use a toothpick and make decorative swirls). Place a pear in the center of the dish and serve.
---
You may also like: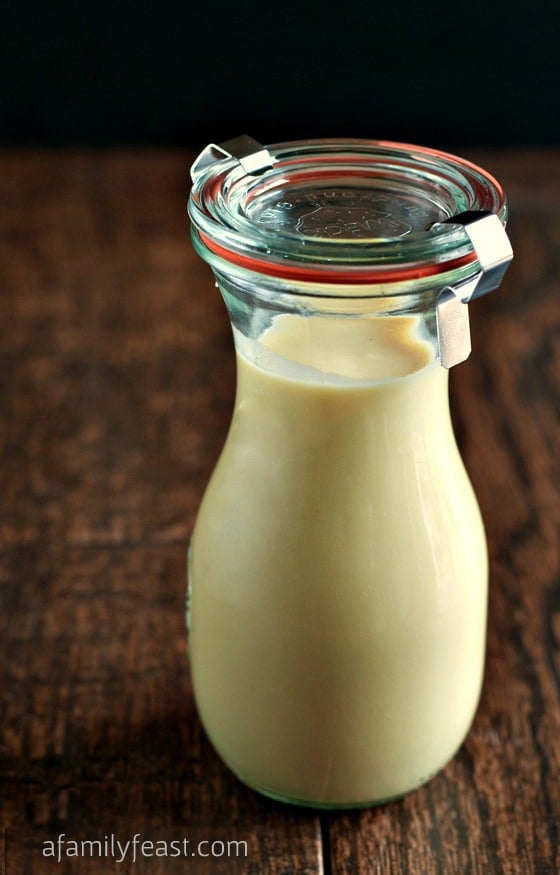 Steak au Poivre with Crispy Shallots