Looking for some menu inspiration for a special Valentine's dinner? If so – then we've got the perfect, delicious recipe for you today…Steak au Poivre with Crispy Shallots!
Steak au Poivre (or peppercorn steak) is a traditional French dish of steak that has been coated with cracked peppercorns, then seared in a hot skillet so that the outside cooks quickly and forms a wonderful peppery crust while the inside of the beef stays rare. Typically, steak au poivre is made with filet mignon – but we used a less expensive (but still tender and flavorful) hanger or skirt steak in this recipe.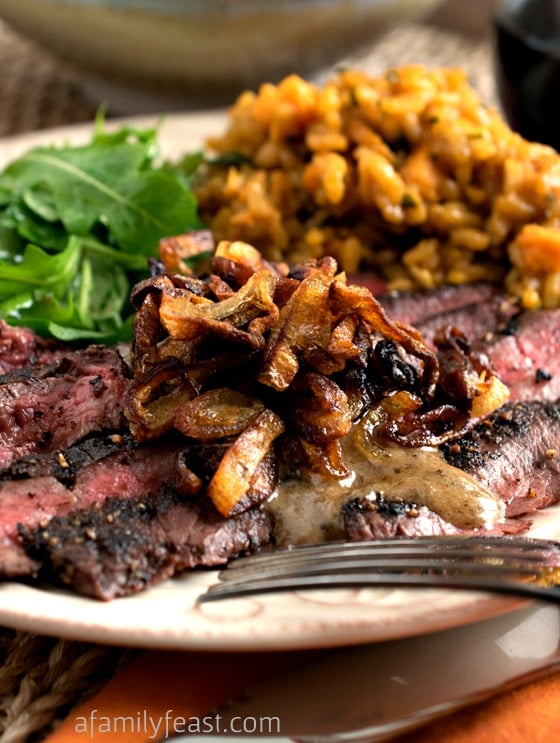 Steak au poivre is also typically served with a pan sauce made from cognac, heavy cream and the flavorful brown bits scraped from the bottom of the pan used to cook the steak — and OH-MY is that sauce superb!! We also sautéed some shallots until sweet and caramelized and crispy – then topped our steak au poivre with a generous portion to complete this amazing dish!
So – if you are looking to cook your meat-loving sweetheart a special meal – then this is the recipe for you! We recommend serving it with our creamy sweet potato risotto and a simple salad of greens or arugula served with our favorite vinaigrette for the perfect Valentine's Day dinner!
Print
Steak au Poivre with Crispy Shallots
Prep Time:

15 mins

Cook Time:

25 mins

Total Time:

40 minutes

Yield:

2 servings
---
Description
Traditionally this dish is cooked with a filet of beef, but that can be quite expensive! So two good alternatives are either a hanger steak or a skirt steak. Hanger steaks are sometimes hard to find (although that is what most restaurants use), but the more readily available skirt steak is a good alternative. The skirt steak is part of the same cut that the hanger steak is from, just thinner. When shopping for a hanger or skirt steak, get the thickest one you can find.
---
4

–

6

medium shallots (about

4 ounces

), cut into ¼ inch whole slices

¼ cup

extra virgin olive oil

1 tablespoon

butter

1

pound hanger or skirt steak (see note)

2 tablespoons

freshly cracked black pepper (large cracked pieces of pepper are ideal)

¼ cup

cognac

¼ cup

heavy cream

1 tablespoon

butter
Salt, as needed
---
Instructions
In a medium sauté pan place shallots, oil and butter and bring up to temperature over a medium low flame. Cook stirring occasionally for 15-20 minutes until the shallots are golden brown but not over cooked. (longer if needed) Place a small strainer over a bowl and strain. Do not discard fat. Lay shallots on a paper towel to dry. Warning, these are hard not to snack on so try and resist and save for the steak.
Place the steak on a flat surface and sprinkle both sides of the steak with the cracked black pepper, pressing the pepper into the steak as best as you can so it sticks.
In a cast iron or heavy bottomed pan over medium high heat, pour 1½ tablespoon of the fat you drained from the shallots. When pan starts to smoke, add steaks and do not move around. Let them sear for about 2-3 minutes per side. Reduce pan temperature to medium and cook steaks, turning as needed to your doneness. A thicker steak will take longer than a thinner steak obviously so use the poke test to tell when done. Make a fist and feel the pad of your palm. That is how the steak should feel. Squeezed tight the pad of your palm should be firm and hard similar to well done. Loosen up a bit and that is how medium would feel and so on down to soft and squishy for rare.
Once steaks are cooked, remove to a dish to rest. Cover loosely with foil.
Heat pan to medium and add cognac away from flame. Cognac will ignite so be careful. Scrape pan bottom and stir to get brown bits from pan. Add cream and stir until hot. Add butter and mix until butter melts into sauce. Remove from heat and add liquid that has drained from resting steaks then season sauce with salt if needed.
On a cutting board, cut steak into slices against the grain and serve with pan sauce and crispy shallots.
---
You may also like: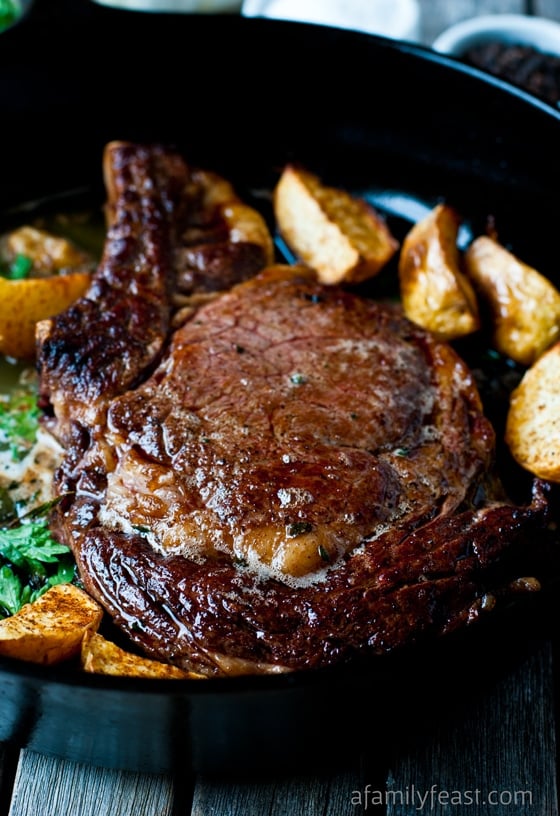 Steak Tips with Caramelized Onions