A delicious marinate for steak that yields perfectly seasoned, tender and juicy Steak Tips with Caramelized Onions!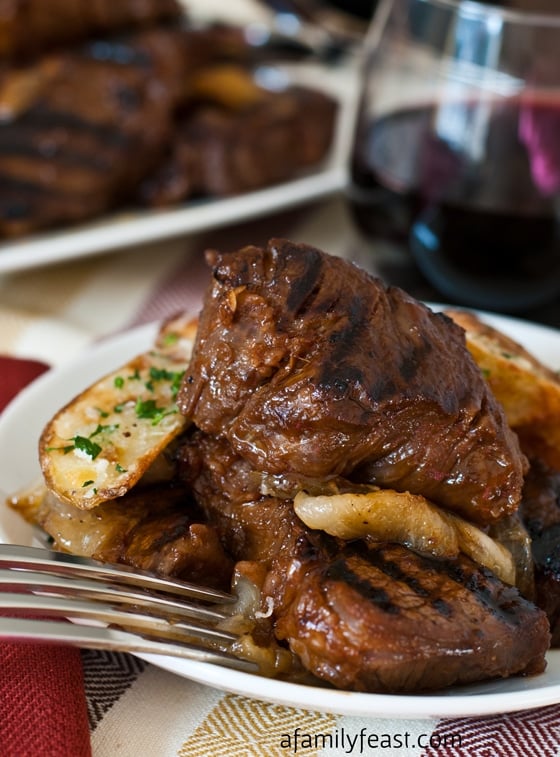 At our house, we eat chicken or fish probably 99% of the time – but lately we've been on a bit of a steak and potatoes kick!  Sometimes, the craving strikes for a juicy burger or steak – and these Steak Tips with Caramelized Onions are a delicious way to satisfy any red meat craving!
My husband Jack developed this recipe for steak tips with caramelized onions many years ago after working in a restaurant where the tips were among the most popular items on the menu.  It has a ketchup-based marinade that combines sugar, red wine vinegar, Worcestershire sauce and A-1 Sauce with the ketchup for added flavor.  The combination of flavors makes a really fantastic marinade for beef!  And, if you are using a less expensive cut of beef for your tips – you can also add in some Coca-Cola to the marinade which lends even more flavor, plus it helps to tenderize a tougher cut of beef!
And, a bit more about which cuts of beef to use when making these steak tips with caramelized onions…we recommend a really good cut of meat like sirloin or rib eye.  (We used rib eye for the photos show here; it happened to be on sale at the market!)  Whichever you choose – just look for nice marbling (thin lines of fat) throughout the meat, which will result in tender tips.
Topped with simple and delicious caramelized onions and served along with our Parmesan Truffle Fries – dinner is ready!
You may enjoy these other Steak recipes:
Print
Steak Tips with Caramelized Onions
Prep Time:

8 hours

Cook Time:

6 mins

Total Time:

8 hours 6 minutes

Yield:

4 servings
---
Description
Using Coca Cola is a commonly-used ingredient in steak marinades and it helps tenderize the beef. But – if you use a really good-quality cut of beef, it is not necessary and water can be used. (For our rib eye tips, we used water.)
---
For the Marinade
1 cup

ketchup

½ cup

Coca-Cola or water (see note)

½ cup

sugar

½ cup

extra virgin olive oil

¼ cup

red wine vinegar

½ cup

Worcestershire sauce

½ cup

A-1 Sauce

1½ tablespoons

freshly ground black pepper
Other Ingredients
2

pounds sirloin or rib eye trimmed and cut into large cuts as big as 2 to 3 inches square

1

large onion, cut into thick strips vertically

1 tablespoon

butter

1 tablespoon

extra-virgin olive oil

1 teaspoon

salt

¼ teaspoon

freshly ground black pepper

1 teaspoon

sugar
---
Instructions
In a medium sauce pan, place all marinade ingredients and bring to a boil, then reduce heat and gently simmer for 5 minutes. Remove from heat and cool completely.
Trim any gristle or large pieces of fat from beef. Cut into large pieces; about 2-3 inches square. Place cut beef in a zip lock bag. Pour cooled marinade over beef, seal and marinate 8-24 hours.
In a medium sauté pan over low heat melt butter in olive oil and place onions, salt, pepper and sugar and cook stirring occasionally for 30-40 minutes until onions are caramelized but not cooked down too much. Start cooking tips as the onions get close to finishing.
When you are ready to grill, drain all marinade and heat a ribbed grill pan over extremely high heat or heat your outdoor BBQ grill to the highest setting.
Lightly oil or spray pan or grill and place beef onto grill or pan not touching each other and cook untouched for 2-3 minutes (Depending on how thick they are and how hot your grill or stove gets, the timing will need to be monitored). If you are not certain, cut into one and check for doneness. Turn once and cook for another 1-2 minutes for medium rare. Remove to a platter and serve with the caramelized onions.
---