Today's easy and delicious Sous Vide Grill-Seared Chuck Steak recipe just might convince you to try cooking sous vide-style!

Hi everyone – it's Jack. Today I'm going to share a delicious recipe for tender, juicy perfectly cooked Sous Vide Grill-Seared Chuck Steak.
I know – this recipe name is a mouthful, and it may seem a little intimidating at first if you've never tried (or heard of) sous vide. But basically, we marinated a boneless chuck roast steak, cooked it sous vide-style, then seared it on the grill before serving it with a fantastic gravy.
What is Sous Vide?
Sous vide means 'under vacuum' in French, and it refers to a cooking method by which foods are vacuum-sealed in a bag that is then suspended in a water bath, at a very specific temperature. The food cooks – but never over cooks past the set temperature.
Restaurants have used sous vide for years.  If you were ever wondering how a professional kitchen could serve numerous, complicated and gourmet dishes quickly and perfectly – chances are they are using sous vide cooking.  During the day, restaurants will often prepare their dishes, seal them in bags and then hold them sous vide-style until ready to finish cooking and serve. All the chef has to do is cut open the bag, finish the dish by searing and/or adding a sauce, then serve.
Foods are totally safe held in the low temperature of a sous vide because, thanks to vacuum-sealing, there is no air for bacteria to thrive. And recipes – such as today's Sous Vide Grill-Seared Chuck Steak – also come out moist and very tender.
Martha bought me this sous vide as a gift for my birthday two years ago – and I have to say, I don't use it nearly enough. It's a great tool for any home cook – not just restaurants. Once you understand how it works, and you've mastered the technique, I predict you'll want to use it all the time. (Our sous vide has some nice features including WiFi and an app for remote control, but there are less expensive options on the market.)
How did we make this Sous Vide Grill-Seared Chuck Steak?
For this recipe, I started with a really tough piece of boneless chuck, cut it into steaks, then marinated the steaks for 90 minutes. I discarded the marinade, then sealed the steaks in bags. (We used this Food Saver Vacuum Sealer.)
I placed the bags in a large, deep pot with the sous vide set for 140 degrees F (140 degrees F for a chuck steak is a perfect medium rare level of doneness) – then let it cook in the sous vide overnight.*
*We cooked our Sous Vide Grill-Seared Chuck Steak overnight, only because we planned to take the photographs you see here the following morning when the natural light in our kitchen is best. And, a tough cut of beef like chuck benefits from a longer cooking time to get tender. A less tough cut of steak won't require as long of a cooking time, but the premise behind sous vide is the same.
Think about it – you can set your sous vide in the morning before you head off to work for the day. Then, when you return home hours later, you'll have perfectly cooked steak that just needs a quick sear on the grill or in a hot skillet. The steak won't over cook because it never gets hotter than 140 degrees F in the sous vide.
How do you serve Sous Vide Grill-Seared Chuck Steak?
After removing the steaks from the bags, I made a quick gravy out of the juices in the vacuum sealed bag, and seared the steaks on the grill. I placed some butter on top while the steaks rested after grilling, but that's optional.
I sliced the steaks against the grain, then spooned that gravy on top. Yum.
You may enjoy these other steak recipes:
Print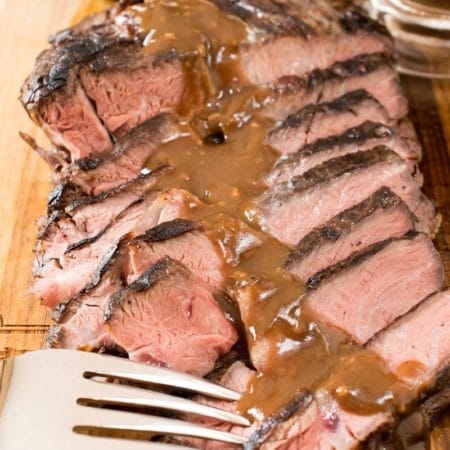 Sous Vide Grill-Seared Chuck Steak
Author:

Prep Time:

30 minutes

Cook Time:

14 hours

Total Time:

14 hours 30 minutes

Yield:

6 servings

Category:

entree

Method:

sous vide, grill

Cuisine:

American
---
4–5 pound boneless chuck roast, tied
Marinade
¼ cup soy sauce
¼ cup Worcestershire sauce
2 tablespoons balsamic vinegar
2 tablespoon fresh garlic, minced
1 ½ teaspoons kosher salt
1 teaspoon freshly ground black pepper
Pinch red pepper flakes
2 tablespoons extra virgin olive oil
Other ingredients
Vegetable oil to brush steaks before searing
4 tablespoons butter, divided
2 tablespoons flour
½ cup red wine (we used a pino noir)
½ teaspoon gravy seasoning sauce (such as Kitchen Bouquet)
½ teaspoon kosher salt
¼ teaspoon freshly ground black pepper
---
Instructions
Place roast on its side and cut in half so that each half has a string holding it together.
Place each thick slice into a gallon zip lock bag.
Mix all marinade ingredients – soy sauce, Worcestershire sauce, vinegar, garlic, salt, pepper, pepper flakes and olive oil – and add half to each bag. (I was able to fit both steaks into one, gallon zip lock bag but two is fine).
After an hour, fill a large soup pot with hot tap water and insert Sous Vide stick. Set temperature to 140 degrees F. Cover the top of the pot with foil. It will take about 30 minutes to come up to temperature.
After the 90-minute marinade, discard marinade and pat the steaks dry.
Using a bag sealer, seal each steak in their own bags and place both into the pot of hot water. Cover the pot back with foil and let sit for 12 hours. Place a trivet under the pot so the heat doesn't damage your counter top.
After 12 hours, remove the bags using tongs, cut the end off each bag and pour the liquid off into a sauce pan and place steaks onto a platter.
Heat grill if using to high. Or heat a cast iron skillet to high. Sear the steaks on either grill or pan by brushing with oil and searing for a few minutes on each side to get a slight crust on the outside. This step is optional since the meat is fully cooked and is more for appearance than anything.
Place a tablespoon of butter on top of each steak to melt into the meat as you finish the gravy.
Add the red wine to the sauce pan with the liquid from the steaks and bring to boiling, skimming off any foam that rises to the top. Lower heat to medium.
Melt 2 tablespoons of butter in a small saute pan over medium heat and add flour. Cook for 3-4 minutes until the raw flour smell is gone then whisk into the hot liquid. Add gravy color, salt and pepper and whisk. Cook until thickened to desired thickness. Strain if necessary and place in a gravy boat.
When ready to serve, with a sharp knife, cut slices from each thick steak against the grain by cutting on a slant and serve with the gravy.
---
Keywords: Sous Vide Grill-Seared Chuck Steak