These fantastic Chili Lime Steak Bites are loaded with flavor and cook up in just minutes!
We're so pleased to share the recipe for these delicious Chili Lime Steak Bites with you today. This easy recipe is from the new cookbook The Simple Kitchen: Quick and Easy Recipes Bursting with Flavor.
This wonderful new cookbook is written by fellow food bloggers, Chad and Donna Elick from The Slow Roasted Italian.  Inside The Simple Kitchen you'll find the recipe for these amazing Chili Lime Steak Bites plus more than 80 other recipes for family-friendly dishes that cook up fast.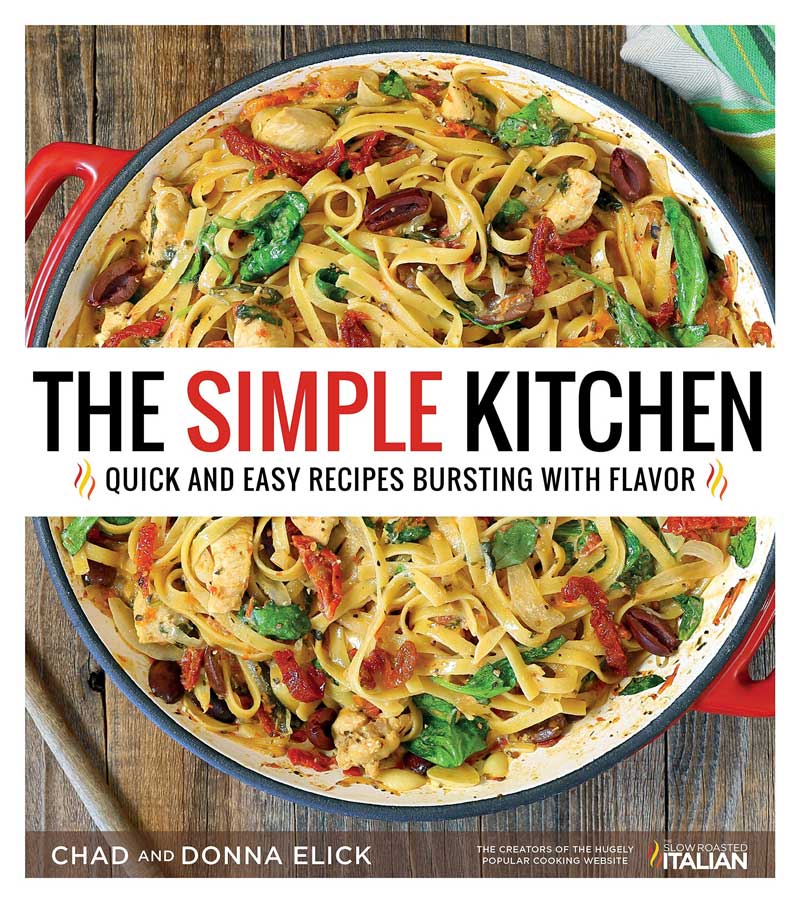 I predict you'll want to make every recipe in the book including:
Perfectly Slow-Cooked meals including Triple Cheesy Mac and Cheese and Down-Home Pot Roast with Carrots and Potatoes.
One-Pot Wonders such as Cheesy Greek Pasta with Chicken, and Tex-Mex Pasta and Sausage.
Sensational Soups like Fire-Roasted Tomato Basil Soup
Simple Sides & Veggies, and
Deliciously Simple Desserts like No-Bake Black Bottom Peanut Butter Pie and Crazy Caramel Apple Pie Bombs.
Are you hungry yet? 🙂
You and your family are sure to love the recipes in the The Simple Kitchen. These Chili Lime Steak Bites are a perfect example of the Elick family's philosophy that cooking wholesome, delicious meals shouldn't have to be time consuming or difficult to master.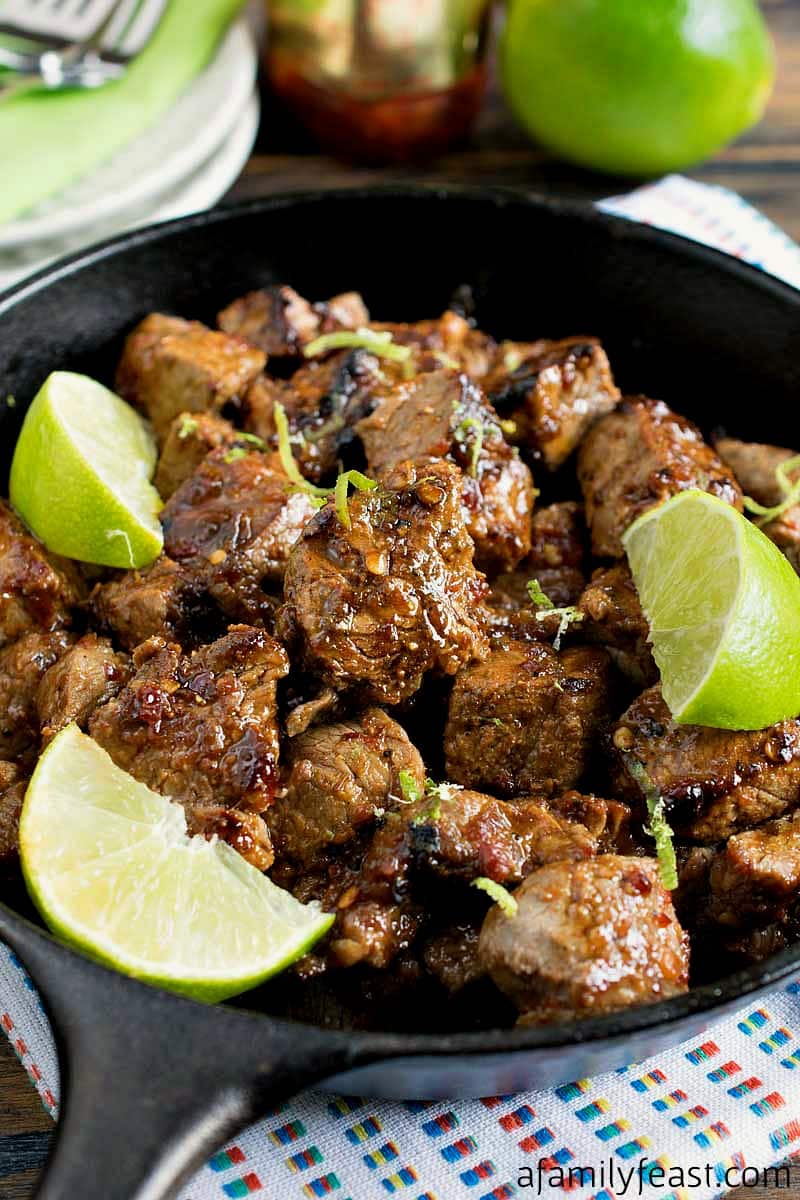 These Chili Lime Steak Bites are so easy to make! Just toss cubes of sirloin steak in a quick, super flavorful, and zesty sauce of chili paste, honey and seasonings. Cook the bites briefly (for just two minutes!) in a hot cast iron pan – then add fresh lime juice and lime zest to the chili paste-honey mixture to create a sauce. You're ready to eat!
The Simple Kitchen is loaded with helpful cooking tips including this one from Donna Elick: "Making deliciousness out of a quick recipe is as simple as using the right ingredients. This (Chili Lime Steak Bites) recipe is the perfect example. Choose a steak that is great for high-heat searing and quick cooking with great flavor. You want a well-marbled cut that is tender enough to stand up to searing, such as strip, rib eye or top sirloin, to make the best steak bites."
The Simple Kitchen is available now at Amazon as well as at other booksellers.
Print
Chili Lime Steak Bites
Prep Time:

10 minutes

Cook Time:

3 minutes

Total Time:

13 minutes

Yield:

2 servings
---
---
1 pound top sirloin steak
½ teaspoon kosher salt
½ teaspoon black pepper
½ teaspoon garlic powder
2 tablespoons chili paste* (see our note below)
1 tablespoon honey
2 tablespoons extra virgin olive oil
2 limes, zested and juiced
---
Instructions
Cut the steak into 1-inch strips. Then cut again into ½-inch pieces. Place the steak in a small bowl and sprinkle with salt, pepper and garlic powder. Stir until the steak is completely coated. Add the chili paste and honey. Stir again until all the steak bites are coated in the mixture.
Place a 10-inch cast iron skillet over medium-high heat. Once you can feel the heat as you hold your hand 6 inches above the pan, add the oil. Swirl the oil around the pan and immediately add the steak bites in a single layer. The pan will sizzle and hiss when you add the steak.  If it doesn't make a big sizzle, the pan isn't hot enough yet.
Allow the steak to sear for 1 minute before touching it. Flip the steak bites over. You can use tongs, or a spatula works great to flip a whole bunch at once.  Allow the steak to sear on the second side for 1 minute. Remove the steak from the pan and place on a plate. Add the lime zest and lime juice to the hot pan. Stir to combine and pour the chili lime sauce over the steak bites.
---
Notes
*Note: Feel free to adjust the amount of chili paste used in this recipe depending on how spicy you like your food! We used this brand of chili paste – which is fairly spicy – so knowing that, we reduced the amount used in the recipe.
Disclosure: This post contains affiliate links.