Make this tender, juicy and delicious Margarita Skirt Steak using leftover margarita mix!
After a fun summertime party – do you sometimes find yourself with leftover margarita mix in the refrigerator? Whatever you do…don't throw it out! Make this Margarita Skirt Steak instead!
When we make margaritas at home, we use this classic margaritas recipe made with fresh lemon and lime juices, triple sec and tequila. (Trust me – you'll never buy the sugary, bottled mixes again once you try our homemade recipe!) We mix up a big batch of margaritas ahead of time (after all, we want to be visiting with our guests, not squeezing juice in the kitchen) – but that sometimes leads to leftovers at the end of the night.
So, after a recent party, we decided to try using the leftover margaritas as a marinade – and the results were fantastic! The acid in the citrus plus the liquor in the margaritas makes a great marinade for skirt steak – and we added garlic, shallots and salt for additional flavor.
In case you haven't cooked with skirt steak before – you can find it in the meat case at the supermarket, often sold in large, pre-sealed pouches.  Skirt steak is a very tasty cut of beef, however if it's not prepared, cooked and cut properly – it can be tough to eat and many home cooks avoid it.
But please don't let us scare you off by writing that – we explain everything you need to know to make juicy, tender skirt steak in our recipe below. This Marinated Skirt Steak recipe is an easy and delicious way to prepare this super flavorful cut of beef, and it is a delicious way to feed a crowd this summer.
Print
Margarita Skirt Steak
Prep Time:

8 hours 10 minutes

Cook Time:

8 minutes

Total Time:

8 hours 18 minutes

Yield:

8-10 servings
---
3 pounds skirt steak (most markets now carry this pre-sealed in pouches displayed in the meat case)
3 medium garlic cloves peeled
¼ cup coarsely chopped shallots
2 teaspoons kosher salt
½ cup fresh lime juice
3 tablespoons fresh lemon juice
½ cup orange liqueur such as Triple Sec or Grand Marnier
1 cup tequila
2 tablespoons olive oil
---
Instructions
Peel off any large pieces of sinew or fat from the meat and place steaks in one or two gallon zip lock bags. We used three 1-pound steaks and split into two bags.
In the bowl of a blender, place garlic, shallots, salt, lime juice, lemon juice, orange liqueur and tequila.
Blend until completely liquid.
Pour over the beef, seal the bag(s) and refrigerate for at least four hours up to and no more than 12 hours. The meat needs time for the acid in the citrus to break down the connective tissue so longer is better without going past 12 hours. If you were cooking this for dinner, you could marinate in the morning and throughout the day and it would be perfect for dinner.
Drain the beef when ready to cook and pat dry. Discard the marinade.
Heat an outdoor grill to high. You can cook this indoors on a ribbed grill pan but it will be smoky. (We usually set off our smoke detectors).
Oil both sides of the meat and place on the heated grill and grill four minutes per side for medium rare, longer for medium or well. Once you place it on the grill, do not touch until it is time to turn.
Remove from grill and let sit partially covered with foil for five minutes.
Place on cutting board and with a sharp slicer, slice thin even pieces on a slight bias against the grain.
---
Disclosure: This post contains affiliate links:
You may also like:
Steak Tips with Caramelized Onions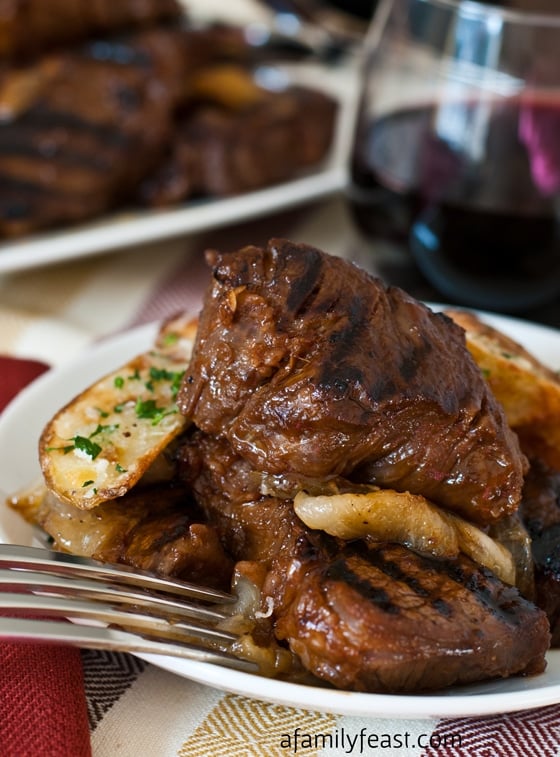 Roasted Lamb London Broil-Style