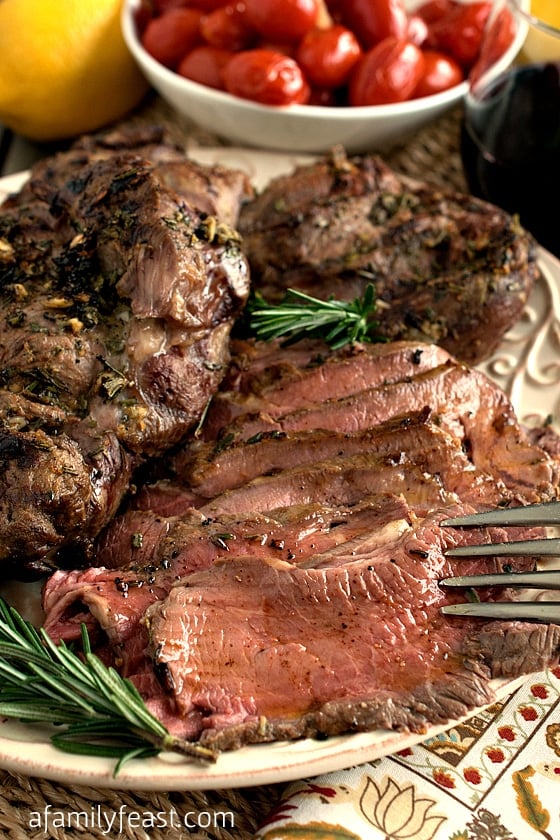 Serving lamb is an Easter tradition and our Roasted Lamb London Broil-Style is a delicious option for your next holiday meal!  The lamb is roasted with a wonderful herb crust, then served alongside some flavorful pan-roasted tomatoes with herbs and Israeli couscous (recipe included below) – both quick, easy and super flavorful sides that complement the tender, juicy lamb!
While we typically serve lamb prepared like this, my husband Jack decided to change things up a bit this year – butterflying the lamb and roasting it almost like a steak, then carving it on the bias London Broil-style.  This method allows the lamb to cook more quickly and you can more easily cook it to your preferred level of doneness (we like our lamb a little bit on the rare side).
According to this website, "The roast lamb dinner that many eat on Easter Sunday goes back earlier than Easter to the first Passover of the Jewish people. The sacrificial lamb was roasted and eaten, together with unleavened bread and bitter herbs in hopes that the angel of God would pass over their homes and bring no harm. As Hebrews converted to Christianity, they naturally brought along their traditions with them. The Christians often refer to Jesus as The Lamb of God. Thus, the traditions merged."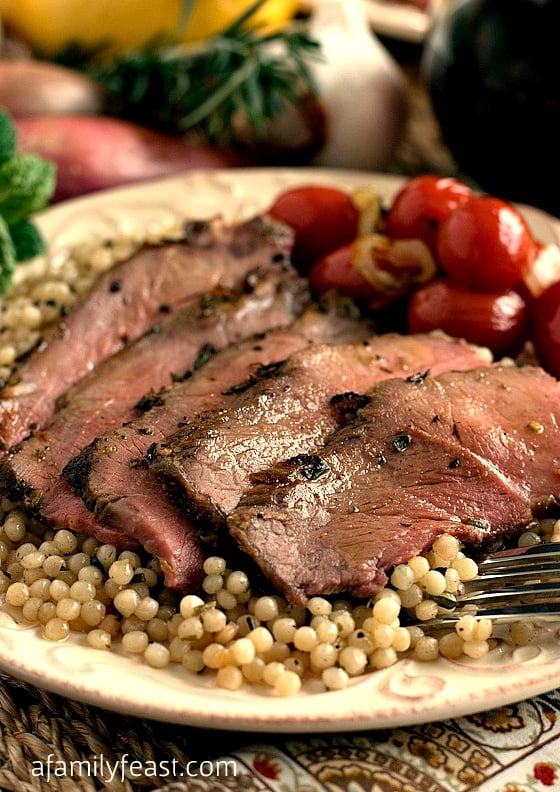 Both the pan-roasted tomatoes with herbs, as well as the Israeli couscous recipes included below are quick and easy sides that are great with this roasted lamb dish!  We cooked the Israeli couscous with a little bit of the pan drippings from the lamb, but if you prefer, you can use olive oil or butter instead.
Print
Roasted Lamb London Broil-Style
Prep Time:

2 hours 15 mins

Cook Time:

1 hour

Total Time:

3 hours 15 minutes

Yield:

8-10 servings
---
Description
Note: In all parts of this recipe where lamb fat is used, you can easily substitute butter or olive oil if you prefer – although the lamb fat gives additional flavor. Also vegetable stock can be used in place of the lamb stock in the couscous.
---
For the lamb
Boneless leg of lamb (choose whatever size you need for your family)

2

heavy tablespoons chopped fresh rosemary (only use fresh, not dry)

2 tablespoons

fresh chopped mint

2 tablespoons

chopped garlic

2 teaspoons

Kosher salt

½ teaspoon

freshly ground black pepper
Zest of

one

lemon

3 teaspoons

lemon juice, divided

1 tablespoon

extra-virgin olive oil
For the couscous
1 cup

Israeli couscous

1 ¼ cups

lamb broth from first step, or vegetable stock

1 tablespoon

lamb fat from first step, or butter

½ teaspoon

Kosher salt
Few grinds black pepper

1 teaspoon

chopped fresh mint

1 teaspoon

chopped fresh rosemary

1 teaspoon

lemon juice

1 tablespoon

extra-virgin olive oil
---
Instructions
To prepare the lamb
Remove the net from the lamb roast and discard. With a sharp knife remove most of the visible fat and gristle but do not discard. Disconnect the two large sections of lamb from each other. One will be the top of the leg and the smaller piece will be the bottom of the leg. Butterfly each section so that when laid flat, each piece is fairly uniform in thickness.
On a cutting board place rosemary, mint, garlic, salt, pepper and lemon zest. Using the side of a knife, drag the blade over the mixture several times until you have a paste. (This does not have to be perfect). Put this in a small bowl along with 1 teaspoon of lemon juice and all of the olive oil.
Lay out the lamb and squeeze the remaining two teaspoons of lemon juice over both sides of both pieces. Next smear the paste over both sides of both pieces. Cover with plastic and let sit in the refrigerator for two hours.
Take the fat scraps and gristle and place in a small sauce pan with a quart of water and bring to a boil. Simmer until there is about two cups of liquid left. Discard scraps and save broth. The fat will rise to the top and congeal and both the fat and stock will be used later. Set mixture aside under refrigeration.
Preheat oven to 300 degrees.
Remove lamb from the refrigerator. Cover a sheet pan with foil and place a rack in the foil lined pan.
Heat a ribbed pan on stove top to smoking hot. Spoon one tablespoon of the lamb fat into hot pan. Sear each piece one at a time for two to three minutes on each side until nice and browned. Place on rack in prepared pan and place probe thermometer into thickest part of largest piece. Place a few tablespoons of lamb fat over each piece. Place pan in oven and set the temperature to alarm at 135 for rare and 145 for medium. (Best if cooked rare). The cooking time will be about one hour for rare.
Remove from oven and let rest for 15 minutes. Leave probe in meat until ready to slice.
On a cutting board, slice the meat against the grain on the bias and serve with Israeli couscous and pan-roasted tomatoes.
To prepare the Israeli couscous
Note: The couscous can be started when the meat comes out of the oven since it only takes a about 10 minutes to cook.
In a medium sauce pan place dry couscous, lamb broth, lamb fat, salt and pepper. Cover and cook 8-10 minutes until tender. Remove from heat and stir in mint, rosemary, lemon juice and olive oil.
---
Disclaimer: This post contains affiliate links.
You may also like:
Pan-Roasted Tomatoes with Herbs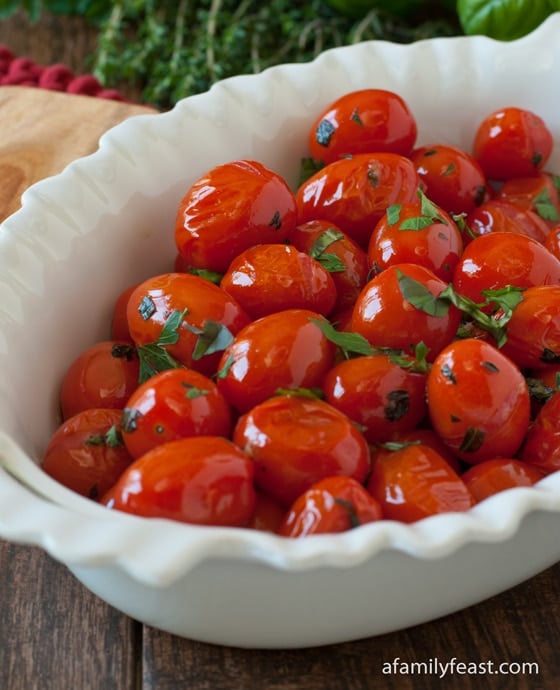 Roasted Boneless Lamb with Red Wine Pan Sauce