This Lamb Shepherd's Pie is a classic comfort-food casserole made with a filling of lamb and vegetables, then topped with creamy cheddar-infused mashed potatoes. So delicious!
With Easter right around the corner, chances are – some of you will be roasting a nice leg of lamb for your holiday dinner. If you are lucky enough to have some leftovers, this Lamb Shepherd's Pie is a must-make recipe your family will love!
(Even if you don't have any cooked lamb leftovers – we've got you covered. We've included a recipe below for roasting a boneless, tied, half leg of lamb just for this recipe. Lamb often goes on sale after the Easter holiday so take advantage of those specials!)
Making Shepherd's Pie with Lamb is a traditional British recipe for a casserole made with a filling of minced lamb and vegetables, topped with mashed potatoes.
Today, the name Shepherd's Pie and Cottage Pie are often used interchangeably for variations of this recipe that might include ground beef – but in the United Kingdom, Shepherd's Pie now refers specifically to this recipe made with lamb.
I'm a huge fan of recipes like this Shepherd's Pie with Lamb – it's a delicious way to use up leftovers from your holiday meal. Plus – it feeds a crowd. So, if you have guests staying for a few days or you just don't feel like cooking again after preparing a big holiday feast – the leftovers will carry you through a few meals.
You may also like these other shepherd's pie recipes:
Disclosure: This post contains affiliate links.


Print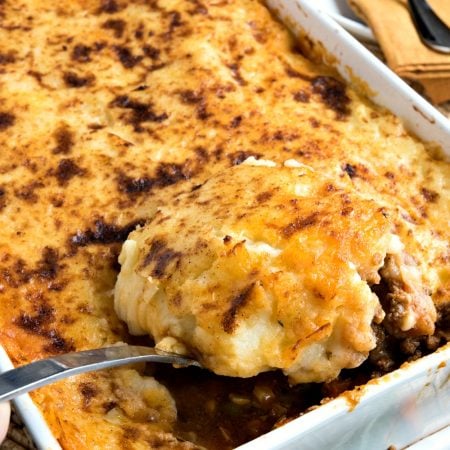 Lamb Shepherd's Pie
Author:

Prep Time:

2 hours

Cook Time:

2 hours 40 minutes

Total Time:

4 hours 40 minutes

Yield:

10-12 servings

Category:

casserole

Method:

baked

Cuisine:

American
---
Description
Rather than making each component from scratch, feel free to swap in leftover roasted lamb, mashed potatoes, and leftover vegetables from your holiday meal.
---
To Roast Lamb
4 pounds boneless tied half lamb leg
1 medium red onion cut into eighths
2 medium carrots quartered
3 ribs celery quartered
2 sprigs rosemary
6 sprigs fresh thyme
2 tablespoons olive oil
1 teaspoon kosher salt
1 teaspoon freshly ground black pepper
1 ½ cups water
For Lamb Shepherd's Pie
2 ½ pounds cooked lamb leg from above or leftover lamb, trimmed of fat and cut into large pieces
2 tablespoons olive oil
3 cups red onion, diced (one large red onion)
2 cups carrots, small diced (3 medium carrots)
1 ½ cups celery, small dice (3–4 stalks)
1 ½ tablespoons garlic, chopped (2–3 cloves)
1 tablespoon fresh thyme, chopped
2 tablespoons fresh rosemary, chopped
1 teaspoon kosher salt
½ teaspoon freshly ground black pepper
6 tablespoons tomato paste
3 tablespoons all-purpose flour
2 cups pan drippings, see note
1 cup vegetable stock
2 cups fresh corn removed from cob, or a quality brand of frozen
1 cup frozen peas, thawed
Mashed Potato Topping
2 ½ pounds yellow potatoes, peeled and quartered
4 tablespoons butter
½ cup Crème Fraiche (or sour cream)
1 teaspoon kosher salt
½ teaspoon white pepper
½ teaspoon garlic powder
1 ½ cups sweet cheddar, such as Kerry Gold Skellig (7-ounce block)
Sprinkle of paprika
---
Instructions
A note before you get started: This recipe will need three cups of stock. If you have leftover lamb, use the pan drippings and make up the difference with vegetable stock to equal three cups. If you are roasting your lamb per these instructions, pour two cups of water into pan with the drippings and cooked vegetables from roasting and cook down and then strain. You should have about two cups. Add one more cup of vegetable stock to equal three cups. Discard any fat that floats to the top.
If roasting your lamb, preheat oven to 350 degrees F and place onion, carrots, celery, rosemary and thyme in bottom of roasting pan and set lamb roast over vegetables. Rub lamb with oil and coat with salt and pepper. Pour water in bottom of pan and roast uncovered for two hours. Cool lamb to room temperature and make pan drippings as described above.
Trim lamb of any fat or gristle and cut into large pieces. Place a few at a time in a food processor and pulse a few times to shred into pieces but not so much that it is ground too fine. Continue until all lamb has been shredded. I started with a four-pound boneless half lamb leg and after roasting, cooling and trimming, I had 2 ¼ pounds of usable meat, which when shredded with the food processor, yielded about seven cups of meat. Set this aside.
Preheat oven to 375 degrees F.
In a large skillet with high sides, or a medium Dutch oven, place oil, onion, carrot and celery and sauté over medium high for four minutes. Add garlic, thyme, rosemary, salt and pepper and cook for one more minute. Add tomato paste and cook for another minute.
Reduce to medium and add flour and cook for two minutes.
Add cooked shredded lamb, pan drippings and stock and bring to a boil. Cover, lower heat to low and cook covered for 20 minutes.
Remove lid and cook for 20 more minutes on a low to medium heat burner.
While lamb mixture is cooking, boil potatoes until tender and drain. Place cooked potatoes back into pot and turn on burner long enough to evaporate any water. Remove from heat and mash with butter, Crème Fraiche, salt, pepper, garlic power and cheddar cheese. Set aside.
Add uncooked corn and thawed peas to lamb mixture and heat for one minute.
Pour lamb mixture into a 10x13x3-inch casserole dish and top with the mashed potatoes, smoothing with a spatula.
Sprinkle a little paprika over the top and bake uncovered for 40-45 minutes until hot and bubbly. (You might want to place a sheet of foil under casserole dish to catch any drippings.) If you'd like, place casserole under the broiler for a few minutes to brown the top before serving.
---