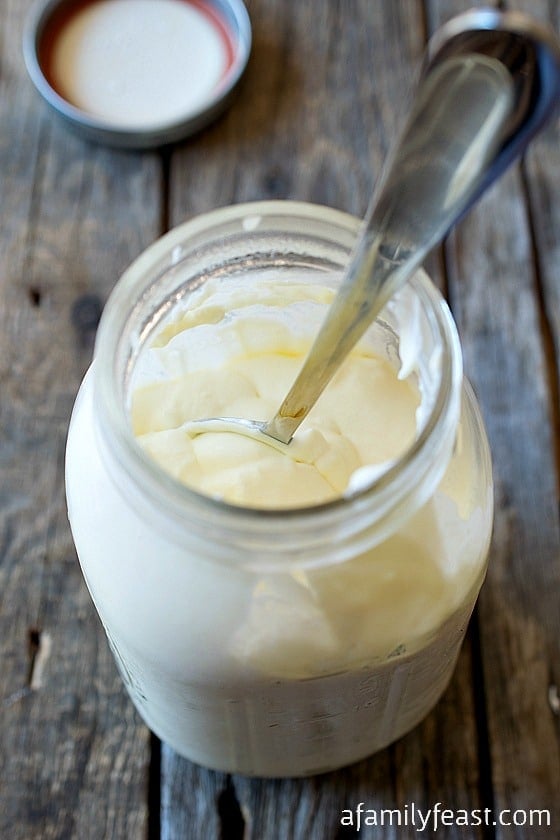 If you follow us over on Instagram (and I hope you do!) then you probably saw a sneak peek of a recipe we'll be sharing with you later this week for Roasted Strawberry Crème Fraîche Ice Cream.
In preparation for that recipe, today and tomorrow we are sharing very easy recipes for two of the ingredients that go into making that incredible ice cream!
First up today is homemade Crème Fraîche. Crème fraîche (pronounced 'krem fresh' ) is a thick heavy cream that is used in many French recipes, and it is wonderful served over fresh fruit as well as to thicken sauces since it does not curdle when heated.
Crème fraîche is similar in taste and texture to sour cream – but with less tang and more rich, creamy complexity.
If you've ever purchased crème fraîche at the supermarket, then you already know how pricy it can be! But thankfully, it's easy to make crème fraiche at home.
The key is to try to find heavy cream that is not ultra-pasteurized. Here in Massachusetts where we live, most cream and milk found in the supermarket is ultra-pasteurized but we have been able to find just 'pasteurized' heavy cream sold at Whole Foods Market. (You might also find it at a local dairy farm that sells heavy cream.)
You'll mix the heavy cream with either sour cream or buttermilk (we list both options below in the recipe) in a clean jar. Loosely cover with plastic wrap and allow the jar to sit unrefrigerated for 8 to 24 hours – or until thickened.  Stir again and refrigerate the crème fraîche before using.
P.S. Don't forget to check back tomorrow for a delicious Roasted Strawberries recipe. And on Wednesday, we'll put them together with today's recipe to make that incredible Roasted Strawberry Crème Fraîche Ice Cream!
Print
Crème Fraîche
Prep Time:

24 hours

Total Time:

24 hours

Yield:

2 cups
---
2 cups

heavy cream (try to find cream that is not ultra-pasteurized)

½ cup

sour cream (or

2 tablespoons

buttermilk)
---
Instructions
In a clean jar, combine heavy cream and sour cream. Stir to mix.
Cover the jar lightly with plastic wrap and let sit unrefrigerated for 8-24 hours. (Ideally you want a location that is between 65 and 75 degrees F so the cultures will grow and the cream will thicken. If your room is cool, the process will take closer to 24 hours.)
Stir again and refrigerate before using.
Store covered for up to 1 to 2 weeks in the refrigerator.
---
You may also like:
Roasted Strawberry Crème Fraîche Ice Cream