Earlier this week, we shared a few recipes for using up leftover ham from your Easter dinner! And for those of you who are serving a traditional lamb for Easter dinner, today's fantastic Lamb, Tomato and Barley Soup is a wonderful way to enjoy another delicious meal using those leftovers!
This Lamb, Tomato and Barley Soup is earthy and unctuous with tender chunks of lamb, cooked barley and sliced mushrooms plus some contrasting acidity from diced tomatoes – all combined in a rich lamb stock. (I'm licking my lips looking at these photos – this soup is so good!)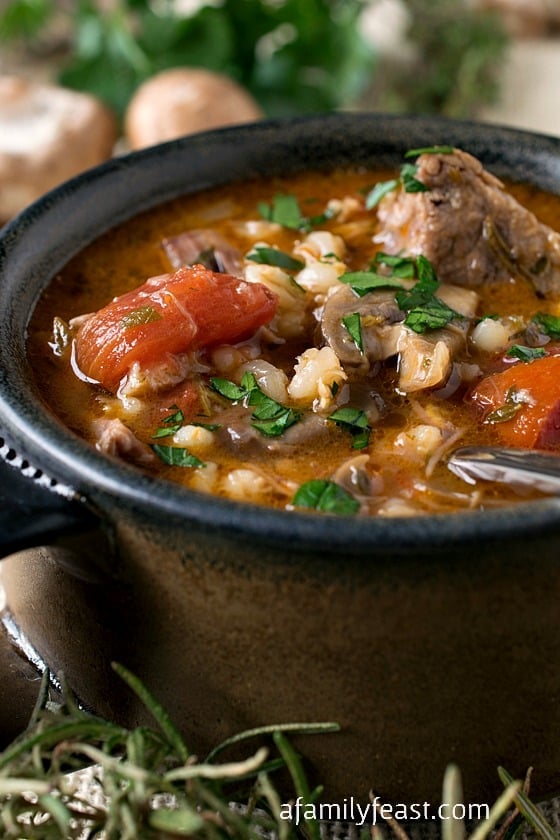 This is a simple soup – but it does take some time to make the homemade lamb stock. Our recipe is written using meaty lamb bones (which you can find in most local supermarkets) and if you have any leftover lamb bones from your Easter dinner, by all means, toss those in as well!
You can also make the stock in advance – in fact we recommend that. Because lamb is naturally a fattier meat you'll want to skim any excess fat off the top of the broth before making your soup. (So – prepare the stock in advance, then chill it and this makes it easier to skim off the excess fat.)
This Lamb, Tomato and Barley Soup is a recipe I've had in my collection for over ten years, clipped a long time ago from the local newspaper (likely The Boston Globe – although the name isn't shown on the clipping).
Print
Lamb, Tomato and Barley Soup
Prep Time:

30 mins

Cook Time:

4 hours

Total Time:

4 hours 30 minutes

Yield:

6-8 servings
---
Description
Note: The stock can be made the day before if you wish.
---
To Make the Stock
3

pounds meaty lamb bones (we bought "bone-in lamb stew" at our local market. They looked like thick cuts taken from a lamb shank)

1

large onion peeled and quartered, about

¾

pound

¼ cup

shallots peeled and roughly cut up (

2 ½ ounces

)

1

large rib of celery with leaves cut into quarters

2

large garlic cloves, peeled and smashed

4

whole leafy stems of parsley

3

sprigs of fresh thyme

1

large bay leaf

1 teaspoon

kosher salt

6

whole black peppercorns

4 quarts

water (

1 gallon

)
To Make the Soup
2 tablespoons

extra virgin olive oil

1 tablespoon

lamb fat, skimmed from the cooled stock

1 cup

diced onion

1 tablespoon

chopped garlic

8 ounce

container cremini mushrooms sliced (baby bella)

6 cups

lamb stock from stock above

1

16-ounce can diced tomatoes with juice

½ cup

dry pearl barley

2 tablespoons

chopped fresh thyme

2 tablespoons

chopped fresh rosemary

3 tablespoons

chopped fresh parsley
Lamb meat picked from making stock (our stock yielded about a pound of meat)
Kosher salt to taste
Freshly ground black pepper to taste
Additional chopped fresh parsley, as garnish
---
Instructions
To Make the Stock:
In a large pot place lamb and cover with water. Bring to a boil, remove from heat and discard water. This will remove all impurities from the finished stock.
Place lamb back in pot with all other stock ingredients, bring to a boil then simmer for 2 ½ hours uncovered. Cool and strain. Remove meat from other solids and discard solids. You should be left with about 5 or 6 cups of stock and about a pound or so of meat. A little more or less is fine. Let fat rise to top, skim off and discard all but one tablespoon of fat. Reserve that tablespoon for the soup.
To Make the Soup:
Place the tablespoon of fat back into the pot along with two tablespoons of olive oil and add onions and garlic. Cook over medium high for four minutes and add mushrooms. Cook for another 3 minutes and add stock, diced tomatoes, barley, thyme, rosemary and parsley. Bring to a boil, cover and reduce to a low simmer. Cook covered for one hour.
Remove lid and add cooked lamb and simmer uncovered for 30 minutes.
Remove from heat and taste for salt and pepper. I did not add any additional salt or pepper to mine.
Serve with chopped fresh parsley sprinkled over the top of the bowls.
---
You may also like:
Roasted Lamb London Broil-Style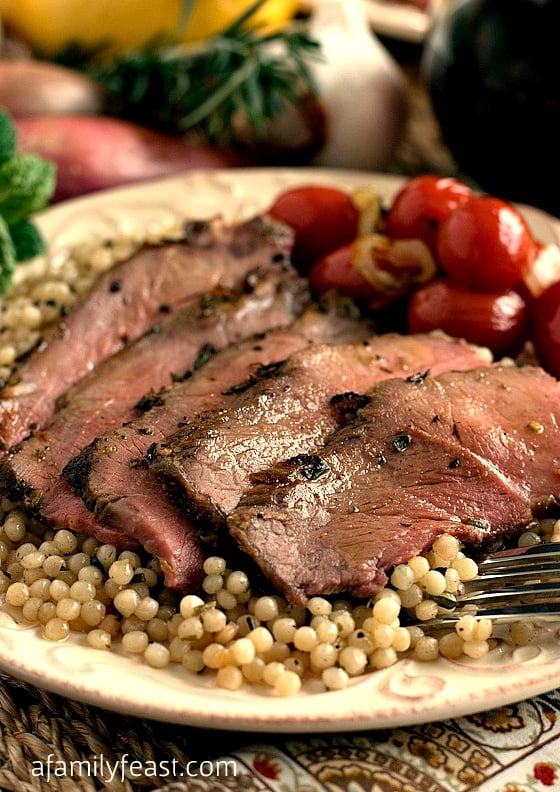 Roasted Boneless Lamb with Red Wine Pan Sauce
 Pappa Al Pomodoro (Bread and Tomato Soup)