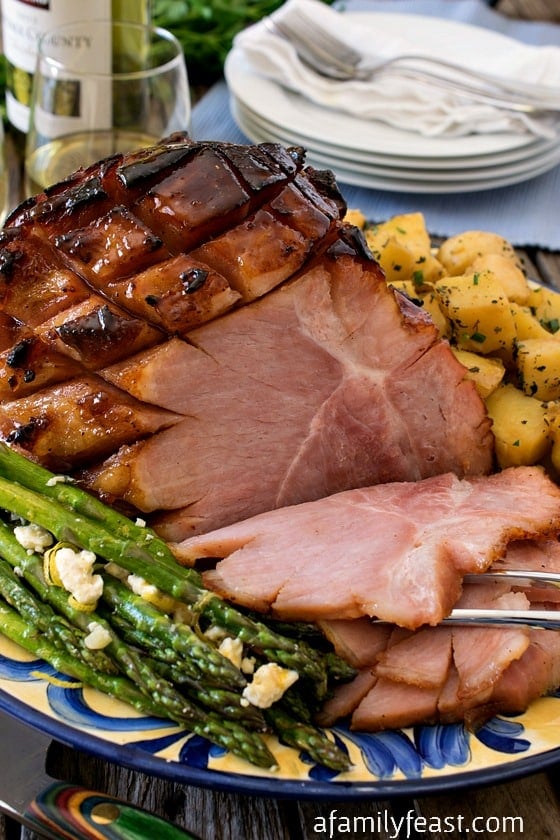 With Easter just a few weeks away, we thought this would be a great time to share our family recipe for Perfect Holiday Ham!
This recipe – one that my husband Jack has perfected over the years – results in an incredibly moist ham with an addictively delicious, almost candy-like coating thanks to a perfectly seasoned glaze that gets poured over the ham after it bakes. Neither Jack nor I are fans of hams that have been flavored with whole cloves inserted into the skin (we think it overpowers the ham), so instead, our glaze includes ground cloves, as well as cinnamon, ginger, sage, brown sugar, honey, Dijon mustard, and pineapple juice.
Jack prepared this ham countless times during his former food service career and sometimes prepared as many as 100 hams at a time! (It was always a customer favorite anytime it was served.) In fact, this perfect holiday ham was once served to General William Westmoreland during an event, and he commented to Jack, "Dang it Son..this is good!"
Jack has adapted his original large-scale recipe so you can prepare a perfect holiday ham at your next Easter (or Christmas) dinner and it works just as well on a shank-end ham as it does on a butt-end ham. (Each of these cuts are from the shoulder of the animal and together they would make one whole bone-in ham.  A whole ham is also an option if you are cooking for a large gathering!) The method described in our recipe is the same regardless of the cut or size of the ham you choose to prepare.
We prepared a butt end ham for our photos shown here – it has less bone and yields more meat. But the less-expensive shank end hams have great flavor thanks to the ham bone, and another benefit is that you can also use the leftover ham bone to make some very delicious soups!
This really is one of the best ham recipes you'll ever eat and it's super delicious served with our Pineapple Raisin Sauce (see that recipe here)!  And — to help with your Easter menu planning — you might want to consider serving our Herbed Boiled Potatoes and our Asparagus with Lemon and Feta too — both incredible recipes that are wonderful paired with our Perfect Holiday Ham!
Print
Perfect Holiday Ham
Prep Time:

15 mins

Cook Time:

2 hours

Total Time:

2 hours 15 minutes

Yield:

8-10 servings
---
Description
For today's recipe, we used a 7½ pound bone-in butt end ham. Your cooking times will vary based on the size of your ham, but generally you want an internal temperature of 130 degrees (as measured using a probe thermometer) when you pull the ham out of the oven. The temperature will increase to 140 to 145 as the ham rests – which is perfectly done. The ham is fully cooked and smoked when you buy it so really, all you are doing is getting it hot in the oven and creating a nice crust on the outside with the glaze.
---
1

bone-in smoked ham (ours was

7 ½

pounds and was from the butt end) – cooking a good quality, name-brand ham is essential for the best results

¼ cup

white wine

¼ cup

vegetable stock
For the Glaze
1

6-ounce can pineapple juice

½ cup

vegetable stock

2 ½ cups

brown sugar

¼ cup

Dijon mustard

3 tablespoons

honey

1 teaspoon

ground dry ginger

1 teaspoon

ground cloves

½ teaspoon

dry sage

½ teaspoon

freshly ground black pepper

1

cinnamon stick
---
Instructions
Preheat oven to 325 degrees.
Place ham skin up on a cutting board and make half inch deep cuts in a criss-cross pattern across the top and sides. If using a cut ham, place cut side down into a roasting pan. Pour in wine and stock. Lift ham slightly so the liquid gets under the bottom cut so the ham doesn't stick to the pan. Also the liquid will keep it moist while it cooks. Tent with foil and cook for 1 ½ to 2 hours depending on the size of your ham. Ours reached 130 degrees at about the 90 minute mark.
While the ham is cooking, place all glaze ingredients into medium sauce pan and bring to a boil. Reduce to a simmer and cook to a thick syrup-like consistency. When hot, it should be thick like maple syrup. Set this aside.
Once the ham is at 130 degrees, remove from oven and increase oven temperature to 425 degrees.
Remove foil but do not discard foil yet.
If the glaze has cooled and thickened, heat back to a syrupy state and using about one third of the glaze, slather the ham and place uncovered back in the oven. Set time for 15 minutes.
Remove and use one more third to slather all over the ham. Return to the oven and set timer for 15 more minutes.
Finally slather the remaining glaze on the ham and place just in oven long enough to get desired crispy crust but not burned; maybe about five or ten minutes.
Remove from the oven and tent with the reserved foil and let rest for 20 minutes. Your patience will be rewarded.
Move ham to a cutting board and discard liquid left in pan.
Carve and serve with pineapple raisin sauce, see here.
---
You may also like: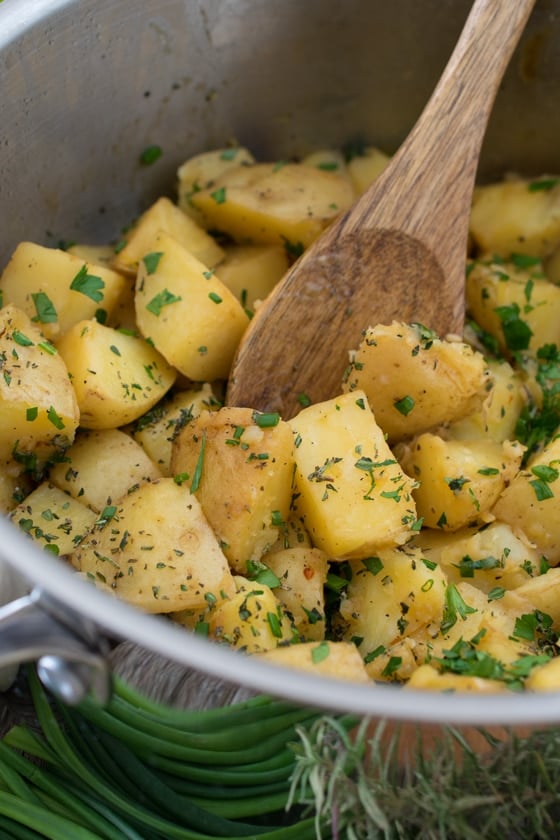 Crustless Ham and Cheddar Quiche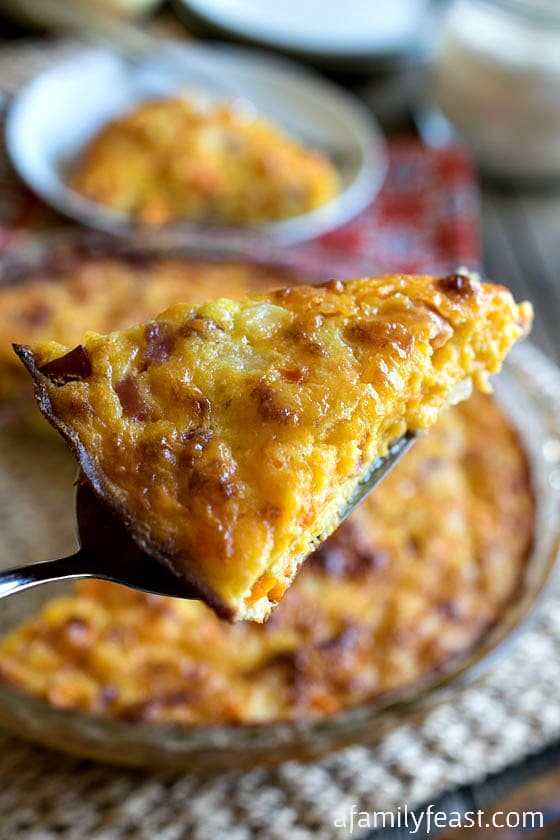 Zucchini, Ham and Rice Skillet