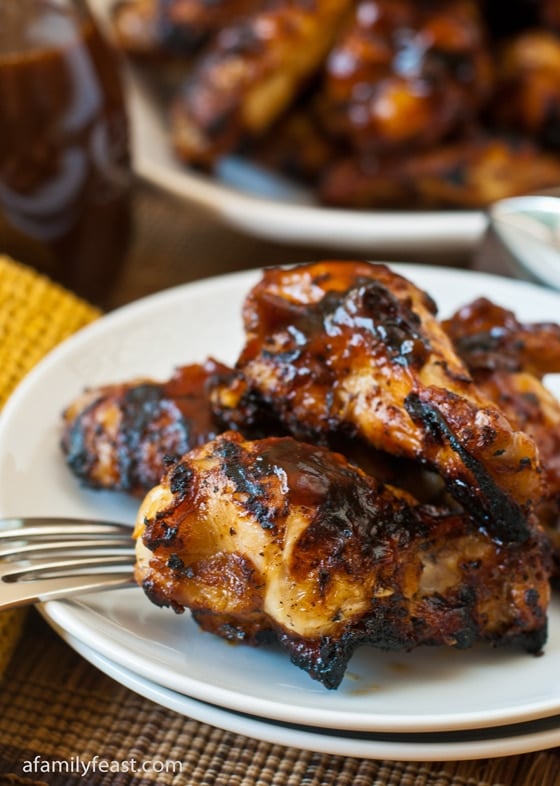 Are you doing any grilling this summer?  Maybe for the 4th of July holiday?  If so, I'd like to suggest that you add these amazing Bourbon Spice Barbecue Chicken Wings to your menu!
These bourbon spice barbecue chicken wings are easy to make and delicious to eat!  First, the wings are coated with our Spice Rub for Chicken and refrigerated overnight so that the flavors can marinate into the chicken.  And while the chicken is marinating, make a batch of our terrific homemade Bourbon Barbecue Sauce – a zesty sauce that I personally think my husband Jack should bottle and sell – it's so good!
When you're ready to eat – grill the wings and once they're cooked, place them in a large bowl with some of the bourbon barbeque sauce and toss the wings until they are coated.  Then – grill the wings for a just a few more minutes to caramelize that wonderful sauce – and you're ready to eat!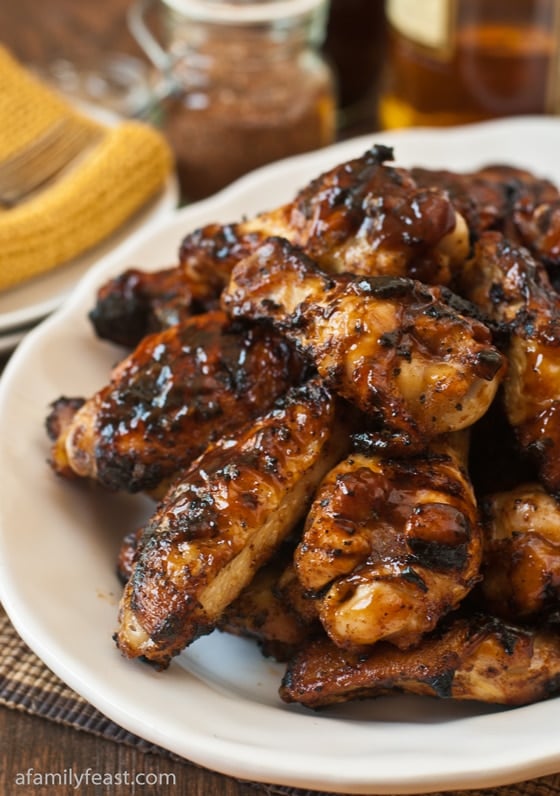 By the way, the grilled chicken wings with just the spice rub on them taste pretty terrific – so adding the sauce is actually optional.  For some variety, you could grill some wings with and without the added bourbon barbeque sauce and have some of the sauce in a bowl on the side for dipping.
These bourbon spice barbecue chicken wings are a real crowd-pleaser.  And be sure to serve with lots of napkins!
Print
Bourbon Spice Barbecue Chicken Wings
Prep Time:

12 hours

Cook Time:

20 mins

Total Time:

12 hours 20 minutes

Yield:

28-32 pieces
---
4

to

5

pounds fresh chicken wings (approximately

14

–

16

wings) – Note: Do not use frozen chicken wings for this recipe

1/3 cup

of our Spice Rub for Chicken

1 cup

of our Bourbon Barbecue Sauce, plus extra for serving (optional)
---
Instructions
Remove wing tips and freeze for stock or other recipes. Remove winglet from drumette by holding wing like a V with drum portion completely vertical and cutting straight down at base of drumette. The joint will separate without cutting the bone. Or if you prefer whole wings, skip this step and just move to next step.
Place wing pieces into a large bowl. Pour the Spice Rub over the chicken wings. Toss to coat and place into a gallon zip lock bag and refrigerate overnight. Save the remaining Spice Rub for Chicken for other recipes.
Prepare your Bourbon Barbecue Sauce while the chicken marinates. When ready to cook the wings, heat the sauce and hold.
Heat your grill to medium high heat. Using a vegetable oil-soaked paper towel, oil the grill grates. Place the chicken wings in a single layer over the heat and cook seven to ten minutes per side with the grill cover closed. Check after four or five minutes and flip if cooking too quickly.
Once fully cooked, remove wings from the grill and place in a large bowl. Pour one cup of Bourbon Barbecue Sauce over wings and toss to coat.
Place the wings back on the grill and cook for 1-2 minutes on each side just to brown and caramelize the sauce – being careful not to burn the sauce.
Serve immediately. Additional Bourbon Barbecue Sauce may be served on the side for dipping.
---
You may also like: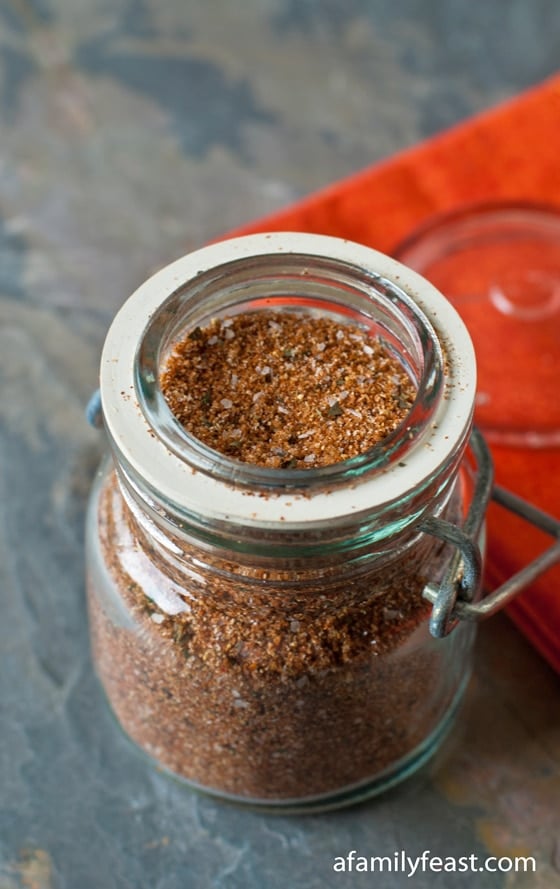 Honey Mustard Soy Glazed Chicken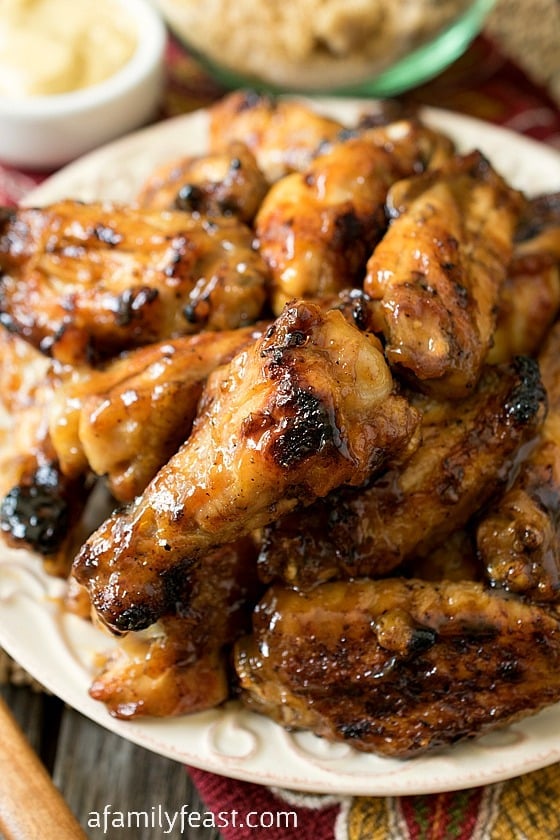 Crispy Asian Chicken Wings with Ginger-Lime Dipping Sauce