We're finishing up our week with another idea for using up your Thanksgiving dinner leftovers, and this time, it's Turkey Soup with Potato Dumplings!
This may look like a difficult recipe with a long list of ingredients, but it's actually very easy to prepare and also very forgiving.  The recipe is a fantastic (and delicious) way to use up Thanksgiving leftovers – but using fresh ingredients or leftovers is up to you and whatever you have in your refrigerator!   If you are using leftover carrots and green beans that are already cooked, for example, add them at the end of the recipe so they don't overcook!
For the dumplings, you can use any combination of leftover mashed potatoes or freshly shredded raw potatoes.  Just note that the amount of bread crumbs you use may be more or less depending on how wet and loose your mashed potatoes are.
We also include a link to a homemade turkey stock – a great way to use up that turkey carcass after your Thanksgiving meal!
Print
Turkey Soup with Potato Dumplings
Prep Time:

30 mins

Cook Time:

30 mins

Total Time:

1 hour

Yield:

8 servings
---
2 tablespoons

of turkey fat skimmed from stock (see recipe here) or butter

1 tablespoon

extra-virgin olive oil

1 cup

1-inch diced onions

1

medium leek, white part only (cleaned of sand and diced)

1 tablespoon

minced garlic

2 cups

carrots (slice each carrot into

four

long strips and cut

½

inch pieces)

½ cup

diced celery

1

parsnip peeled and diced

¼ cup

white wine

½ cup

frozen spinach thawed

1 cup

cooked green beans diced

6 cups

turkey stock (see recipe here)

½ teaspoon

salt (depends on how salty the stock is)

¼ teaspoon

freshly ground black pepper

½ teaspoon

ground savory

4 cups

cooked large chopped white and dark turkey (added at the very end after dumplings are cooked)
For the Potato Dumplings
8

slices semi stale dense bread such as Italian bread, Ciabatta or French loaf, crusts removed (

three

days old), about half a loaf

½ cup

whole milk

1 ½ cups

leftover mashed potatoes or shredded raw potatoes (or a combination of both)

¾ cup

shredded onion (use cheese grater), or small dice

¼ cup

chopped fresh parsley

¾ tablespoons

salt

¼ teaspoon

white pepper

1/8 teaspoon

nutmeg

¼ teaspoon

dry marjoram

2

large eggs beat well

1

to

2

cups bread crumbs

1 cup

flour for rolling the finished dumplings
---
Instructions
In a large Dutch oven over medium high heat, melt turkey fat or butter with olive oil. Add raw onions, leeks, garlic, carrots, celery and parsnips. Stir and cook for five minutes. Add white wine and deglaze pan. Add spinach, green beans, stock, salt, pepper and savory and stir. Turn off burner and hold.
To Prepare the Dumplings:
In a large bowl, place bread and milk. Mush together until the bread is soaked. Then squeeze out and discard any milk left after squeezing. Add potatoes, onions, parsley, salt, pepper, nutmeg, marjoram, beaten eggs and only enough bread crumbs to bind the mixture. The mixture should be soft but firm enough to roll in your hands and keep its shape. Divide the mixture into 24 even balls and roll round.
Clean out the bowl and add the flour. Roll the dumplings in the four to coat all sides.
Return heat to soup and bring to a boil. Drop in the dumplings, cover the pot and bring back to a boil. When the soup starts to boil, use a wooden spoon or spatula to make sure dumplings are not sticking to bottom. Then cover the pot, bring to a simmer and cook 15 minutes.
Remove lid, add cooked turkey and stir. If you were using leftover cooked vegetables instead of fresh, add them now. Bring the soup up to serving temperature and serve three dumplings per person in a large bowl with a few ladles of the soup over.
Note: Alternatively, you can cook the dumplings separately by dropping them into boiling water for 15 minutes, again making sure they don't stick to the pot bottom. Then serve with soup that has been cooking at the same time.
---
You may also enjoy these recipes: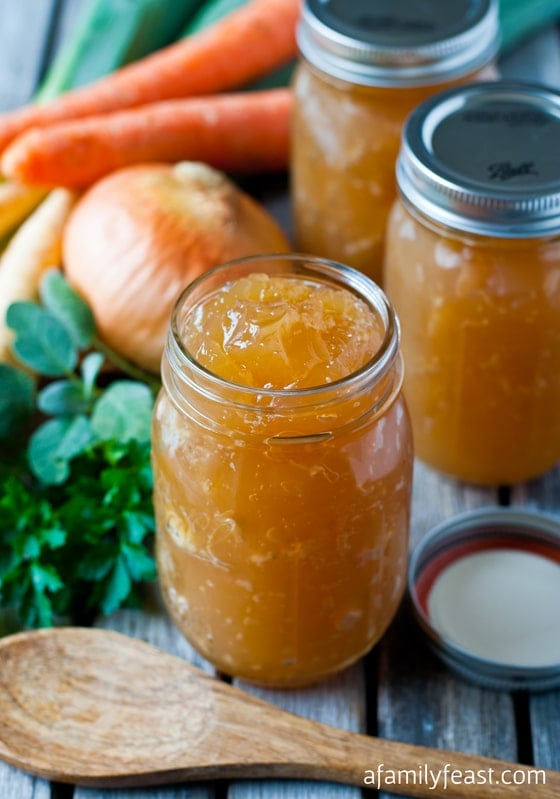 10 Recipes Made from Thanksgiving Leftovers