Today's recipe for Turkey Pot Pie is one of several that we'll be sharing over the coming weeks that use Thanksgiving dinner leftovers!  Pin this recipe now so you'll have it for later!
Thanksgiving is my favorite holiday.  I love everything about it – the turkey, the side dishes (like this, this, this, and this!) , the desserts (yummy and yummier!) and of course, visiting with family and friends!  And for me, it's the official beginning of the holiday season with fun and festivities to look forward to in the coming weeks.  Call me crazy – but I even (sort of…) look forward to the crowds of shoppers at the mall – it's just part of the fun of the season!
And another thing I look forward to after Thanksgiving is this recipe for Turkey Pot Pie!   This is another one of my husband Jack's creations – and I have to say, his turkey pot pie is one of my all-time favorites!
Chunks of tender turkey, carrots, and red potatoes are combined in a deep casserole dish with peas, pearl onions and other leftover vegetables in a flavorful and savory creamy sauce.  Then it's topped with a pie crust that has been brushed with an egg wash and sprinkled lightly with sugar – giving the crust a wonderful, golden-brown color as it bakes, as well as a touch of sweetness that is the perfect counterbalance to the savory pie filling.
This pot pie recipe is one that you can make year-round, substituting the turkey and turkey stock with chicken and chicken stock – and using your favorite cooked vegetables instead of leftovers from Thanksgiving dinner!  Enjoy with leftover cranberry sauce.
Print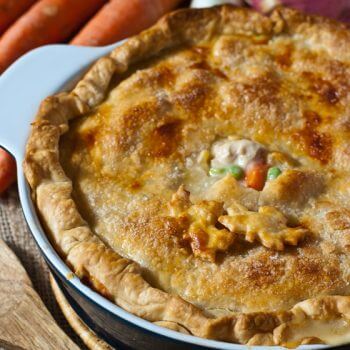 Turkey Pot Pie
Prep Time:

15 mins

Cook Time:

45 mins

Total Time:

1 hour

Yield:

10 servings
---
Ingredients
2

10-ounce bags fresh, raw pearl onions (frozen may also be used)

1 quart

turkey stock (see recipe here)

3/4

pound carrots sliced thick and on the bias, cut to bite sized pieces (about

2 cups

)

3/4

pound peeled red potatoes cut to bite sized pieces (about

2 cups

)

1 teaspoon

fresh chopped thyme or

½ teaspoon

dry

1 tablespoon

fresh chopped parsley or

½ tablespoon

dry

1 teaspoon

kosher salt, depending on how salty your stock is

1/2 teaspoon

white pepper
Few grinds freshly grated nutmeg

½ teaspoon

dry mustard powder

½ teaspoon

Worcestershire sauce
Few drops Tabasco sauce

1 cup

heavy cream

1 cup

frozen peas

1 ½

pounds cooked turkey cut into bite sized pieces

1/4 teaspoon

gravy flavor color

5 tablespoons

butter

7 tablespoons

flour

2

12-inch rounds of pie crust

1

egg

1 tablespoon

sugar
---
Instructions
(Note: If using frozen pearl onions, please skip this step.) Bring a small pan of water to a boil and toss in pearl onions, skin and all. Boil covered for three minutes and drain. Plunge into ice water to cool. On a cutting board, cut off root end of onion and squeeze the other end. A perfect pearl onion will pop out. Repeat for all of the onions and discard the skins and roots.
In a medium to large pot, place pearl onions, stock, carrots, potatoes, thyme, parsley, salt, pepper, nutmeg, mustard powder, Worcestershire sauce and Tabasco sauce. Bring to a boil and simmer 10-12 minutes until vegetables are tender.
Add cream, peas, cooked turkey and gravy color and heat.
Preheat oven to 425 degrees.
While vegetables are cooking, in a small pan, melt butter and add flour. Stir and cook over low heat about 4-5 minutes or until the raw flour smell is gone. Set aside.
Add butter flour mixture to the pot with the vegetables and turkey and stir with a wooden spoon until sauce is thick and creamy. Taste and adjust seasoning if needed.
Pour mixture into two 10-inch pie plates.
Roll out the pie dough into two 12″ circles.
Drape one over each pie plate and cut off excess leaving a one inch overhang. Fold this one inch over towards the center and using your thumb and index finger on one hand and your index finger on the other, make a fluted edge.
Roll out the dough scraps and using a cookie cutter, cut out decorative shapes.
Make a small hole in the center of each pie to let steam escape.
Beat the egg and brush onto the dough tops. Lay the decorative shapes over the top and brush them as well.
Then sprinkle the sugar all over the tops, sticking to the egg wash.
Cover the crust edge with foil or pie rings.
Place the pie in the center of the oven (you may want to place a piece of foil under the pie plates in case the sauce bubbles over) and bake 30 minutes until the crust is golden and the pie is bubbling. Remove the foil ring at the 25 minute mark, five minutes before removing from the oven.
Remove and let set for ten minutes before serving.
---
More Turkey Leftovers recipes:
Turkey Soup with Potato Dumplings