This incredible pumpkin cheesecake deserves the center spot on your Thanksgiving dessert table!
Over the last few years, I've made this pumpkin cheesecake for our family's Thanksgiving celebration.  It's so delicious – I've actually started doubling the recipe to make TWO pumpkin cheesecakes since it is the usually first dessert to get eaten!
This cheesecake made with pumpkin is SO good we're also no longer making the traditional pumpkin pies for Thanksgiving dessert anymore!  And – even a few family members who have always insisted in the past that they didn't like pumpkin pie are already looking forward to having this dessert again this year.
This is a highly-rated recipe by Paula Deen which we originally found here, and with three (yes, three!) packages of cream cheese along with the pumpkin puree, sour cream, sugar and spices – this is a truly decadent dessert made in heaven!
Our version of this Pumpkin Cheesecake changes the cooking method from the original recipe.  We found that baking any kind of cheesecake (including today's pumpkin version) in a water bath (see our How-To's here) was really the best way to ensure that the top of this creamy cheesecake didn't crack during the baking process.
We think your family will love this Pumpkin Cheesecake as much as our family does and it is a very worthy addition to your Thanksgiving dessert spread this year – and every year!
This post was originally published on A Family Feast in November 2012.  The photos have been updated plus a few edits made to the post and recipe.
Print
Pumpkin Cheesecake
Prep Time:

15 mins

Cook Time:

1 hour

Total Time:

1 hour 15 minutes

Yield:

8-10 servings
---
Description
A delicious and decadent pumpkin cheesecake recipe
---
For the crust
1 1/2 cups

graham cracker crumbs

3 tablespoons

brown sugar

1/2 teaspoon

ground cinnamon

1

stick of butter, melted
For the filling
3

8-ounce packages cream cheese, at room temperature

1

15-ounce can pureed pumpkin

3

eggs plus 1 egg yolk

1/4 cup

sour cream

1 1/2 cups

sugar

1/2 teaspoon

ground cinnamon

1/8 teaspoon

fresh ground nutmeg

1/8 teaspoon

ground cloves

2 tablespoons

all-purpose flour

1 teaspoon

vanilla extract
---
Instructions
Preheat the oven to 350 degrees.
Prepare a 9-inch springform pan for baking in a water bath by wrapping the bottom of the pan in a large single sheet of aluminum foil, making sure that the sides of the pan are fully covered by the foil. This is done to prevent the water bath from leaking into the bottom of the springform pan.
To prepare the crust, combine crumbs, sugar and cinnamon in a bowl. Add melted butter and mix to combine well. Press mixture into the bottom of a 9-inch springform pan. Set aside.
To prepare the filling, with a mixer, beat the cream cheese until very smooth. Add pumpkin puree, eggs, egg yolk, sour cream, sugar and spices and stir to combine. Add flour and vanilla. Beat together until well combined.
Pour pumpkin mixture into the prepared springform pan. Spread out evenly.
Place the springform pan in a baking pan large enough to hold the springform pan and also large enough to allow for water to surround the springform pan. Add about an inch of very hot water to the baking pan so it surrounds the pan.
Bake in a 350 degree oven for one hour. Remove from the oven and the water bath and allow the cheesecake to cool to room temperature.  (You can leave the cheesecake in the springform pan the entire time it is cooling and chilling.) Cover with plastic wrap but do not let the plastic wrap touch the top of the cheesecake or it will stick and peel the top layer. Refrigerate for 4 hours or overnight.
When ready to serve, remove the pumpkin cheesecake from the springform pan and cut into slices for serving.
---
You may also like:
No Bake Mini Pumpkin Cheesecake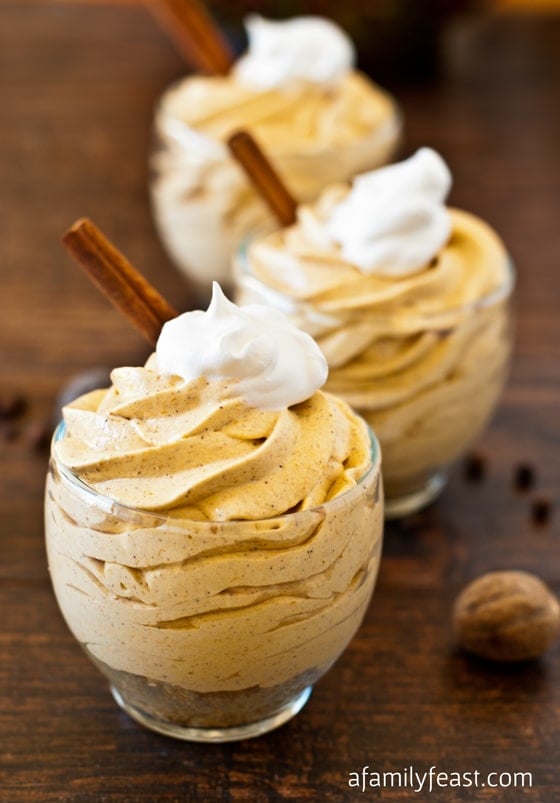 New England Pumpkin Caramel Pudding
Here's our old photo… 🙂