Some recipes call for a "water bath" as part of the cooking instructions.  A water bath is simply a pan of hot water placed in the oven, and using this method has two benefits when baking.
First, a water bath adds moisture to the oven and this is important for baking foods like cheesecakes, which tend to crack from the heat of the oven, or custards which can become rubbery without moist heat.
Second, using the water bath method also provides a more even, slower heat source than the direct heat of an oven which is also important for preparing foods like cheesecakes and custards.
(For these instructions, we are using a water bath to bake a cheesecake. And, because springform pans are notorious for leaking, we are wrapping the bottom of the pan in foil to avoid any water from seeping into the pan which would make the cheesecake crust too wet.)
To bake using a water bath, you will need a baking pan that is large enough to hold a springform pan (or other baking dish), and is also large enough to allow for water to surround the springform pan.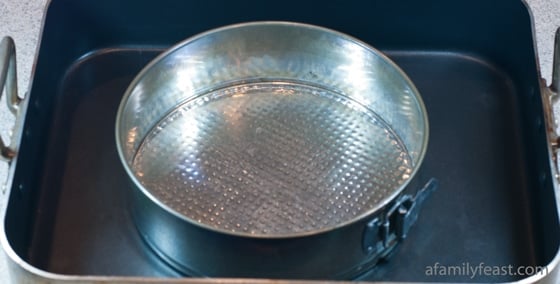 Next, cut a large single sheet of aluminum foil, making sure that it is wide enough to surround all sides of your springform pan.  (We recommend using extra wide aluminum foil if it is available rather than two narrower pieces of foil to avoid any chance of leaking.)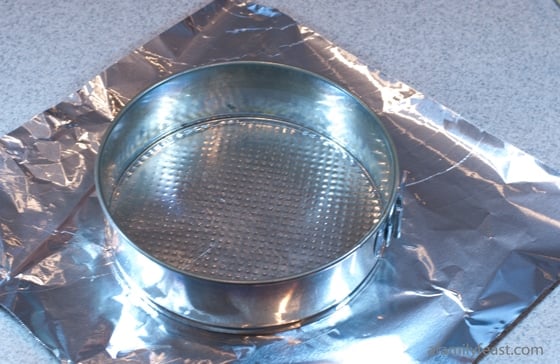 Wrap the pan, making sure that the sides of the pan are fully covered by the foil.  Also make sure that you don't tear the foil as you wrap it.
Per your recipe instructions, prepare your cheesecake and place the springform pan into the baking pan.  Then, add about an inch of very hot water to the baking pan so it surrounds the pan.  You want to add enough water to the pan to ensure that the water does not fully evaporate during the baking process.
Bake according to your recipe instructions.  And…you should come out with a perfectly baked cheesecake with no cracks.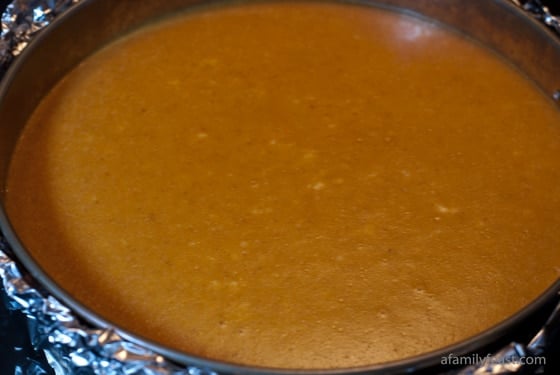 You may enjoy these recipes that use Water Bath Baking: