Make a delicious homemade Turkey Stock with the carcass from your Thanksgiving turkey.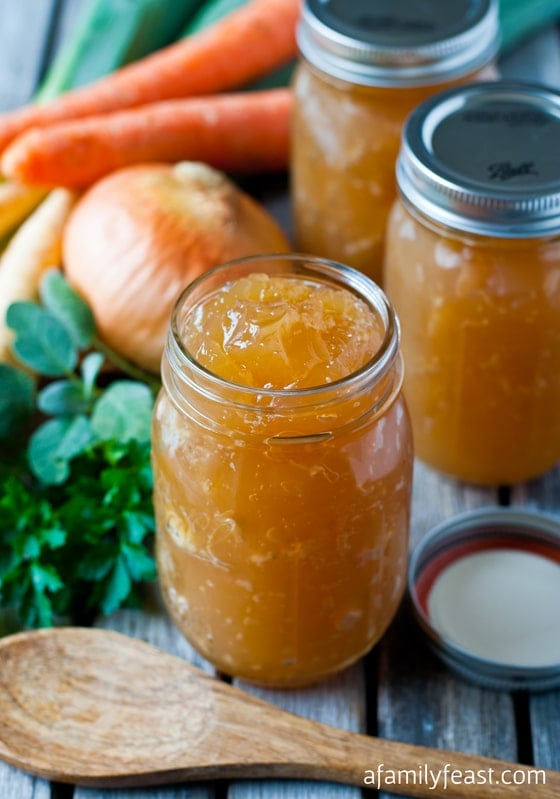 Whenever you are making dishes that call for chicken, beef or vegetable stock, it is very easy to find a pre-made option at your local supermarket.  However – turkey stock is not readily available so making a stock from scratch is really the only way.  Additionally, making a homemade turkey stock is also a great way to use up your turkey carcass after your Thanksgiving dinner!
Whenever we make a stock like this, we pull everything that we've been saving in our freezer such as chicken backs, wings, necks, etc.  As long as at least half or more of your ingredients are from a turkey and not all chicken, you will get the flavor profile you are looking for in the finished turkey stock.
This turkey stock is rich and deeply flavored, and we use it as the base for several  of our "after Thanksgiving" recipes including our Turkey Soup with Potato Dumplings and our Turkey Pot Pie.
Print
Turkey Stock
Prep Time:

10 mins

Cook Time:

3 hours

Total Time:

3 hours 10 minutes

Yield:

6 quarts
---
4 quarts

cold water

6

pounds total of turkey carcass, raw turkey necks, raw turkey wings and/or any other chicken or turkey parts you have been saving in your freezer such as backs.

2

chicken feet, or

4

chicken wings or

1

additional turkey wing

1

clove of garlic, peeled and bruised

1

medium to large onion, peeled and cut in half

2

–

3

carrots peeled and cut into 1 inch pieces (about

one cup

)

2

celery ribs, tops and all cut into 1 inch pieces (about

one cup

)

1

leek, white part only, cleaned of sand and cut in half vertically

2

parsnips peeled and cut in half

1

knob of unpeeled ginger (about

2

–

3

ounces)

½

bunch fresh flat leaf parsley, tied with a string

2

bay leaves

1 ½ teaspoon

salt

2

sage leaves, or

1 teaspoon

dry ground sage

6

whole black peppercorns
---
Instructions
Place all ingredients into a large stock pot and slowly bring to a boil.
Reduce heat and simmer for three hours. Skim foam that rises to the top as it cooks. Depending on the type and amount of the bones and meat you started with, you may need to simmer longer (up to four hours if needed) to intensify flavors.
Strain the stock and discard the solids except for the meat.
Remove skin and debone the turkey and reserve. Use for any recipe that calls for cooked turkey meat (such as our Turkey Pot Pie or Turkey & Stuffing Turnovers).
Cool the stock completely.
Once cooled, skim off the fat that settles on the top and if desired, save for any poultry recipe that calls for butter. (Turkey fat is full of flavor and lasts fairly long in the refrigerator and can also be frozen.)
Use stock for any recipe that calls for turkey stock like our Turkey Soup with Potato Dumplings or our Turkey Pot Pie. Stock may also be frozen in zip lock bags for later use.
---
You may also like:
Turkey Soup with Potato Dumplings