As part of today's Cooking Lesson, we're teaching you how to cook Perfect Poached Chicken!  Poached chicken is versatile and easy – and something that every home chef should know how to make!
Poaching is simply defined as a cooking technique which involves submerging a food into a hot liquid to cook, and there is actually quite a bit of science to it! Poaching allows the proteins in chicken to 'denature' without pulling too much of the moisture out – and the result is some of the most tender and juicy chicken you will ever eat!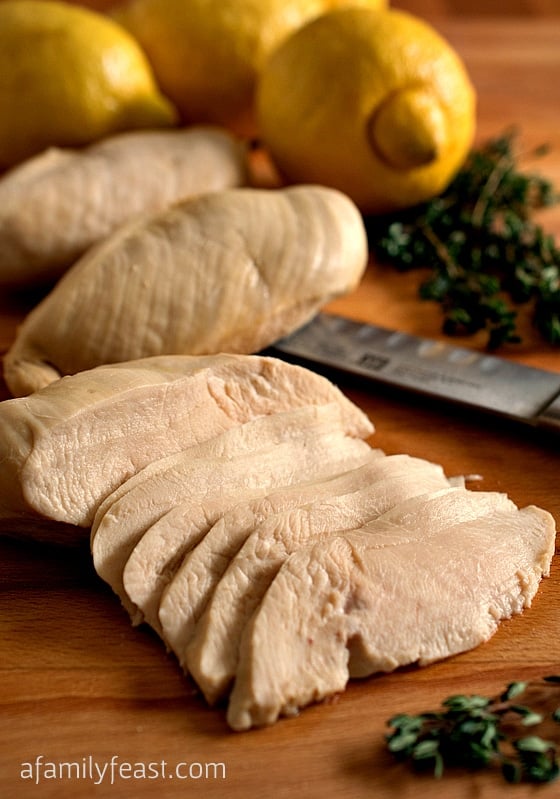 The poaching liquid is called a cuisson.  The cuisson typically includes a broth plus the addition of an acidic ingredient (such as the lemon in our recipe, or wine or vinegar is also sometimes added) along with aromatics for flavor (such as herbs or vegetables).
Poaching uses low heat to gently cook the chicken (around 160–185 degrees) – but you don't want to boil the chicken in the poaching liquid!  (It's OK to boil the poaching liquid before adding the chicken, but once the chicken is added, do not allow it to boil again!)  Our recipe below gives you some specific tips on how long to poach chicken breasts as well as chunks of chicken.
A few more last tips:
Remember that when you are poaching chicken, the poaching liquid you use will give it really great flavor – so please don't just poach your chicken in plain water!  While the recipe below is for a Lemon Poached Chicken (a delicious and versatile recipe), you can adapt this recipe with other flavors based on the dish you are preparing.  For example – you could add in some Asian inspired flavors such as lemongrass or ginger for an Asian chicken salad.  Or swap in some orange for the lemon for a different citrus flavor!  The options are endless.
Poaching is the perfect cooking method for more than just chicken.  Any delicate foods such as eggs, fish or fruit are delicious and tender when poached.  (Click here for our Poached Pears in Red Wine recipe or our Poached Cod with Tarragon and Cherry Tomatoes as an example of other poached foods.)
Print
Perfect Poached Chicken
Prep Time:

5 mins

Cook Time:

15 mins

Total Time:

20 minutes

Yield:

4 6-ounce breasts
---
Description
Recipe adapted from Fresh and Light
---
1 quart

chicken stock

1

lemon sliced

4

sprigs fresh lemon thyme, or fresh plain thyme if lemon thyme is not available

1 teaspoon

whole black peppercorns

4

6-ounce chicken breasts, trimmed of all visible fat
---
Instructions
In a medium pan with high sides that has a tight fitting cover (ours was 9 ½ inches round and 2 ½ inches deep), place 1 quart of chicken stock, the sliced lemon, thyme and peppercorns. Bring to a boil uncovered. Place the chicken breasts in and set the timer for exactly three minutes from the time you add the chicken to the poaching liquid (do not allow the water to come back to a boil).
After three minutes, remove from heat, cover and let the chicken sit in the poaching liquid for 8-10 minutes. The thickness of the breasts will determine the exact amount of time they sit in the hot liquid. After eight minutes, pull one out and test for doneness. (A little bit pink inside is OK, the chicken will cook further until it cools).
Once just about cooked, remove to room temperature to cool. After they cool, they can be sliced or shredded depending on your recipe needs.
The poaching liquid should be discarded.
---
Notes
This recipe will also work for chicken breasts that have been cut up into chunks. Place the chunks in the poaching liquid as above, bring the liquid temperature almost to a boil, cover and shut off heat. Let cut up chicken sit in poaching liquid for 5-10 minutes or until cooked through. The size of the chicken pieces will determine the time they sit in the hot poaching liquid. Large 2-3 inch size pieces will take the full ten minutes. Smaller 1-2 inch pieces will take about five minutes. Once they are done cooking, remove them from the liquid immediately to cool.
You may also like:
Poached Cod with Tarragon and Cherry Tomatoes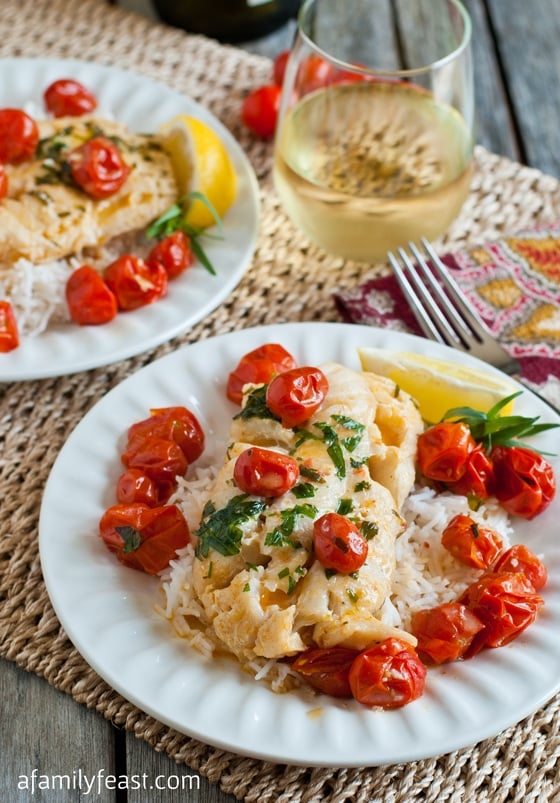 Poached Pears in Red Wine with Vanilla Custard Sauce